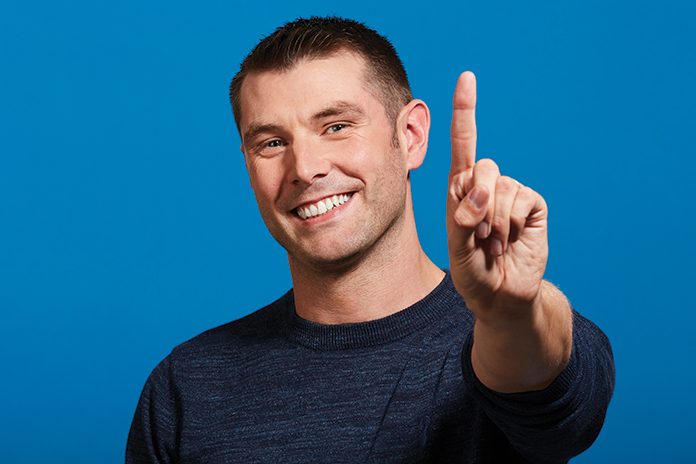 The Terrence Higgins Trust on this year's most significant week for HIV prevention
---
Like it or not, gay and bi men are one of the groups most affected by HIV. Which means it's important we're aware of HIV and how to prevent it, as well as to test regularly.
It's National HIV Testing Week this November, which means there's no better time to get tested and know your status. Plus, with all those billboards, magazine ads and Facebook posts, it's hard to avoid seeing reminders to test.
And there's no excuse good enough. That's because HIV testing is quick, easy and confidential. You can even order a free postal HIV test to your door from now until January via startswithme.org.uk – as well as find information on where to test locally, wherever you live.
---
Andrew – I was diagnosed during National HIV Testing Week
While most people who test get a negative result, Andrew Gamez-Heath was diagnosed with HIV during National HIV Testing Week four years ago. Initially, he didn't think he would ever tell anyone. Now, just four years later, he's one of the faces and fingers of this year's campaign.
In fact, he's been on quite the journey.
'Never in a million years did I think I'd be the guy on the poster,' says Andrew. 'I told four people initially. I didn't tell my mum for about 18 months!
'The National HIV Testing Week poster was at the tube station every single day and stayed up for ages, greeting me every day. At the time I didn't know much about HIV or if I was going to be alright. But now I know so much more and know I'm going to be fine.
'Yes, I was really scared at first. Now I'm married, fitter than ever and effective HIV treatment means I can't pass it on to anyone else.
'At the time the poster was a constant reminder, but now I know how great it was that I was diagnosed so early. I'm married, fitter than ever and really happy.'
And Andrew's advice for anyone diagnosed this year is this:
'Don't panic, don't google anything and listen to everything that health advisors and consultants have to say. Because as soon as you know the facts, that panic will go away and you'll know you're going to be alright.
'I think my life's better now. Not because I have HIV, but it has shaped me as a person. Because people don't know the facts and I want to talk about it.
'Having the 'Can't Pass It On' message that Terrence Higgins Trust has been championing and being able to say loud and proud that effective treatment means I can't pass it on is amazing.
'I take one tablet a day and I'm healthy. I'm probably more healthy than I was!'
---
No excuses – why you need to test for HIV
Gay and bi men are the group most affected by HIV in the UK – accounting for more than half of all diagnoses last year
It's recommended to test at least once a year and more regularly if you're having unprotected sex or have more than one partner
39% of new diagnoses in gay and bi were in 25 to 34-year-olds
A third of gay and bi men diagnosed last year were diagnosed late, which is after they should've already started treatment
Over the last two years we've seen the first ever drop in new diagnoses among gay and bi men – but we need to keep that going
Testing is the only way to know if you have HIV. Accessing effective treatment will keep you well and also stop HIV from being passed on to anyone else.
---
Sadiq's wise words for National HIV Testing Week
Our cover model Sadiq was diagnosed with HIV four years ago. Testing for HIV was one of the best decisions he ever made – and he wants you to get tested too.
'When was the last time you got off your ass and went to the clinic for a check up? Have you ever? Or are you a regular do goody?
'Knowing is such a large part of the battle. It means that you can be confident in protecting yourself and others when it comes to HIV, negative or positive. And it really doesn't take long.
'You can even order a home testing kit but I find it easiest just to go to a drop in centre as there's always some there to talk to. Don't be scared and stay ignorant. You've got this!'
---
The faces and fingers for 2018!
Everyone involved in this year's National HIV Testing Week is passionate about HIV testing and raising awareness of HIV within their own communities. Including Andrew and Sadiq, who are both living well with HIV thanks to effective treatment – going to work, going to the pub, having sex.
National HIV Testing Week is part of It Starts With Me, which is coordinated by Terrence Higgins Trust on behalf of Public Health England. You can meet the rest of the campaign models on startswithme.org.uk.