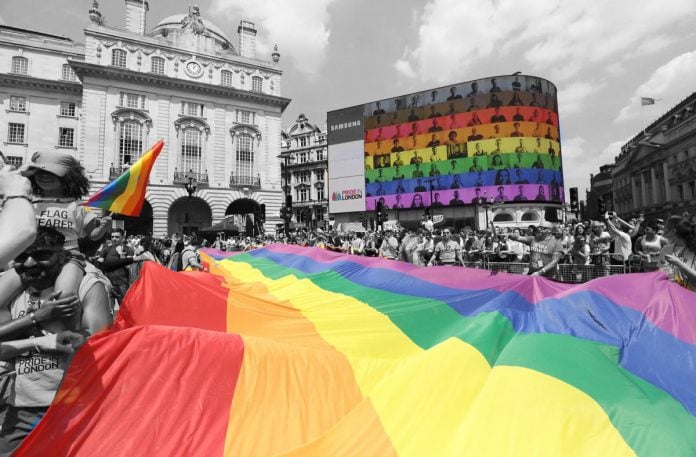 Last year we celebrated fifty years since the birth of the gay rights movement. Will the 51st be just as special?
---
Pride was MAJOR last year. Rainbow flags took over the capital, with every Nandos, Pret and Barclays donning the bright colours. With Queer Eye and Drag Race becoming cultural heavyweights within the zeitgeist, it was cooler than ever to be queer. Marking half a century of gay liberation, more people than ever took to the street during the Pride season 2019. Pride in London anointed the occasion a 'Jubilee', and the likes of Ariana Grande and Kylie Minogue took to the stages of Manchester and Brighton. It was a gayer summer than the UK had ever seen before. But what does Pride 2020 have in store?
Coming into this year, it has certainly started with a bang. The continent of Australia is on fire, there's potentially another war brewing in the Middle East and the profoundly unsettling Masked Singer is airing on ITV. It goes without saying that last year's troubles have followed us into this year. Instead of dying down as we had hoped, have become even wilder than anticipated. It's safe to predict that it could also be the case for our LGBTQ+ community. Will the Pride 2020 season be up to scratch? Or will it all get a little out of hand?
As some of us are finally being accepted for who we are, others are experiencing an increasing amount of violence. For example, as a gay man living in London you're now mostly free to live your life openly in public. Yes, there will always be a handful of incidents of homophobic violence, but when those occur you can count mostly on sympathy being on your side. Living as a trans person, however, that sympathy is not something you can count on. The distance between these two experiences is causing fractures within our communities. Those fractures were felt when anti-trans protesters took over the front of the Pride march in 2018, and are still being felt now.
"… it's easy to forget why people took to the streets in the first place."
But how do we reconcile these fractures? Well, it's not easy. It's important that during Pride season we prioritise the fight for the most vulnerable in our community. Pride will always be a protest, therefore it's important to keep in mind the fights that are still ongoing. LGBTQ+ inclusive education. Reforming the Gender Recognition Act. Tackling the sharp rise in hate crimes. These issues won't go away unless we take to the streets and do something about them. Surrounded by rainbow streamers and buff, shirtless men, it's easy to forget why people took to the streets in the first place. The message can get lost when you're marching behind corporate sponsor after corporate sponsor.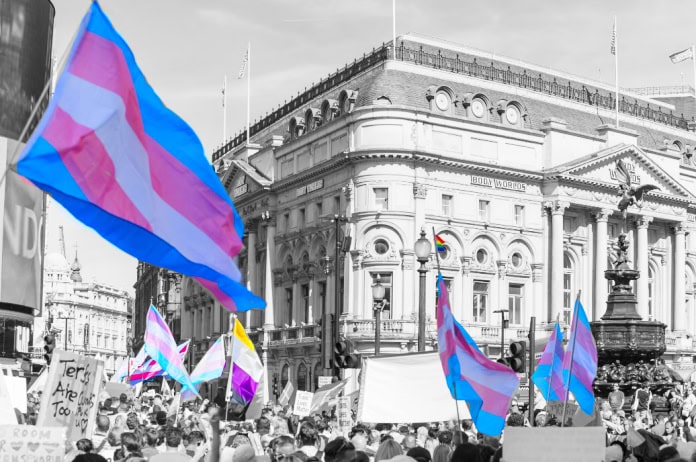 If celebrating Pride 2020 is going to stay relevant, it's crucial that we stay cognizant of the people who currently feel disenfranchised by it. This year Pride in London might kick off on the 27th of June, but there are more than a handful of events that you should turn out and support. UK Black Pride, for example, celebrating the LGBTQ people of African, Asian, Caribbean, Middle Eastern and Latin American descent who don't feel represented within the larger Pride celebrations. Then there are Trans Pride events, taking place both in London and Brighton, giving specific attention to pressing trans issues. Just because you might not be black or a trans person, that doesn't mean you can't go along and show your support and be an ally.
"In Chechnya, LGBT people are being detained, tortured and killed just for being who they are."
Something to keep in mind is our privilege in having been born here in the UK. Though we may not be leading the charge on LGBTQ+ equality, Britain is and will hopefully always be a global bastion of queer rights. All you need is to cast your eyes Eastwards to Iran who are still hanging men on charges of homosexuality. In Chechnya, LGBT people are being detained, tortured and killed just for being who they are. Over in Brunei, newly-introduced homophobic laws are beginning to be implemented. It's important that we are as vocal and as visible as we can be, if not for ourselves, then for those abroad who can be hopeful of a more accepting future.
So yes, in the Pride 2020 season to come, we should still be showing our colours proud. We should still slip into our glitter hot pants and heeled booties, but maybe this year we could give a little more thought as to why it's important. Even if the broader culture is over all things queer, they've lost the fanaticism for drag and could care less about the new season of Queer Eye, us LGBTQ+ folk should always care. Like it or not, we are a community and should always be in each other's corners. As long as there is bigotry, hatred and ignorance, we should still care about being proud.
04- Joshua Thomas from Our Bold Voices on Vimeo.
---
Stay in touch with QX Magazine on Twitter
Check us out on Instagram
QX Magazine App Updated: At iOS & Android Download FREE. Improved graphics. Convenient digital magazine experience. App and website integration. Hot spots open websites 'on the page', without leaving the App or the page you're on. Click on any url to find out more. Layered pages (adverts and editorial) let you drill down and find information while still on the page. Click 'done' to leave any website and you're still on the page. Open the QX website in the app to access venue info pages. Postcode links open in google maps. Register if you want free news email in your in box. Skip if you don't.
Unilever Gay Pride Building Projection London 2019 from EMF Technology on Vimeo.
---
READ MORE related to Pride 2020 – Will We Still Care? here: