Karen Walker's Hangover Brunch

12pm – 5pm
The queen of high camp takes a break from Grace Adler Designs to host a hangover brunch jam-packed with kitsch games, booze-filled nonsense and martini madness. Dalston Superstore's delicious vegan food and cocktails are available all afternoon. Table bookings are a must. You say potato, Karen says vodka! 🍸
Dalston Superstore, 117 Kingsland High Street, London E8 2PB U.K.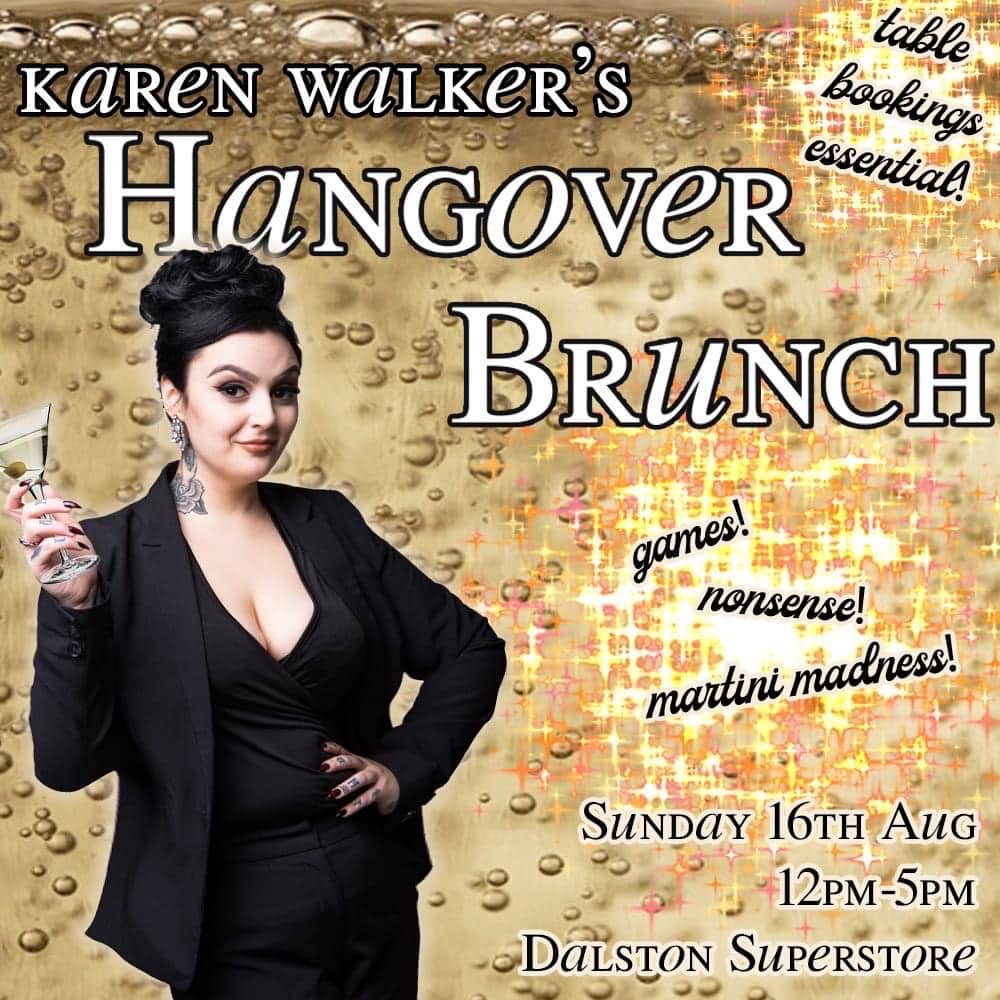 ---
Gay bars with terraces LGBT+ drinking in London's outside spaces. COVID 2020 Guide.
---
SOME OF THE BARS OPEN TODAY
There´s an all new lounge and garden. Booths and seats are available for booking. Membership can be purchased now, with lots of benefits. The Eagle Love membership program includes priority booking, queue jump, a bottle of bubbly and entry for 3 mates on your birthday, and other offers and discounts.
---
---
Nearest Tube: Lime House Station (2 minutes). Monday to Thursday 12pm-10pm. Friday to Sunday 12-11pm
---
ONLINE LGBTQ+ CABARET, CLUBS & EVENTS
Check us out on Instagram
As events come online, we can let you know what's on … So get social, get QX!
---
Stephanie Von Clitz's Sunday Roast
6pm
Facebook: https://bit.ly/2KAIkbS
The Dorset tart with the big heart serves up a large helping of songs and requests with a salty side of good humour. Bring your own bottle of red! Broadcasting on Steven Banks' Facebook profile.
Bottoms Up From Bar Soho
5.30pm
Facebook: Facebook.com/marymacofficial
Songs, parodies, old favourites and LOTS of shoutouts from the wee drag wonder that is Mary Mac. All served up with a cheeky smile and an ice-cold voddy Irn-Bru. Broadcasting on Mary's Facebook page, live from Play Blanca, Lanzarote.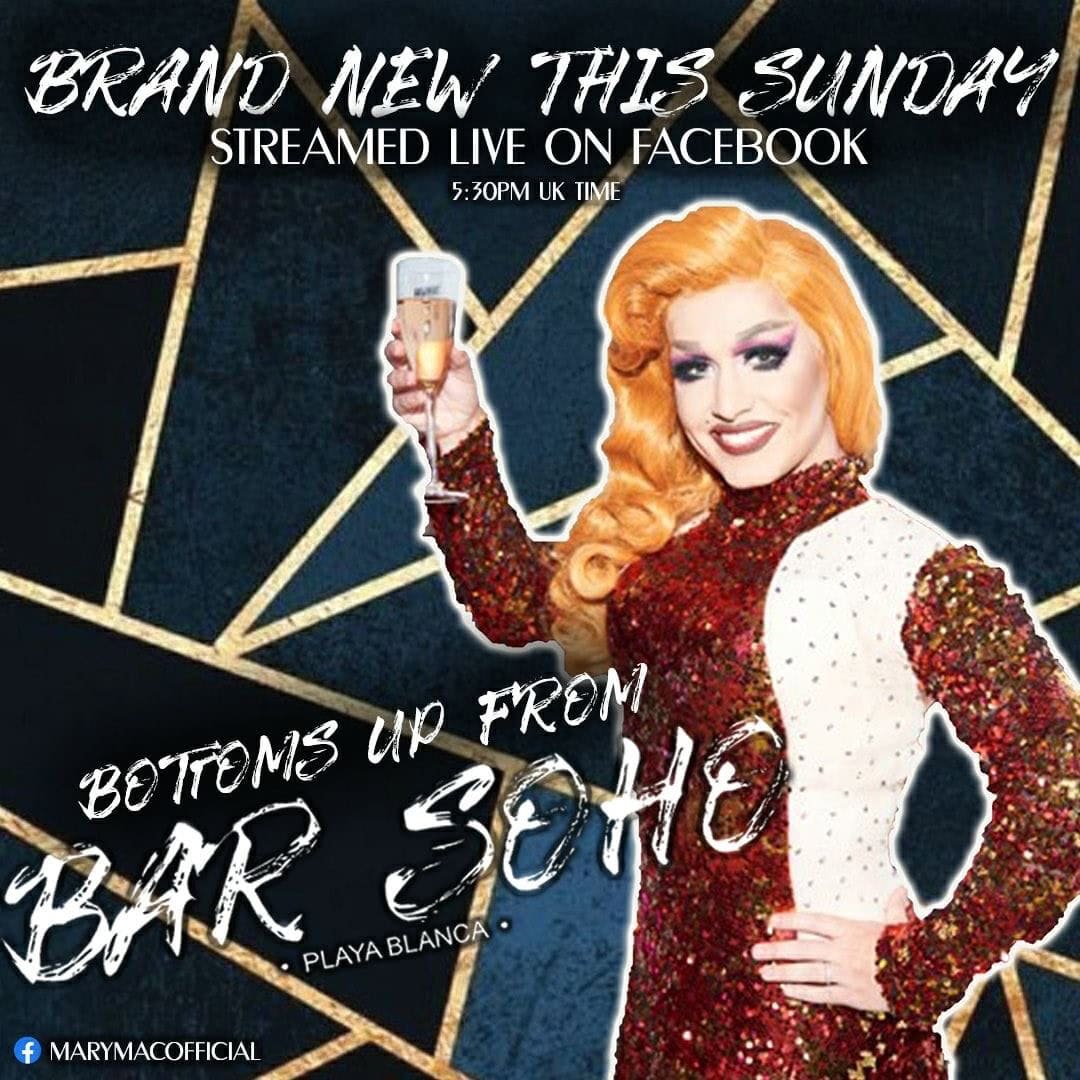 ---
CLUBS & EVENTS
Sunday Social at The Royal Vauxhall Tavern: 372 Kennington Lane, SE11 5HY. 4pm – 10:30pm. Tickets available at qxtickets.com. Free entry for members. Social. Cabaret. Dance. This week with Drag With No Name on stage from 5:30pm, and Simon Le Vans and Craig Jones behind the decks.
The Power of Four at Two Brewers: 114 Clapham High Street, SW4 7UJ. 5pm – 2am. Free before 8pm, £5 after. Weekly drag showcase, this week with Myra DuBois at 5:30pm, Miss Jason at 7pm, Mary Mac at 9pm and Sandra at 11pm.
Dalston Superstore: CLOSED
Drag Sunday at Klub: CANCELLED
The Glory: CLOSED
Bunker Bar: CLOSED
Sweatbox: CLOSED
SBN & NBN: CANCELLED
BARS & CABARET
The Old Ship: 17 Barnes Street, Limehouse, E14 7NW. 12pm-12am. Cabaret at 8pm. Free. Local gay bar in East London's Limehouse. TONIGHT: Julie Paid.
Ku Bar: CLOSED
G-A-Y Bar: CLOSED
George & Dragon, 2 Blackheath Hill, SE10 8DE. 4pm – 2am. Free. Super Sunday with The Duchess, Tanya Hyde and Tony Sinclair.
CMYK Bar: 105-109 The Broadway, Wimbledon SW19 1QC. 9:30pm – 2.30am. Wimbledon's first ever gay bar, serving a swanky yet relaxed vibe.
Admiral Duncan: 54 Old Compton Street, W1D 4UD. 12pm – 10:30pm. Free entry. Fab gay boozer in the heart of Soho. Tonight: Alternate Sundays with Marsha Mallow & Cosmic.
Halfway To Heaven: 7 Duncannon Street, WC2N 4JF. 12pm – 10pm. Free entry. Fun boozer slap bang in the middle of London! Tonight: Celebrating 12 years of CK Sunday.
Central Station: 37 Wharfdale Road, N1 9SD. Reduced opening hours 5pm – 12am. Free entry. Friendly gay pub a stone's throw from Kings Cross Station.
Village Soho: 81 Wardour Street, W1V 3TG. 4pm – 11:30pm. Happy hour 5pm-9pm with half price cocktails.
City Of Quebec: 12 Old Quebec Street, Marylebone W1H 7AF. 12pm – 2am. Free Entry. London's oldest gay bar. Happy hour from 4pm – 6pm, 3 for 2 gins. The latest music to dance to until the early hours.
---
Stay in touch with QX Magazine on Twitter
Check us out on Instagram
Download QX Magazine App Updated: At iOS & Android FREE. Improved graphics. Convenient digital magazine experience. App and website integration for when you're on the go!
---
Guide to Gay London With Maps Updated Weekly
The QX Underwear Shoot – Tyreece and Ashraf model this season's hottest undies!