ONLINE CABARET SHOWS DURING LOCKDOWN
Camp Fit!
Every day, 10am
Facebook: https://www.facebook.com/campfitwithcarl/
40 minutes of music, moving, sweating and forgetting! Carl Harrison, who leads these daily online exercise sessions is a pure joy, like a younger and much camper Mad Lizzie from the TV-AM days (google her, dears). Infectious good energy and easy to do routines make this a morning must do!
Accessible HIIT and Fancy Stretching
Every Mon, Weds & Fri, Noon
Facebook: Facebook.com/kingtitobone
Instagram: @kingtitobone
Hey you, yeah you sitting there; dust off that spandex and look sharp, because everyone is welcome to take part in drag king Tito Bone's thrice weekly accessible workouts, streaming on both Instagram and Facebook. BSL on Insta, and integrated audio description.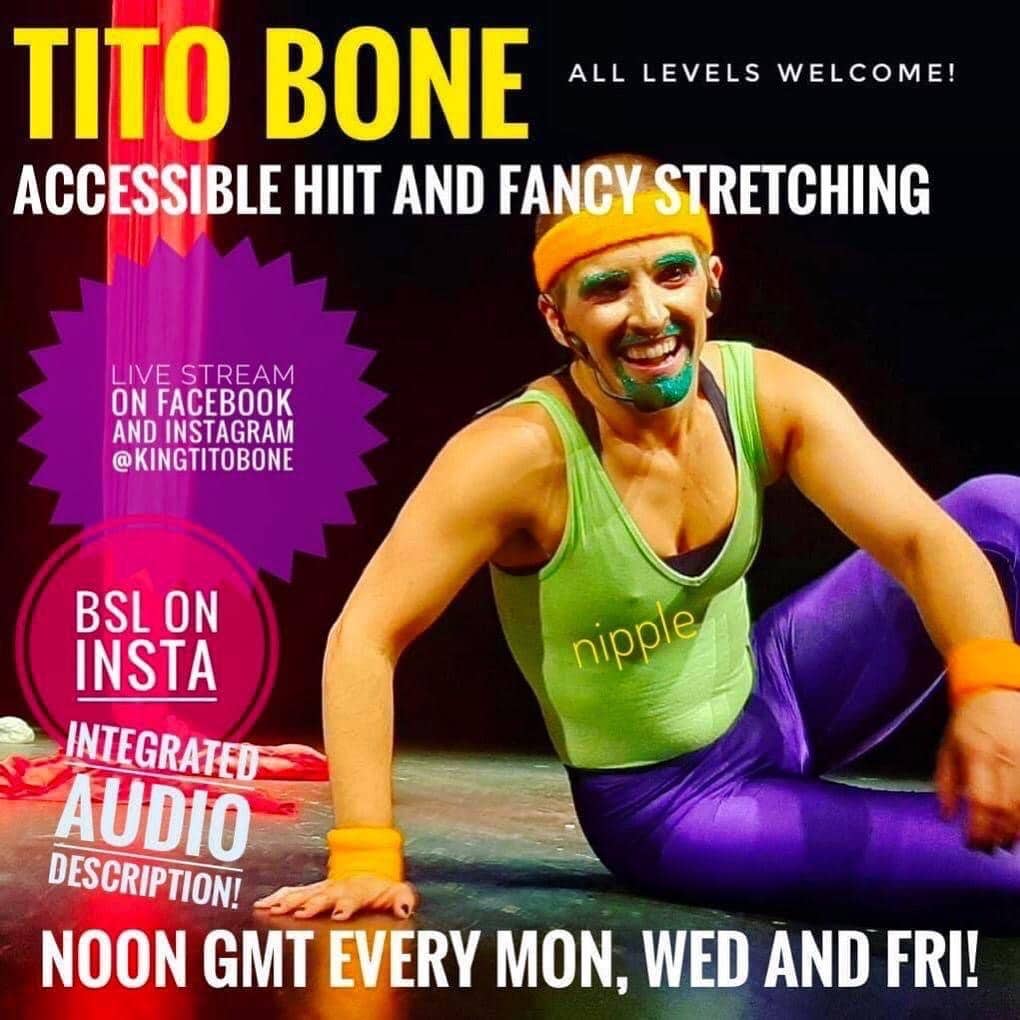 Lola's Lockdown Quiz
From 6.30pm
Facebook: www.facebook.com/Miss-Lola-Lasagne
Brighton belle Lola Lasagne presents a brand spanking new online quiz comprising four rounds, plus there'll be shoutouts, dedications and all that jazz. All you need is a pen and paper, but strictly no Googling! One for the virtual diary.
Drag Aerobics
Every Wednesday, from 7.30pm
Instagram: @dollytrolleydrag
Keeping you active throughout the apocalypse! Joe Wicks and Mr Motivator have got nothing on the ebullient Dolly Trolley and their mega-camp weekly aerobics class. Wee Tom Daley is even a fan, bless his cottons. BEND AND SNAP, DEARS!
Poppycock Live!
Every Wednesday & Sunday, 8pm
Facebook: Facebook.com/itspoppycock
Instagram: @itspoppycock
If you want a chilled, cabaret lounge type show that incorporates regular themes, perhaps while you're curled up on the sofa with a big old glass of red, then this is the one for you. A simple but very effective combo of Poppycock on vocals and Tes on Guitar. Just gorge!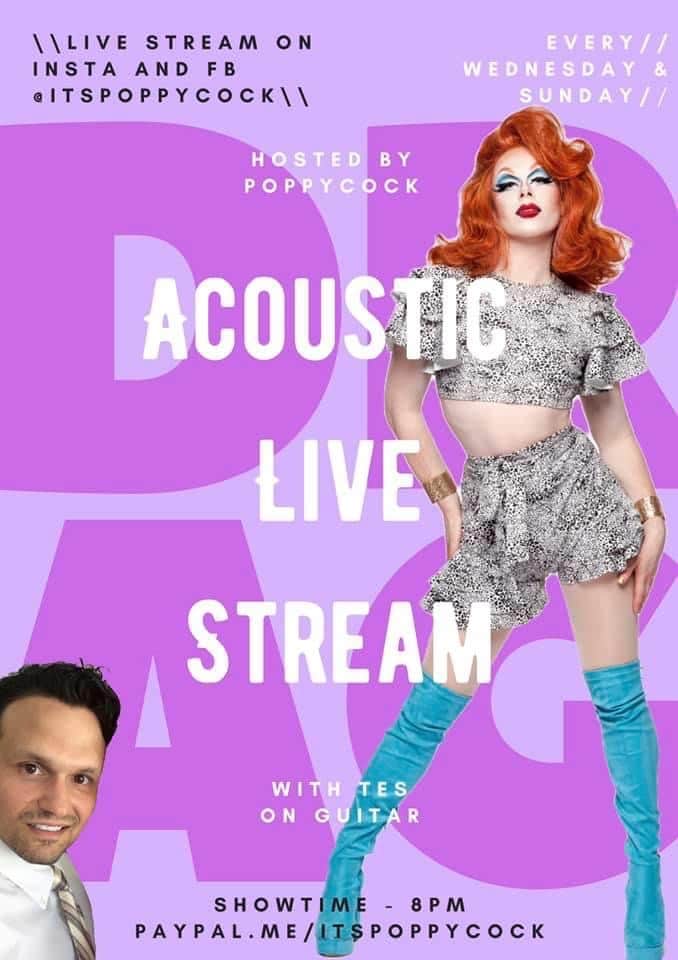 Myra DuBois' A Problem Shared Online
Every Wednesday, 8pm
Facebook: www.facebook.com/myradubois/
Now more than ever we could all do with a kind and emphatic matriarch leading us through this bizarre new world; someone who will be there…. every Wednesday at 8pm to offer up sage advice and a song or two. Thankfully, Myra DuBois has kindly offered up her services for the good of humanity. We are truly #blessed.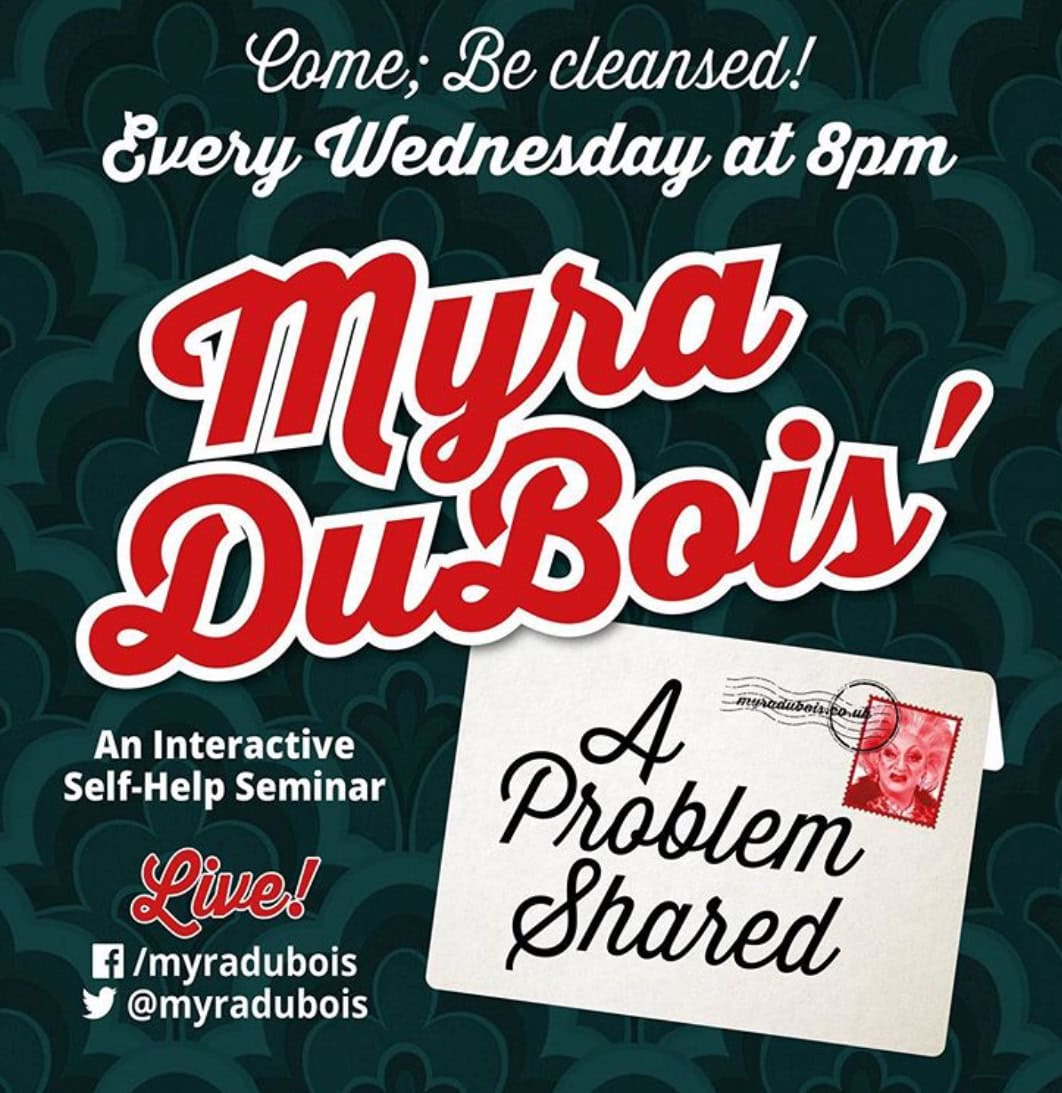 The Big Gay Comedy Show – Online
From 8pm
Zoom: Check FB event for link
Every Wednesday, from 8pm to 9pm, comedian Lucien Jack brings his Two Brewers show online, featuring guests "straight" from the London comedy circuit as well as a weekly drag guest! It is free to watch live on Zoom (the weekly link is posted on the Facebook event 15 minutes prior every week) but donations to Wandsworth Oasis are highly encouraged.
Chastity Belt's Pub Quiz
Every Wednesday, from 7.45pm
Instagram: @chastitybeltcabaret
Test you knowledge and keep that brain active during lockdown with the one and only Chastity Belt. A damn good pub quiz from a 'funemployed' cabaret artist and seasoned quizmaster.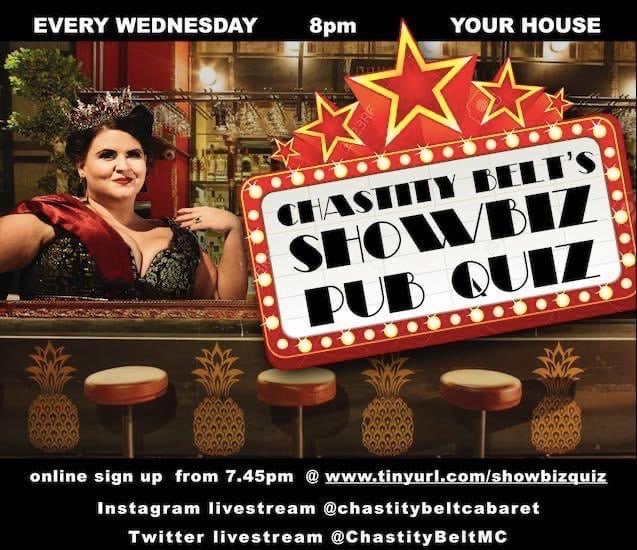 Ruby's Rendezvous: The Quarantine Edition
Every Wednesday, 9pm
Instagram: @rubyviolet69
An hour of gorgeous and glamorous escapism with drag darling Ruby Violet. Expect feel-good musical numbers and plenty of Ruby's trademark high camp capers. Get involved, get your friends involved, and have a good old virtual sing song together.
SSHh-NAKS
Every Wednesday, 9.30pm
Instagram: @romeodelacruz
We all get hungry and sometimes we can't be bothered to cook so we look for the alternative – SSHh..NAKS is a Virtual Experience with cabaret power couple, Romeo De La Cruz and Jada Love.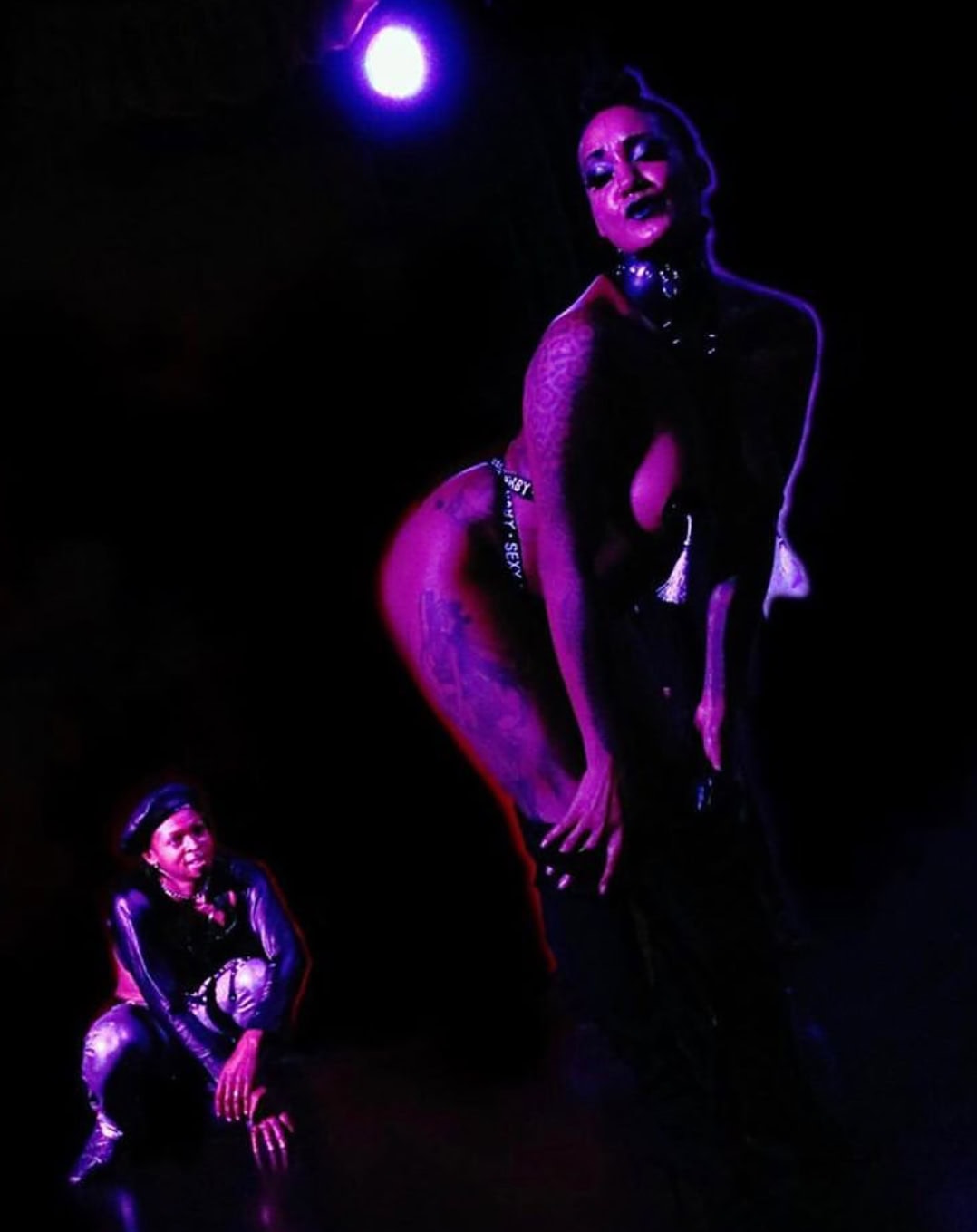 We´d love to hear from you so feel free to comment on the shows….
WE´RE KEEPING THE OLD LISTINGS BELOW SO WE STAY TOP OF THE GOOGLE RANKING. WE WILL BE BACK.
---
CLUBS & EVENTS
The Yes Yes Yes Showcase at The Royal Vauxhall Tavern: 372 Kennington Lane, Vauxhall, SE11 5HY. 7:00pm – 12am. Tickets available at qxtickets.com. Rubyyy Jones returns to the RVT for an evening of firsts, filth and froth.
The Glory: CLOSED
Quiz Night with Sum Ting Wong and Tia Kofi at Two Brewers: 114 Clapham High Street, SW4 7UJ. 8:30pm – 10pm. £1 quiz entry. Always camp and a lot of fun: Quiz Night with hostess with a mostess: Sum Ting Wong & Tia Kofi! The Big Gay Comedy Show 8pm. Featuring a showcase of London's up-and-coming comedy talents. Tanya Hyde 12am. Drag fun from Tanya Hyde on stage at midnight.
Bombshell at Klub: CANCELLED
The No No Show at Freedom Bar: 60-66 Wardour St, London W1F 0TA. 11pm – 3am. Free entry. A seductive mix of Vaudeville, dance and amazing performers, expect the unexpected!
BARS & CABARET
CMYK Bar: 105-109 The Broadway, Wimbledon SW19 1QC. 9:30pm – 3am. Wimbledon's first ever gay bar, serving a swanky yet relaxed vibe.
Ku Bar: CLOSED
Admiral Duncan: 54 Old Compton Street, W1D 4UD. 1pm – 11:30pm. Fab gay boozer in the heart of Soho. Tonight: Tanya Hyde or Mrs Moore at 9pm.
Halfway To Heaven: 7 Duncannon Street, WC2N 4JF. 12pm– 12am. Free entry. Fun boozer slap bang in the middle of London! Tonight: Miss Penny's Play Your Cards Right from 8:30pm.
Circa Soho: CLOSED
The Old Ship: 17 Barnes Street, Limehouse, E14 7NW. 12pm – 12am. Quiz from 9.30pm. Local gay bar in East London's Limehouse.
George and Dragon: 2 Blackheath Hill, SE10. 6pm – 2am. Raucous late-night cabaret pub in Greenwich. Tonight: Kevin Walsh's Karaoke.
Central Station: 37 Wharfdale Road, N1 9SD. Reduced opening hours 5pm – 1am. Free entry. Friendly gay pub a stone's throw from Kings Cross Station.
City Of Quebec: 12 Old Quebec Street, Marylebone W1H 7AF. 11am – 2am. Free Entry. London's oldest gay bar, serving pizzas until 10pm.
THEATRE
Above The Stag: CLOSED

The Pleasance Theatre: CLOSED

Park Theatre: CLOSED

King's Head Theatre: CLOSED
YOUR DIRTY DIARY
Vault 139: Closed.
Bunker Bar: Closed.
The Backstreet: Closed.
---
Stay in touch with QX Magazine on Twitter
Check us out on Instagram
QX Magazine App Updated: At iOS & Android Download FREE. Improved graphics. Convenient digital magazine experience. App and website integration for when you're on the go!
The QX Underwear Shoot – Tyreece and Ashraf model this season's hottest undies!