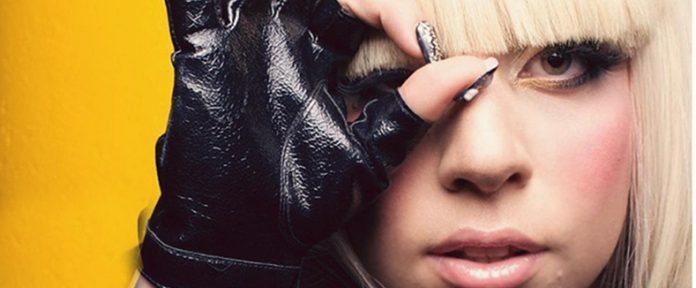 Friday 28th February
PUSH THE BUTTON: Stupid Love
Poptastic troublemakers Push The Button are throwing a big queer GAGA PARTY on Friday. It's to pay homage to her iconic work as a musician and ally but also to say to her…politely…WHERE IS STUPID LOVE? Come on, Stefani! We've been waiting for too long. Where. Is. IT. *Judge Judy tapping wrist gif*. We, of course, have not listened to Stupid Love ourselves, because that would be illegal, but we have heard from "sources" (that's what journalists use isn't it) that it's a solid gold, 10/10, ass-shaking banger. We're wondering whether it might find its way onto the speakers, completely by accident of course, at Push The Button. IWANTYOURSTUPIDLOVELOVELOVE.
The Royal Vauxhall Tavern, 372 Kennington Lane, SE11 5HY. 9pm – 3am. Tickets available at qxtickets.com.
Fitladz – The Grey Trackies Club
Fancy a night in a sex bar with loads of guys dressed in tracksuits? Well, you're in luck because there's one happening this Friday! Fitladz is the weekly cruise/fetish night for guys into "scally" and sportswear – think chain necklaces, trainers, trakkie bottoms and the ever-popular GREY JOGGING BOTTOMS. The venue's fully kitted out too, with cruise areas, private cabins and even more salacious stuff. How lovely.
Bunker Bar, 217 City Road, EC1V 1JN. 10pm – 5am. £10 entry including clock room and one free drink. £5 entry for Fitladz members 10pm – 11pm.
Nessa's Celtic Discotheque
"Oh. Oh. Oh. What to you doing this St David's weekend?" In celebration of all things sheep, leeks and daffodils, The Glory are throwing a shin-dig to mark this year's Dydd Gwyl Dewi. They'll be playing homage to the patron saint of Barry Island, Vanessa Shenessa Jenkins, with two floors of non-stop Celtic dance action. It's sure to be well tidy. Late-night performance will be blooming like daffodils on the shores of Llanfairpwllgwyngyllgogerychwyrndrobwllllantysiliogogogoch. Grab yourself a Welshman and head on down for some sheep-shagging sonics from DJ Neufunkaum and The People's Pwincess. We'll be on the side-lines ready to REVOLT if we don't hear Caryl Parry Jones' "Shampŵ" isn't blasted across the sound system.
The Glory, 281 Kingsland Road, Haggerston E2 8AS. 9pm – 2am. Free before 10p, £8 after.
The Bitten Peach at VAULT Festival
One of the most anticipated and interesting events on any London culture vulture's calendar is VAULT Festival, the city's biggest curated arts festival, which runs throughout February, featuring hundreds of shows and thousands of artists. It's at an awesome venue too, the graffiti spattered underground oasis that is The Vaults Waterloo, underneath Waterloo Station. There are so many highlights, but one that's caught our eye this year is a special appearance from Pan-Asian cabaret collective The Bitten Peach. They'll be bringing their kaleidoscopic brand of performance art to a special late edition of VAULT Festival, with acclaimed performers like Lilly Snatchdragon, ShayShay, Mx Tzo and more, ending with a massive rat attack dance party!
The Vaults Waterloo, Leake Street, SE1 7NN. 10:30pm – 2am. Tickets available at qxtickets.com.
'Til 29th February
Grab a stamp at the door, strip down and grab a towel. It's time for a steam at Flex sauna. This week is your last chance to catch Vicky Morgan's exciting new immersive theatrical experience. Exploring the significance of the gay sauna to the LGBTQ+ homeless, this piece highlights an often overlooked issue that's not only right on our doorstep but sitting next to us in the steam room. Based on real testimonies and verbatim interviews and set to an original score, No Sweat is a compelling work that highlights a silent epidemic.
The Pleasance, Carpenters Mews, North Road N7 9EF. 8pm, 6pm, 3:30pm. Tickets at qxtickets.com.
Saturday 29th February
POWER HOUSE: Pharaoh
Circa The Club, Central London's newest gay nightclub, is pulling out all the proverbial stops this Saturday with the fifth instalment of their huge new weekly party POWER HOUSE. With pumping music and hot hedonists across two floors, it's something that'll blow off your shirt and blow away those February cobwebs. There'll be go-go boys and gorge drinks! Plus DJs James Lee Dawkins and Doug GS will be spinning Ibiza classics, old school anthems and vocal house. So get your hands on something gold and gallivant down to Circa The Club.
Circa The Club, Hungford House, Victoria Embankment WC2N 6PA. 10pm – 5am. Tickets available at qxtickets.com.
TFN – Totally Fekking Nude
It turns out that Jermaine Stewart was wrong. You kind of do need take your clothes off to have a good time. TFN is where you leave your attitude and your undies at the door. Not literally, of course. Make sure you're full THROUGH the door before taking your underwear off. Just in case your nan happens to be walking by. This sex-positive party is the biggest of its kind, taking over the fab facilities over at the Covent Garden Health Spa. They're open to all guys who are into guys looking for a naughty Saturday Night. It's the perfect place to head for some early debauchery, before heading over to Soho for a few late-night drinks. Head over and meet with friends, have a little dance and dip into the UK's largest spa pool. Get Totally Fekking Nude this Saturday night.
The Covent Garden Health Spa, 29 Endell Street, Covent Garden WC2H 9BA. 9pm – 2am. £16 includes first drink and coat check.
RuPaul's Drag Race S12 Screening Party
Can you believe a brand spanking new Drag Race season is landing this month? It's relentless, and we love it. It almost feels like everyone from your mailman to your doctor's had a go of it. Celebrating the arrival of thirteen new queens, The Two Brewers are hosting a launch party, screening the first episode and then dancing the night away. The episode will be hitting screens at 7:30pm, so be sure to grab yourself a pint and a good seat. Who'll emerge as an early front-runner? Our money's on Brita. Once the first queen's sashayed away, two local queens will take to the Brewers stage to remind you that drag doesn't just happen across the Atlantic. Both Brewers rooms open 'til 4am!
The Two Brewers, 114 Clapham High Street, Clapham SW4 7UJ. 7:30pm – 4am. Free before 9pm.
TRIBE

TRIBE, contrary to what its name suggests, is something that brings different groups together rather than splitting them off – it's an all-encompassing fetish night, welcoming all factions of the fetish community under one roof. Whether you're into leather, rubber, sportswear, pup, jock, army, naked or more, you're welcome at TRIBE! It's at Bunker Bar, a stone's throw from Old Street Station.
Bunker Bar, 217 City Road, EC1V 1JN. 10pm – 5am. £10 including first drink and coat check.
Sunday 1st March
Tiffaney Wells at The Old Ship
Gather round, dearies. It's time for you to take a seat and see what British drag is all about. Tiffaney Wells is one of those seasoned performers who embodies this country's drag history. Never daring to make a public appearance without a sequin dress and a bulbous boa in tow. You won't be catching her lip-syncing along to an Ariana Grande mash-up, Mz Wells is a gifted virtuoso of the voice. She can sing a roof off a joint, and look fabulous while doing it. Head on over on that magical DLR space train, pour a pint and pull up a pew, ready to see an icon at work.
The Old Ship, 17 Barnes Street, Limehouse E14 7NW. 12pm – 12am, drag at 9:30pm. Free.
The naked Sunday night party that's on everyone's list. If you're looking to nurse that hangover horn, there's no better place to get some action. No need to worry about scrolling through the apps, Stark Bollock Naked (SBN) is full of like-minded lads looking to get off. From the dirty minds of the Jamie HP lads, it's the weekly sexed-up party that always brings in the horny boys down to Vauxhall. At 5pm a live XXX show kicks off, this week featuring the always popular Drew Dixon and handsome stud Ronnie English. They face off and get off on the SBN stage. Then at 6pm, it's time for the Nearly Bollock Naked (NBN) gang to join in their underwear.
Union Nightclub, 66 Albert Embankment, Vauxhall SE1 7TW. SBN 2pm – 10pm (Show at 5pm). NBN 6pm – 10pm. Members £15, Guests £18.
'Til 1st March
The Morning After
Last chance to catch The Morning After at the UK's only LGBT+ theatre Above The Stag. Written by Peter Quilter and directed by Andrew Beckett, it's a fun and frothy look at one night stands. We've been there, haven't we! Waking up in East Ham, picking up our phone, opening our browser and searching "Where's East Ham" and almost bursting into tears when it says it'll take us an hour and a half to get home. Sigh.

Above The Stag, 72 Albert Embankment, SE1 7TP. Tickets at qxtickets.com.
Monday 2nd March
WE HAVE DECREED, as London's PREMIER (well, only) weekly scene magazine, that Circa Soho is one of the best places on the scene to drink on a Monday night. They've got sofas, they've got muscular continental bar staff, they've got neon lights and they've got Kronenbourg – what more could you ask for, honestly. It's a chill vibe in there, much more bar than a club. If you want a club, pay a visit to their big sister venue, aptly christened "CIRCA THE CLUB", down by Embankment Station. They specialise in hedonistic clubbing on Fridays and Saturdays.
62 Frith Street, W1D 3JN. 1pm – 1am. Free entry.
Wednesday 4th March
Freedom Bar
Slap bang in the middle of Soho is bougie boutiquey cocktail bar Freedom – a clandestine corner of the scene, with dimly lit booths and the sound of cocktail shakers rattling! It's a good place to sit and watch the world go by, and on weeknights their downstairs performance space plays host to many a raucous night, from comedy to drag and burlesque, well into the wee hours.
60-66 Wardour Street, W1F 0TA. 4pm – 3am. Free entry.
'Til the 8th March
Award-winning director Daniel Goldman is back with an exciting new work. Following his critical success Thebes Land, he's landed at The Pleasance with his compelling and disturbing new work The Rage of Narcissus: When Sergio arrives in Ljubljana to give a lecture on Narcissus, the first thing he does is look for someone to have sex with. A few hours later, once Igor has come and gone, Sergio spots a bloodstain on the floor. As he begins to investigate, he gets drawn deeper into the murky world of desire, infatuation and murder. Perfect material for the new play he's trying to write – if he can get out of Ljubljana alive.
The Pleasance, Carpenters Mews, North Road N7 9EF. 7:30pm, 5:30pm, 3pm. Tickets at qxtickets.com.