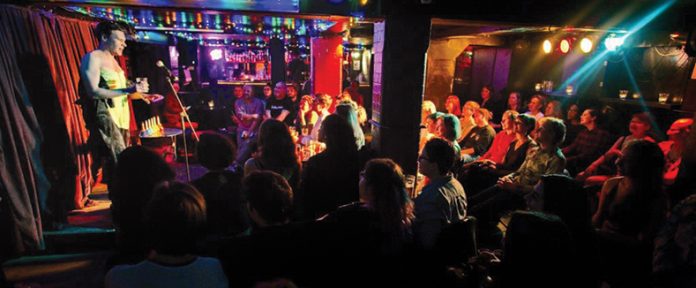 Friday 22nd March
Non Binary Cabaret
With a big middle finger to that pesky gender binary, these performers are here to celebrate the rollercoaster ride that is the gender spectrum. Curated by Sit Down Cabaret, this Non Binary Cabaret is home to queer performance art and cabaret, where norms are left at the door. Embracing the menagerie of gender, sexuality and love that the world has to offer, these folks are pushing cultural boundaries and diving headlong into the tide of gender expression. Nestle yourself into the intimate Glory Basement and watch living history unfold. Host Ingo Cando will be your master of ceremonies for this ceremonial disembowelment of stereotypes and social expectations. Grab your sock-stuffed crotch, glitter those brows and slip into those heeled high-tops. It's time to explore the gender spectrum.
The Glory, 281 Kingsland Road, Haggerston E2 8AS. Doors 7:30pm, show 8pm. Tickets £8, OTD £24.
BRÜT

Theresa May being truly fucked over in Parliament? That's brutal. Being truly fucked in a leather swing? That's BRÜT! Bringing you the capital's biggest beefcakes all in one rip-raw party, where leather harnesses and budging hairy chests are the 'it' accessories for this spring season. A typical club night sees maybe one or two of these huge beefcakes dominating the dance floor, but at Brüt the entire dance floor is packed with man meat, and the domination happens over in the dark room. The great thing about this Friday night frolic is that you don't have to sort that awkward 'your place or mine' discussion; the only place you need are the dark corners of Bloc South.
Bloc South, 65 Albert Embankment, SE1 7TP. 10pm – 5am. £5 before midnight with QX ad/screenshot, £10 after.
Eurofest
Remember when hearing the word 'Europe' didn't make you feel inconsolably exhausted? Well, turn back the clock to a pre-Brexit world where Europe meant kitschy pop and sequined outfits! Eurofest is powering on and bringing a heavy dose of Euro-pride back to the RVT. This week they're teaming up with Manchester's Boom Bang a Bang to bring you the UK's biggest Eurovision preview vote. They'll be blasting out this year's competing songs so that you know who you're rooting for at this year's Eurovision. You may not have managed to book your tickets over to Tel Aviv for the real thing, Eurofest is sure to be the next best thing. PLUS they'll be welcoming to the velvet-curtained stage Macedonian pop sensation EYE CUE!, who competed last year with their hit Lost and Found. They'll be performing a set jam-packed with Eurovision bangers. Get yourself some schlager you shlag!
The Royal Vauxhall Tavern, 372 Kennington Lane, Vauxhall SE11 5HY. 7pm – 3am. Doors 7pm, show 7:45pm. Advanced tickets £6.50, £8 after 10:30pm.
Saturday 23rd March
Soul On Saturday 1st Birthday
Can you believe it's been a WHOLE YEAR of Soulful Saturdays over at Eagle? It feels like only yesterday we were shaking our cabooses to some Aretha mix at the launch. In celebration, they're cranking up the gear to bring you an even more banging dose of soul jams and RnB hits. Serving up the best in the genre will be certified beefcake Terry T-Rex who always delivers, and guest resident Jeanie Crystal will have you bouncing to those throwback beats. To mark the occasion selected drinks are 2 for 1 until 11 pm, so be sure to get lubed up in liquor before the party really pops off! Host Roy Inc. is on hand should you be in need of a soul sister. These days it feels like we all need saving, and the one place sure to offer up our salvation is Soul On Saturday!
Eagle London, 349 Kennington lane, Vauxhall SE11 5QY. 9pm – 4am. Free before 10pm, £6 after.
BEYOND
There comes a point in your Saturday night when you're slowly writing off whatever you had planned for Sunday. Once you've written it all off there's nothing stopping you from going FULL THROTTLE. But where to head when all the clubs have closed at 4? It's time to head BEYOND your average clubbing experience. It's time to take it to the next level. Bringing in that killer Tech and House combo are the folks at Beyond, who somehow make staying out until midday a good idea. When all logic says "No, go to bed'', Beyond says "Buy yourself another drink and dance up against that muscle hunk who's been making eyes at you''. It's the irresistible night of high-octane clubbing that makes staying out all night a weekly endeavour.
Fire, South Lambeth Road SW8 1SP. 4am – Midday. £13 concession/flyer before 7am, £16 OTD.
Trough
London's most stylish naughty night is back. This tim they're taking over Bloc South for an evening of debauched revelry, all set to some killer tech beats. They always daeliver on a teaming dance floor that's jam-packed with grizzled muscle. Delivering on the night's dark beats are DJs Tony Bruno, James Baillie, and Two Kinds of Evil. Take a daring turn into the dark room and you won't be disappointed, have a grope of a few grizzled pecks and bulging abdominals. They're really not picky when it comes to dress code, operating a 'less is more' approach, but some hot gear is always appreciated, from leather to rubber or just your civvies. It's all about getting the hottest guys in for a night of hard-core clubbing and getting your rocks off on a Saturday night. Time to shove your snout in this Trough.
Bloc South, 65 Albert Embankment, Vauxhall SE1 7TP. 10pm – 6am. £20 tickets available at TroughLondon.com.
XXL Military
Are you into big hair bears? SIR, YES SIR. Do you look sexy in camo print? SIR, YES SIR. Do you fantasise about an orgy at an army base? SIR, HELL YES SIR! There's something about a man in uniform that has us instinctively grabbing our ankles ready for a cavity search. It's the perfect opportunity to get your hands on some privates and dance up against a captain or two. The theme might say army, but the darkroom is sure to get handsy. All the burly men of London head over to Southwark on a Saturday night and one quick look around the dance floor is enough to see why. This club night is sure to be sergeant MAJOR.
Pulse Nightclub, 1 Invicta Plaza SE1 9UF. 10pm – 7am. £15 guests, £10 members.
TFN- Totally Fekking Nude
When it comes to naked gay parties on a Saturday night, TFN is undoubtedly No1. There's always over a hundred fit men in attendance who we're sure you can't wait to get to know. Whether you're looking for a dance, a dip in the spa pool or a tumble in one of the cabins, TFN has it all. It's the kind of place where you leave your attitude and your clothes at the door, and just go with the flow. Picking out what to wear on a Saturday night is a major hassle, with TFN you can spend the time you would've done choosing out an outfit on some creative manscaping. It's where you can mix with likeminded guys and kick back with some hot naked men.
Covent Garden Health Spa, 29 Endell Street, Covent Garden WC2H 9BA. £15 entry, includes 1st drink and coat check.
Sunday 24th March
SBN & NBN
A day of rest… but not for us! Sundays are the holiest day of the week. They sure are over at Union Nightclub where the men of London come to worship the male form. Get on your knees and do something way more fun than praying. Stark Bollock Naked is where and how you should be on a horny Sunday afternoon, in the middle of a crowd of naked men who are keen to get to know you. Thing get proper hot and steamy over at SBN, with it all coming to a boil at 5pm when bearded beefcake Lex Anders & British beauty James Castle (pictured) take to the stage for an XXX live show that is sure to get your blood pumping and your manhood throbbing.
Union Nightclub, 66 Albert Embankment, Vauxhall SE1 7TW. 2pm – 10pm.
---
Bar News
Admiral Duncan
The Dunky! It's slap BANG on Old Compton Street, the thriving, throbbing, thronging heart of Soho. Is that enough "th" adverbs for you? Good because we haven't got anymore. The Admiral Duncan is one of Soho's cosier establishments, but what it lacks in size it makes up for in personality. We've all met men like that haven't we. One of our all time faves Sandra (pictured)graces their cabaret stage every Thursday. We love her because, she SHOCKS us. And we're not easily shocked. She's…she kind of defies description. Just go and see for yourself.
54 Old Compton Street, W1D 4UB
Halfway 2 Heaven
Good old Halfway! Can always be relied on for a camp ol' knees up any night of the week. Oh yes dear. Halfway is tucked behind the bustling bumptiousness of Trafalgar Square, a handbag's throw from fluttering pigeons and sputtering buses. Inside, it's an oasis of old school gay bar fabulousness. Upstairs it's all wood paneling and salubrious pints, and downstairs it's all cabaret and quipping on their sparkly pink drag stage. Don't miss Friday's drag act – she's fresh out of the oven and crispy on top, it's Lola Lasagne (pictured)!
Bridge Bar
Nestled away over the river in boozy, bougie Clapham, it's Bridge Bar! A slick little place under the arch of a railway bridge (hence the name, very clever) Bridge Bar is the place to be if you like cocktails and people watching. It's right by Clapham High Street, so you can see all the tanned gorgeous Australian Clapham gays stalking past with their bags of shopping from Next and John Lewis. Cheers!]
Old Ship
Down in lovely Limehouse, there's a gay pub that for many is quite off the beaten track. So if you've already sashayed your way around Soho, dawdled around Dalston and veered through Vauxhall, why not try something a little different and hop on the DLR for some Limehouse lovin'! The Old Ship is an endangered species, a proper old school gay boozer. It doesn't QUITE have sawdust on the floor – if we were in America, it definitely would. They have cabaret over the weekends. Head down this Saturday to see someone whose name always makes us YELL; Wilma Ballsdrop (pictured)!
Little Ku
Little Ku is CUTE! It is, as the name suggests, little! It's the cheeky little brother of the KU group's flagship Lisle Street venue. Little Ku is tucked down a Soho side street, the perfect place to dive into for a catchup with friends, or a romantic date away from all the hustle and bustle. They've got beers on tap, and do a mean Aperol Spritz! Plus there's a little bench outside where you can sit and watch the world go by. Lovely.
25 Frith Street, W1D 5LB