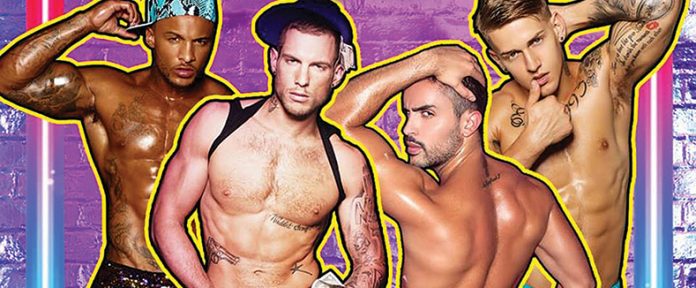 Thursday 18th April
Room Service – The Easter Resurrection
Back from the dead! Can we get a HALLELUJAH!? They're back from the island of lost club nights and have landed on the Embankment at the funky fresh Circa The Club. From their not so humble beginnings back in 2010, this bicep-flexing hip-thrusting night is back after two long years of beauty sleep. Pretty boys and throbbing neon strobes, we can't wait to get back into it! It's going to be MAJOR! Scene Empress Jodie Harsh will be on hosting duties, so keep an eye out for a coiffed mane and lip gloss stains on the bathroom mirrors. Grab a silk dressing gown and your most luxurious eye mask because on Thursday night we're ordering ROOM SERVICE.
Circa The Club, Victoria Embankment WC2N 6PA. 10pm – 5am.
Friday 19th April / Sunday 21st April
BRÜT/ BRÜT XXXTRA
You think just because it's Easter Weekend you get to take it easy on a Friday night? WE DON'T THINK SO! This Friday night, like every Friday night, Bloc South is being taken over by a rowdy gang of blokes, bears cubs, chunks and hunks for a naughty night of exploring dark corners, and making the most of that play space. Taking to the decks are LCB/Juliano and special guests Amyl (Ross Jones & Simon M). Their two dance floors are always full of brutish guys who look like they've wondered in after a day of filming Game of Throne's final season. Meet us in the booth upstairs, Khal Drogo! PLUS they're serving up an XXXTRA helping of BRUT this Easter Sunday. They welcome back LCB/Juliano and guest DJ Paul Heron. Dance to some chunky beats and cruise a chunky bear.
Bloc South, 65 Albert Embankment, Vauxhall SE1 7TP. 10pm – 5am. £5 before midnight, £10 entry.
Friday 19th April
Pandora Boxx
Oh LORD. Who opened it up THIS time? Thankfully, this Pandora Boxx isn't full of 'evil gifts' like the other one. Instead she's overflowing with sequins, glitter, and a few devilish one-liners. She shot to fame on an international stage during the second season of RuPaul's Drag Race, and the first season of All Stars (not that anyone saw it) and now she spends her time jetting the globe bringing her One Woman Show to her adoring fans. She's known for her quirky style and geeky state of mind, and trust us, a Dr Who reference is NEVER lost on Mz Boxx. This Miss Congeniality is the sweetest little cupcake to come from that cut-throat reality show, but don't let that fool you. She's been known to be QUITE dangerous with that unicorn horn.
The Royal Vauxhall Tavern, 372 Kennington Lane, Vauxhall SE11 5HY. £15 tickets available at VauxhallTavern.com.
Saturday 20th April
XXL Military Easter Special
OH! We DO love a man in uniform. Nothing like licking a chunky pair of leather boots while he gives you the 'Sir, Yes Sir'! Get a good look at some handsome Privates, and XXL is sure to be packed full of them. They're welcoming back some heavyweights of the music mixing scene, with XXL favourite Moto Blanco taking to the decks, with Hutch Back and Back Set also serving up some chunky beats that'll have you shaking your hot cross buns. Soldiers sure have lost their flair since the Romans paraded around in red velvet skirts during that first Easter, but THIS Easter weekend it's camo all the way baby. The best use of that Monday bank holiday is having an extra day of nursing that hangover from a Saturday night at XXL.
Pulse, 1 Invicta Plaza SE1 9UF. 10pm – 6am. Members £10, Guests £15.
Athena – April Party
They're BACK, betches! After celebrating turning the ripe old age of 7, which is basically 52 in party years, they're revving up for the April installation of all things Athena. Their doctrine is simple: serving up female-led 80's hits with a splash of palm trees and crimped hair. An eighties night is something you come across a lot in London, with your usual club just whacking in a Best of the 80s CD and hoping Karma Chameleon doesn't come on more than twice. That is NOT how they do it over at the Eagle. Resident DJs Paul Joseph and Gareth Hackney school the children on what a finely crafted set sounds like, with special guest DJ Neil Prince busting the basics out of the water. From Bowie to Blondie, Spagna to Soft Cell, it's a throwback night that's sure to pump you full of that sticky sweet nostalgia.
Eagle London, 349 Kennington Lane SE11 5QY. 9pm – 4am. Free before 10pm with OutSavvy ticket, £6 OTD.
TFN –Totally Fekkin Nude
The party where just taking your top off for a boogie isn't going to cut it. You have to get Totally Fekkin Nude! It really saves you time when deciding on your Saturday night outfit when you know you're spending the night in absolutely nothing. Taking over the amazing facilities of the Covent Garden Health Spa once again this week are those naughty JamieHP boys who know how to throw a sex-positive party. Drawing a crowd of London's hottest lads all looking to get some action this weekend, the talent is never disappointing over at TFN. There's always someone you'll want to dip into that large spa pool with. Why bother spending your night trying to pull at the club, when you can get Totally Fekkin Naked!
The Covent Garden Health Spa 29 Endell Street, Covent Garden WC2H 9BA. 9pm – 2:30am. £15 includes 1st drink and coat check.
Sunday 21st April
Berlin Berlin Uncut
A 16-hour mammoth party that's sure to tear your Easter Weekend a new one. Bringing together the most exciting DJs, collectives and performers from the avant-garde of the club scene, this is one party you're not going to want to miss. The folks from Pornceptual, one of Berlin's biggest queer parties, are back with Ostugut Ton's in-house roaster Boris who's bringing multi-dimensional sound to Egg London's middle floor. Grab your filthiest pair of ripped fishnets and stomp into a pair of rubber boots, things are about to get INTENSE. Serving up an intoxicating blend of house cuts are infamous collective Buttons, who are hopping over with founder Jacob Meehan. London's also representing with the furry upper-lip crowd of Homostash, the delinquent goth creatures of Mønster Queen, and the ethereal beings of Transister. If you're feeling brave, dive into the depths of Cell 200 where XXX delights await you. This is an irresistible chunk of Berlin's infamous club scene right in your back garden.
Egg London, 200 York Way N7 9AX. 2pm – 6am! Get your tickets over at EggLondon.co.uk.
Trough @ Berlin Berlin
Getting in on that Berlin Berlin action, those naughty boys over at Trough are bringing the X rated action in buckets full. While Egg London's popping off above, with the party creatures grinding and writhing, down below things will have only just begun. If you've ever been to a Trough party then you know that big hairy hunks is what they do, so strap on a leather harness and get squatting. Taking to the decks to serve out some filthy beats are Massimo Paramour and Toby Bruno who always get the crowd pumping. Though all of the Berlin Berlin party people are welcome in, their venue has a limited capacity so only a Trough ticket will guarantee your entry. Exploring their play areas, there's no knowing who you'll find down in the depths of Cell 200.
CELL 200, 3-5 Vale Royal N7 9AP. 10pm – 6am. Get your tickets over at TroughLondon.com.
Fabulous: She Has Risen!
Getting up from a death-drop is hard work. Just ask Jesus Christ! It even took him a few days. Rising this Easter is a deity known for being just as gay as the prodigal son himself. Fagulous brings to The Glory stage a scandalous, sordid display of blasphemy with She Has Risen. This comedy cabaret show is sure to resurrect your hope in humanity and bitch-slap your sacred ass. When she's not rising from the dead, Fagulous has performed across London garnering rave Time Out reviews. Her Liza is flawless, and her Theresa May has the real one enlisting her as her dance-double for next year's Conservative conference. Yank out those rosary beads that you mistook for a very different set of beads and come get drunk on communion wine as we cheer to Fagulous as she rises!
The Glory, 281 Kingsland Road, Haggerston E2 8AS. 7pm. £8 advanced tickets, £10 OTD.
WE – Into The Woods
It's Easter so fluffy bunnies are EVERYWHERE. Do you know where you need to head to find the hunkiest little bunnies out there?! Into The Woods, of course! The sexiest Spanish import to hit the London party scene is BACK. WE Party is here with an extra woody edition of it high-octane, full-throttle clubbing experience. These nights are all about the gym bunnies of London showing off exactly why they haven't consumed carbs since the '90s. No matter how down today's headlines get you, it's nothing that a club full of rippling abdominals and throbbing pectorals won't fix. Ever wonder what it would be like to walk into a dressing room at a Calvin Klein Underwear show? THAT is the WE Party experience.
Electric Brixton, Town Hall Parade SW2. 11pm – 6am. Tickets available at OrangeNation.co.uk.
Sunday 21st April & Monday 22nd April
SBN & NBN
Just when you spend all week long waiting for SBN to come back around, two come along at once. Yes gentlemen, this Easter weekend the naughty lads of SBN are serving double helpings of naughty naked action. Make the most of those few days of by getting an extra day of hot action. Stark Bollock Naked is one of those events that's always super popular with the fit gay lads of London, and it's easy to see why! If a room of horny naked guys wasn't enough, on Sunday a XXX live show takes to the stage at 5pm. This week it's brought to you by peachy arsed Austin Sugar who's as sweet as his name suggest. Tasting that sugar will be SBN favourite Ronnie English who knows how to give it. Hard. This is not one you're going to want to miss. As for NBN, you can join in your undies at 5pm on Sunday, and on Monday you can enjoy the event in your undies all day long!
Union Nightclub, 66 Albert Embankment, Vauxhall SE1 7TW. Sunday 2pm – 10pm, NBN join at 6pm. Monday 2pm – 7pm. Members £14, guests £17. Claim your free membership at JamieHP.co.uk.
---
Bar News
George and Dragon
Off the beaten track is where we like to hang out, so the George and Dragon is a favourite haunt of ours. You don't need to travel to central for your drag queen jollies; the glittering stage of the Dragon hosts all of your favourite queens working the London circuit. This Easter Monday three old witches who were at the original crucifixion are gearing up to crucify The Duchess (pictured) for a good old fashioned ROAST. We love an Easter roast and this one is sure to be piping hot. Welcoming drag delinquent Miss Jason, the delicious Lola Lasagne and maverick Mary Mac to serve up a heavy dose of sacrilege on 22nd April. Be sure to wear your eating pants because starting at 8pm is a lavish feast! Meat cleavers at the ready, it's time for the Duchess Roast!
2 Blackheath Hill, Greenwich SE10 8DE
Ku Bar
The KU Easter Weekender! This upcoming mega weekend means London is going to be infiltrated by crowds of hot visitors looking for a drink, a dance and some petting. They're open Midday to Midnight all weekend long! Every time we're in there we end up chatting to a handsome stranger of the Spanish or Italian or French variety who's looking for a good time while they're in town. A night at Ku is exactly that. By the fifth drink, we're itching to get on down to the Klub for some bops! They host some of the freshest DJs working the London scene who knows how to keep the party going into the early hours. Good beats mean you're not flagging until the Uber home and Alvaro has promised to carry you in. For good vibes and flirty out-of-towners, head on over to Ku. Serving up multiple DJs and topless bartenders it's a no-brainer!
30 Lisle St, Leicester Square WC2H 7BA
The Bridge Bar
The Clapham gays get a bad rep, which just ain't fair! Come the weekend and you can be sure they're the ones up on tables shaking their hairless, bleached buns like they're Shakira. They work hard, and they play hard. An Easter weekend means work takes a back seat and playing hard takes a front seat. This new found freedom from their finance jobs is sure to send pandemonium through the streets of Clapham, and nowhere more than at The Bridge Bar. Welcoming DJs David Robson, Dominic, Paul Heron and Massimo, all weekend long is one long BENDER! Who KNOWS what you'll get up to under these bricked arches. Monday's being taken over by Scottish lady of the gilded thistle Vanity Von Glow (pictured) who's serving up some Diva Bingo, with David Robson taking to the decks. Then nursing your elephantine hangover on Tuesday is the Bloodwise Charity Quiz with Quizeerascalremus, so you know EXACTLY how many brain cells you've killed with a weekend of drinking at The Bridge Bar.
8 Voltaire Road, Clapham SW4 6DH
The Old Ship
There's something that feels so wholesome about seeing all those bunnies and baby chicks in every shop window. What you need is somewhere to grab a few wholesome drinks in a friendly queer local. The Old Ship is the East End's answer to a country pub, with a few queens thrown in. On Saturday Night they have living legend Dave Lynn (pictured) taking the reigns for an evening of whipping her viper tongue. A tough act to follow, but if anyone can follow Lynn is multi-talented trio The Vixens can, taking to the stage on Sunday Night. They've been knocking their stilettos across the London scene for almost four years, and their shows are NOT to be missed. When you're feeling a little worse for wear on a Monday evening and need a kind bosom to lay upon, then Tiffaney Wells on a Monday Night has her breast at the ready. If you're looking to escape Central's bustle this weekend but still get boozy with some queens then The Old Ship is where you should be heading.
17 Barnes St, Limehouse E14 7NW
Freedom Bar
You know what a bank holiday weekend gives you? FREEDOM! You're not spending Friday night negotiating how wasted you can get because you're in early on Monday. For four whole days, you can pretend that the 9 to 5 doesn't exist. Kick back with a few cocktails at Freedom Bar who are keeping their doors open until 3am all weekend long! Grab a half price cocktail if you arrive before 8pm, and stick around until Monday morning. Sure, Monday's going to be hell nursing your four night Tom Collins bender, but it'll be damn worth it! Head over for Kinky Kabaret in the evening and have some crooning West End performers soothe all that ails you.
60-66 Wardour St, Soho W1F 0TA