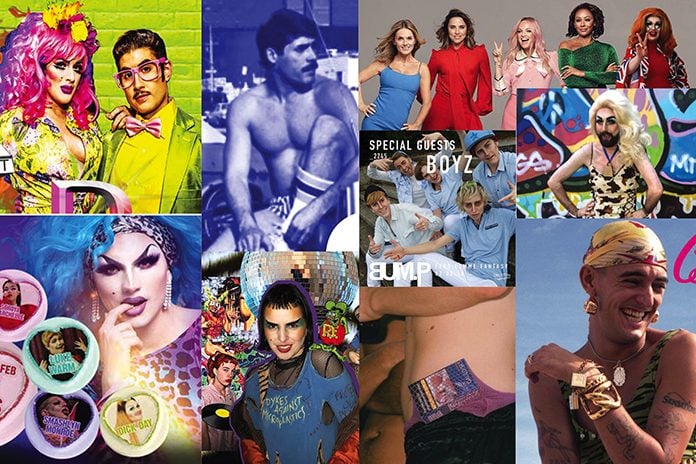 Discerning scene musings from the princess of East London!
---
Who or what came first? I'm not going to harp on about knowing your history, but what I will say there's a lot to be learnt from the generations that have paved the way with radical thinking, questioning and changing things so we can go forward. There's something to ponder and find out about.
This week we go BOLD! with BOiBOX on Thursday 31st January, who return to The Glory for a run of Drag King Shows. Adam All and Apple Derrieres put on a showcase starring Amir Bhoy, Jada Love, LoUis CYfer, Maxlastic and Romeo De La Cruz. It's on from 7pm till 11pm.
Venturing to The Old Nun's Head where Felix & Friends present Love Sucks on Friday 1st February. So this is Nunhead's only queer cabaret venue, situated in Peckham, SE15 and tonight the theme anticipates the looming horror of the month of love, yes Valentine's Day. With Smashlyn Monroe, Soroya Marchelle, Luke Warm and Gold Rush winner 2018 Dick Day. Show time 8.30pm till midnight!
This week at Bender! every Friday at the Eagle the continuing fun never stops! Chris De Buerre joins Martyn Fitzgerald on the decks with resident host Bimini. 9pm – 4am
Make a night of it and start off your Saturday at The Retro Bar with girl about town Kat…yes, Kat Does Retro Bar on Saturday 2nd February from 8pm till 11pm. They'll be DJing a mix of alt faves while you enjoy the ambience and have a chinwag!
Then hotfoot it down to Mariah & Friendz and a HOT Mess! themed night. Baby Lame, Crystal Beth, Margo Marshall, The Night Bus, Fagulous, Ruby Gaskell and Petite Lamé (Ooooh it's star studded!) take over on Saturday 2nd Feb at The Bethnal Green Working Men's Club from 9pm till 2am.
Continue the hot mess theme with Just May does DJing at The Queen Adelaide's basement on Saturday 2nd Feb from 10pm till 3am. Channeling Geri ginger spice Just May slams down the trashiest tunes she can muster up.
I wish I could go everywhere but BUM.P // Febs Femme Fantasy at Dalston Superstore is calling on Saturday 2nd February where I'll be DJing along with DOVE and a special performance from iconic drag king band BOYZ and Jordss upstairs. In the bangin' basement Grace Milani Bones and Nimmo turn it out 9pm till 3am.
Then, who's up for a rave up?! The now legendary Adonis is back on Saturday 2nd February!!!!! From 10pm till 6am at The Cause over in Tottenham Hale Adonis is an occasion like no other…non-stop pounding beats from DJ's KeenanOrr, Hannah Holland, Grace Sands, SONIKKU, Jeffrey Hinton, Nick Gynn and Shay Malt. A right proper night out!!!!
Back at The Glory this Sunday 3rd Feb, I'm back with Princess Julia Loves. I do this most Sundays from 7 till 11pm, casual evening where I indulge you with an obscuro selection of music and more than a few classics.
Wait for it – GOLDRUSH is back from Monday 4th February till 25th March. This is season two of a contest that has become somewhat of a feature on our social calendar. Hosted by Taylor Trash, it takes place in The Glory's basement cabaret lounge at 8pm. Also catch up with last season's competition, with a web series due to go online any minute now!
It's great our spaces provide various platforms on which we can express ourselves, Up at Dalston Superstore they launch an exhibition entitled CAMP on 7th Feb. They're having a private view from 7.30pm till 9.30pm with work from Anna Sampson, Emily Rose England and Spyros Rennt adorning their walls and it's on until 1st April.