LGBTQ VENUE BASED EVENTS ON TONIGHT
---
MAN DOWN! Murder Mistery Quiz with Adam & Apple!
Cabaret's power couple present a bonkers audiovisual murder mystery quiz in the glittering basement of The Glory. Get your tickets at The Glory, social distancing means tickets are limited.
The Glory, 281 Kingsland Road, London, UK E2 8AS
---
Pink Glove's Bohemian Like You Vegan Lounge! From 7pm
Our fave queer indie disco is heading to Dalston Superstore for a sophisticated soiree. Hosts Heidi Heelz and Mike Menace will serve up an evening of indie for common people – as requested by you! Tweet, Facebook or Insta your requests and dedications to @pinkglovedisco on the night. They'll also be testing BRITPOP BINGO and a quick-fire, hard-hitting quiz… WHAT WOULD ALANIS DO? EATS & DRINKS: Superstore will be serving up delicious Essential Vegan Kitchen delights until 10pm, with a fabulous cocktail menu to quench your thirst all night long. A selection of delicious beers are also available. BOOKING: The event is free! However space is limited so table booking is recommended – link below. Walk-ups welcome on the night, space-permitting.
https://booking.resdiary.com/widget/Standard/DalstonSuperstore/15580?Date=2020-08-14
Pink Glove at Dalston Superstore, 117 Kingsland High Street, E8 2PB London
---
A SELECTION OF THE LGBT BARS THAT ARE OPEN TODAY IN LONDON
---
The Bridge Bar is located mere minutes from Clapham North station and is a perfect place for pre-drinks with an intimate date or lazy Sunday sippers on their sunny patio area. Eclectically furnished with all manner of esoteric bric-a-brac, beautifully lit by candlelight after dark, we can't think of a cuter spot in Clapham. Classic cinema events with cheese and wine, quizzes and more. Saturday night live entertainment. Book Here

---
Dalston Superstore is your big queer paradise – a diverse and eclectic LGBTQ+ venue, cafe, gallery and performance space. Currently in partnership with Essential Vegan and open for table bookings!
---
CHECK OUT OUR COMPREHENSIVE GUIDE TO THE LGBTQ+ BARS THAT ARE OPEN DURING COVID:
Gay bars in London open now. COVID 2020 guide
---
An inclusive LGBTQ+/GSRD venue where everyone is welcome, as long they don't behave like a dick.
---
HEAVEN Under The Arches, Villiers Street, London, WC2N 6NG 9pm to 4am
Heaven nightclub has transformed in to the UK´s Biggest LGBT bar. Click on the Heaven link to see the pics and get an update. Open Friday and Saturday, 9pm to 4am.
---

---
Book Here.
The oldest LGBTQ+ venue in
London
. Across two floors, the venue has a great
outside
terrace
. It's very conveniently located after an afternoon's shopping on Oxford Street.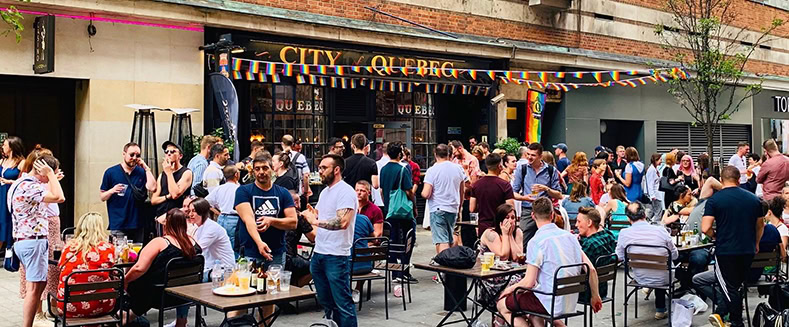 ---
Nearest Tube: Lime House Station (2 minutes). Monday to Thursday 12pm-10pm. Friday to Sunday 12-11pm. This is traditional-style pub with an excellent range of beers, real ales and wines, with a big-screen TV, and beer garden.
---
Ku Bar 30 Lisle Street, London W1D 5JL
Nearest Tube: Leicester Square. Book: [email protected] *£20 table pre-authentication fee – only chargeable if not showing* Live luxuriously at the ever-stylish and forward thinking Ku Bar, conveniently located between Chinatown and Soho. A wonderful gay bar with a diverse crowd of party pumpin' pretties. The Beautiful Bar Boys will have your mouths watering, but you can re-lubricate with plenty of excellent drinks. Their terrace is the perfect place to enjoy their updated drinks list alfresco!
---
Comptons of Soho 51-53 Old Compton Street, London, W1D 6HN
Book Here App to order drinks Here
Lounge bar upstairs and cruisier downstairs, definitely a blokes bar, but how will it have changed? You'll just have to go and see yourself. Our snappers will be out and about so we'll bring you the latest news in the week.

---
Open 1pm to 1am daily. You can reserve your booth by emailing [email protected]. It all looks very stylish. That's what Circa do best! The clientele are definitely the style crowd. So if it's a bar full of lookers you're looking for, then this a great place to start.
---
Book Here App to order drinks Here
The Duke of Wellington has THREE glorious floors of bevvies and buff blokes, which explains why the place is constantly busy. There's not often a time when one can't saunter past and spy a bit of man crumpet as they spill out from the Duke of Welly's door and onto the surrounding street.
---
Book Here App to order drinks Here
---
Book Here App to order drinks Here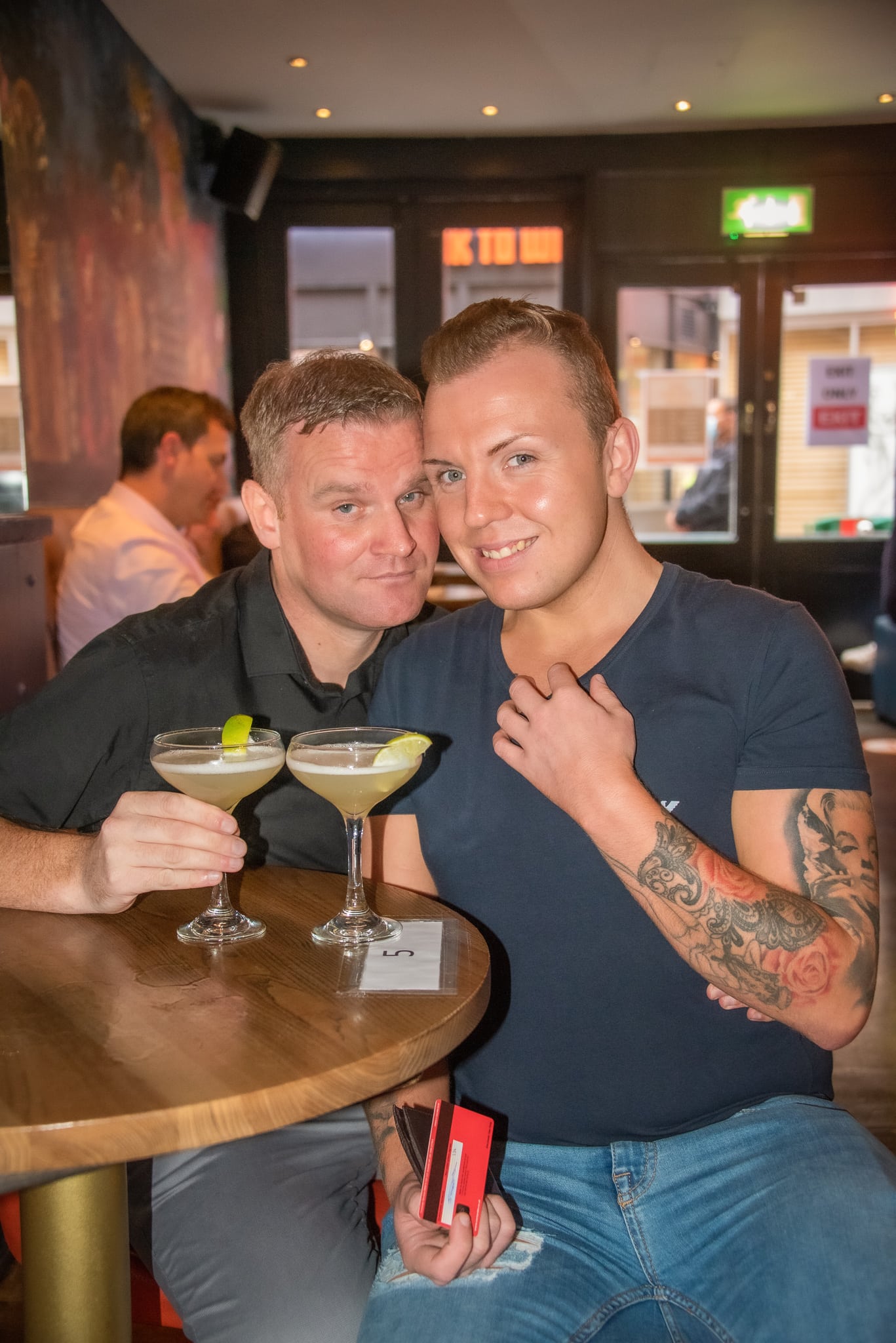 ---
Opening Times: 4pm to 11.30pm. This venue has one of the best outside spaces in Soho.
---
Nearest Tube: Elverson Road The George & Dragon is a community-favoured drinking hole nestled near historic Greenwich. Noted for drag prior to lockdown. Perfect for a post-work work pint or a local Saturday night away from the madness that will be Soho. There will be background music only, with table service from the Duchettes! No pre booked tables it's first come first served, after being seated by the duty meet & greet and providing a contact number. It will be card or contactless payment only NO CASH for now.

Nearest Tube: Vauxhall
No booking required, if there is no event on. Open late of a Friday. The word iconic gets bandied about a lot these days, but the Royal Vauxhall Tavern definitely qualifies for the title.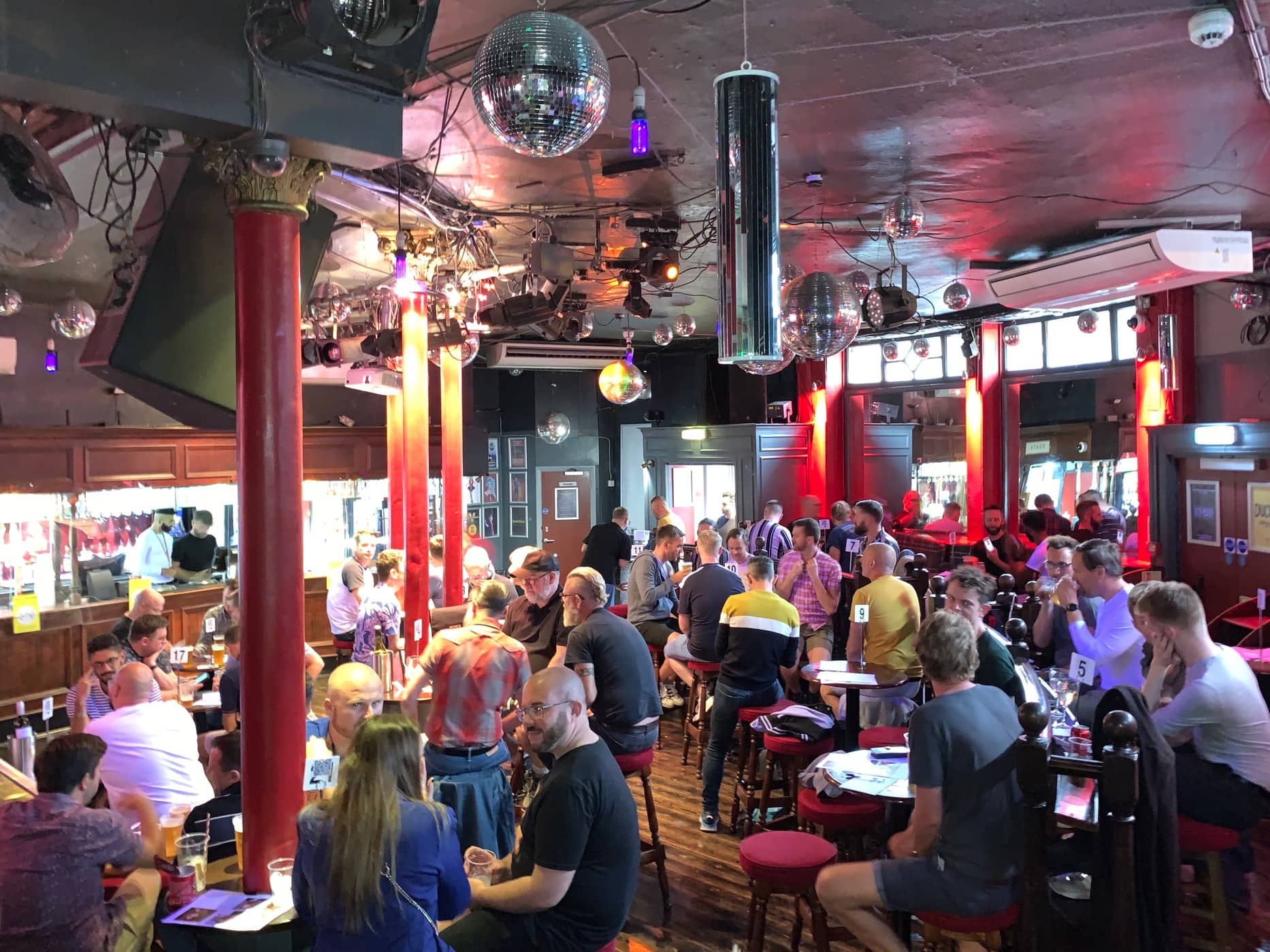 ---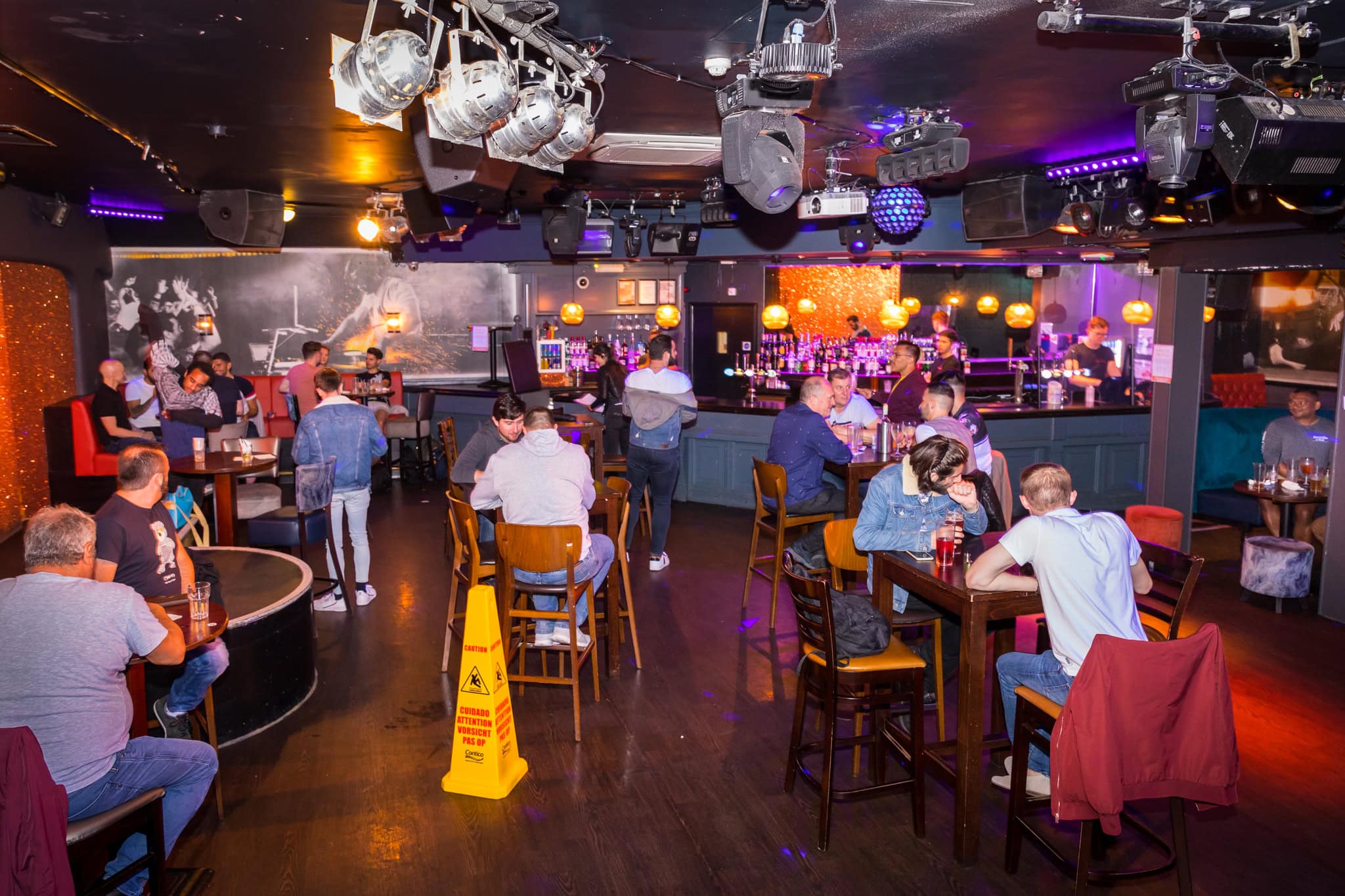 ---
56 Pope´s, South Ealing, W5 4NB
Your go to destination in South Ealing, West London. Open Friday to Sunday 7pm onwards. It's important to support bars that serve local communities, when little else is available. For those of you who care to, there is a gofundme.com/f/west5bar page available, but they'd rather you supported by visiting them!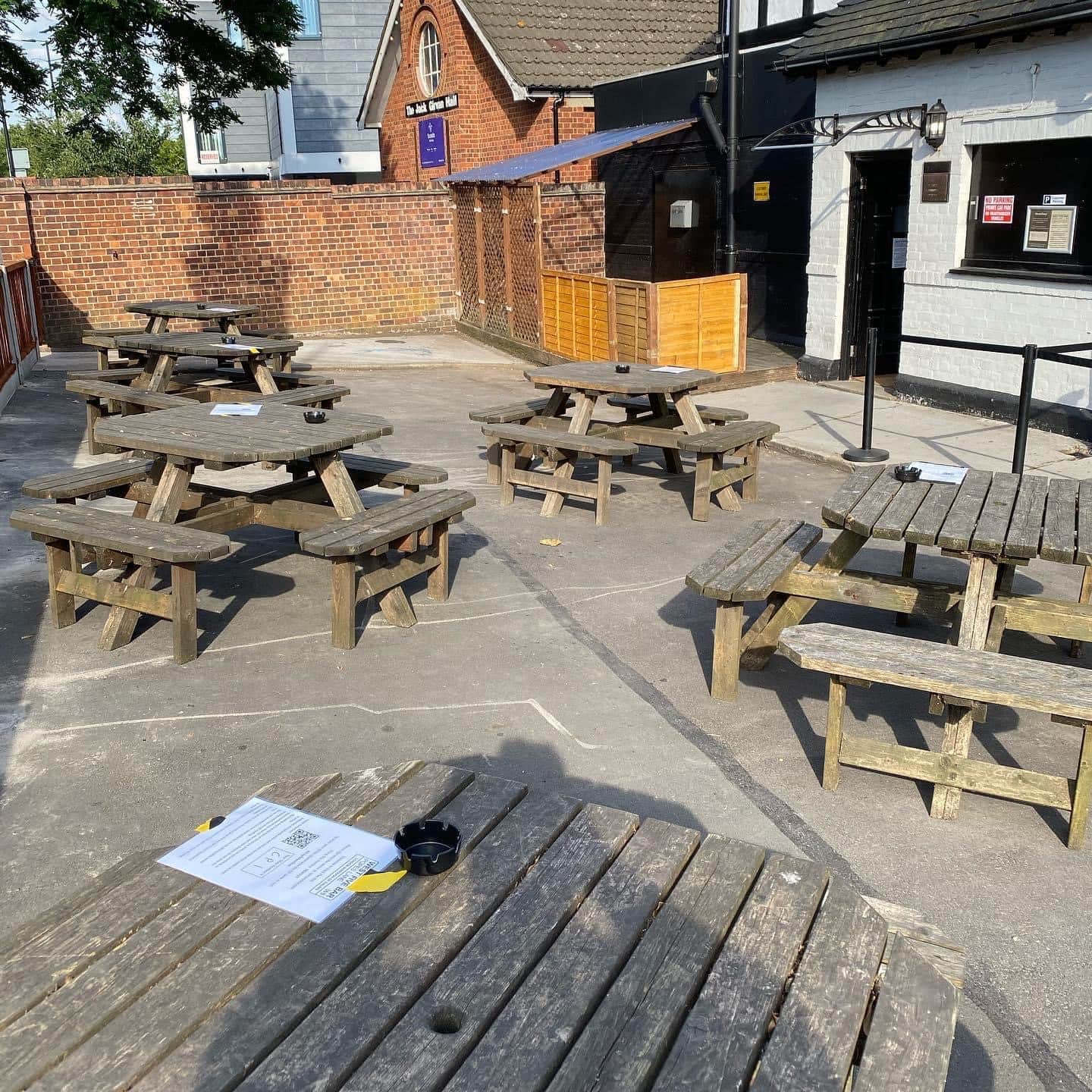 ---
CLUB NIGHTS
---
All clubs are closed due to the Covid-19 pandemic and the need for social distancing.
---
GET YOUR ROCKS OFF
---
All sex venues are closed due to the Covid-19 pandemic and the need for social distancing.
---
ONLINE LGBTQ+ CABARET, CLUBS & EVENTS
---
Camp Fit!
Every day, 10am
Facebook: https://www.facebook.com/campfitwithcarl/
40 minutes of music, moving, sweating and forgetting! Carl Harrison, who leads these daily online exercise sessions, is a pure joy, like a younger and much camper Mad Lizzie from the TV-AM days (google her, dears). Infectious good energy and easy to do routines makes this a morning must do!
---
Stay in touch with QX Magazine on Twitter
Check us out on Instagram
As events come online, we can let you know what's on … So get social, get QX!
Friday, from 8pm
You probably know Glendora best as a gay club ICON, but she's also partial to belting out a bit of retro camp from time to time. And she'll be doing just that, plus answering viewers questions on her Facebook, Glenn Pretty, on Fridays. Bona, girl!
---
Stay in touch with QX Magazine on Twitter
Check us out on Instagram
Download QX Magazine App Updated: At iOS & Android FREE. Improved graphics. Convenient digital magazine experience. App and website integration for when you're on the go!
Guide to Gay London With Maps Updated Weekly
The QX Underwear Shoot – Tyreece and Ashraf model this season's hottest undies!