James Gaddas' play is to say the least (and let's get the use of a boxing metaphor out of the way early) a TKO, 'a technical knockout'. From the commencement of round 1 and the ding of the fight bell, this is a one-man show of an exceptional standard. Jonny Collis-Scurll's performance as Flynn is breathtaking. The tour de force of his momentous monologue grabs you from the start.
His delivery of the script is both poetic and rhythmic. It's the fast paced delivery that adds to the fervour of his body language as he jabs and punches the air. This study in self/character assassination and disintegration is not for the faint hearted.
The homoeroticism is deliberate, as is the pathos, but as you watch the play you are not asked to pity this character, but to embrace how he lived his life, which has been deeply effected by his upbringing and his lack of a relationship with his father.
Jonny's skill as an actor is paramount here, in particular as the play unfolds and how he deals with anxiety, the need for acceptance and the build-up of tension, especially as he comes to terms with his homosexuality. Well observed on every level either via direct narration to the audience or when he is totally immersed and back into the role.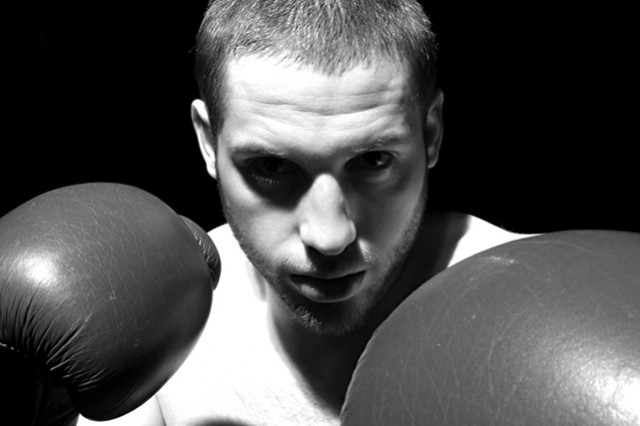 Simply staged, with just a punching bag and wooden stool as props, it's to the credit of Donald Pulford as director that he pulls such an emotionally charged performance out of Collis-Scurll. Going from solemn to perhaps mad in 50 minutes of high energy acting that is both demanding and near flawless.
If this is the calibre of work that you can expect to see at the Albany, I would strongly recommend you keep an eye on the theatre's schedule.
• The play can be viewed on the web via YouTube, and is well worth a look if you can't get to a venue as it continues it's UK tour.
• Shadow Boxing was at The Albany, Deptford London (www.thealbany.org.uk).
• Shadow Boxing can now be seen at the Deda Derby (Box Office: 01332 370911) on 2nd June www.deda.uk.com, 21st June at Arc Stockton (www.arconline.co.uk; Box Office 01642 525199) and Trestle Arts Space St Albans on 7th July (Box Office: 01727 850950; www.trestle.org.uk).
• 4/5