The Ku bunnies have got all sorts planned for the first bank holiday of the year!
---
KU love an excuse for a party (don't we all!) and this weekend, they're celebrating 2018's first bank holiday in sambucca-sipping style with a huge four day schedule across their various venues!
They'll be open extra late from Thursday night to Sunday night, with Soho's biggest lineup of DJs – some big names including Rodrigo Tancredi, Sexshooters, Kerol Garcia and more to spin you into one of the biggest party weekends of the year.
We got Ku boys Nieko and Stefanos to tell us a bit more.
---
Nieko
Oh hey, QX, you sexy lot! Don't we always gag when we get a cover with you? We feel like having a Ku/QX cover is like when Beyonce drops a surprise album – no-one expects it, but you can't NOT love it… right, boys? 😉
You know how we like our campaigns at Ku right? I've talked about them to death – but this season, we're focusing less on that constant flashy imagery, and more on what Ku means to everyone. Ku has been in Soho since 1995 thanks to our Gov, Gary Henshaw – and has always been that 'first gay bar' place. We want to retain that, but in the current climate…
Stefanos
He means, by making sure the boys stay topless, the outfits stay glamorous, and the drinks keep on flowing whilst we can all dance to the best of chart-topping pop! I ADORE everyone that comes through our doors to forget all their worries, and just dance with the rest of Soho and enjoy their night out.
Nieko
Exactly. Ku's the place to let your hair down, to buy too many of your favourite drinks, dance to the best in current and classic hits, and to find the man of your dreams (or night).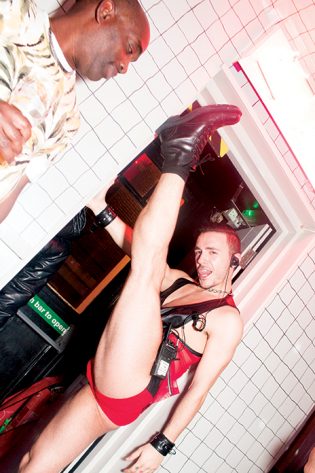 Nieko
What can we expect from this year's bank holiday weekend at Ku? EXTRA LATE. LATE. EXTRA DAMN LATE. EVERYTHING! Did I mention extra late? BECAUSE on Thursday, Friday, Saturday AND Sunday – we are going ALL hours – with Ku Leicester Square + Little Ku open till 3am each night, and Klub with our official after-party each night till 5am! We're really taking Easter up a notch and making sure you don't have to walk anywhere out of Soho to keep on clubbing!
Stefanos
Are the bar staff going to be in cute outfits? That's something I'm taking care of, so of COURSE they will! The Ku Bar Boys have a certain reputation, right? So we need to make sure they take it to another level for our customers! I don't want to reveal too much, but you'll be seeing the Ku Boys as sexy, as fun, as ready for your weekend – as EVER.
Nieko
As well as having extra late nights across all venues, and bar staff ready to go – we may have Soho's biggest Easter DJ Line-up! Check out all our DJs playing below on rotation, and of course, our fabulous Stefanos werkin' that floor!
You know we like to put on a party… and this Easter, Ku is going EXTRA DAMN LATE all weekend – so make no other plans, because you won't need it.
Ku is open from until 3am on Thursday, Friday, Saturday and Sunday, with Klub open until 5am. For more info and full listings, head to the back of the magazine or go to ku-bar.co.uk