The new night for harness-loving homos!
---
Ooh this is what we like! Just as the weather's getting steamy and sultry and salacious, we're being treated to a steamy, sultry and salacious fetish night. We're really feeling that vibe at the moment. Yeah, harness, I feel you.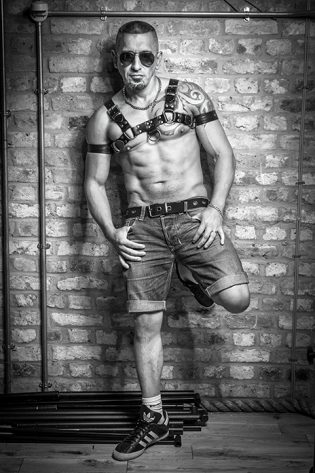 We've got hot babe Cassandra on our cover, we've got tickets to Ruff, we've got lubey hands and we're ready to ROLL. Too far? Too EXPLICIT for ya? Well tough tits, go read the Financial Times.
Ruff is the newest venture from WAYNE SHIRES, who we adore. He's got a great beard and two dogs. He's always been an aficionado of all things hot, hairy and fetishy, and he's pursuing that aesthetic further with this new party at his gorgeously debauched venue Bloc South.
Basically, it's all about HARNESSES. Harnesses are a bit of a garment-du-jour these days. They've undergone something of a cultural genesis, busting forth from the underground gay scene, into fashion, movies and music videos!
There's harnesses all over the place in the Marvel movies, figure skater Adam Rippon wore one on the Oscars red carpet, and they've been appropriated by designers like Commes des Garcons, Alexander McQueen, John Galliano and Vivienne Westwood. Even Taylor Swift wore one while stepping out for a casual lunch with Selena Gomez. Those 70s leather queens must have been fuming.
Anyway, we've seen this before. Gays leading the way in all things edgy and fashion! But Ruff will be far from the sanitised Taylor Swift-touting tititllation of this millennium. No, Ruff will be fabulous Castro Street cockiness and swaggering, handkerchief-wearing misfits. If George Michael were still around he'd def be there.
Ruff is on Saturday 26th May at Bloc South, 65 Goding Street, SE11 5AW. 10pm – 5am. £10 entry including coat check. £5 with QX ad or screenshot before 11:30pm.