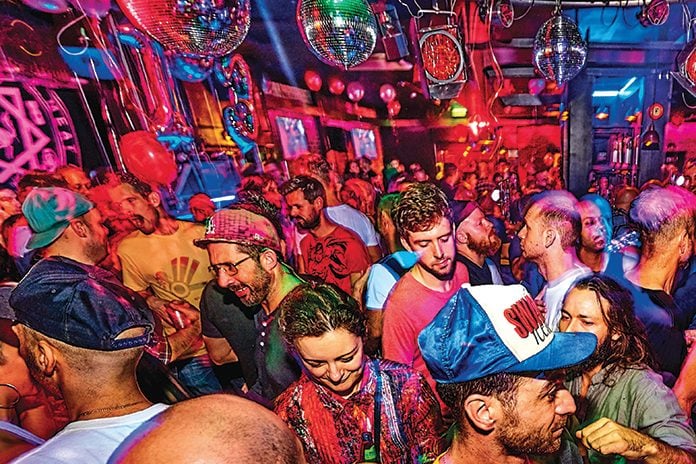 We dive into how the iconic queer venue is celebrating a decade and a half on the scene.
---
One of our fave Vauxhall haunts Eagle London is celebrating fifteen years this weekend! In these choppy uncertain times of gentrification and Gemma Collins, fifteen years is an impressive feat, and its testament to some savvy business-ship and programming from manager Mark and the team.
---
They've gone from strength to strength, adapting and melding with an LGBT scene in flux. Now they're welcoming 2019 and their fifteenth year on the scene with a great mix of sparkling drag and cabaret nights, euphorically sweaty gay dance parties, and everything in between.
Their main celebration will be at new night BENDER this Friday 15th, where they'll be welcoming Scissor Sisters alum Ana Matronic for a special guest DJ set, as well as scene legend Hifi Sean. It'll be sassy, salacious and also a little bit nostalgic! A little bit like Joan Collins.
Speaking of Joan Collins, the following night on Saturday is ATHENA, an homage to all things 80s and fabulous. Wear your best shoulderpads and get ready to throw your drink in someone's face (don't ACTUALLY do that). They're celebrating a birthday too, the ripe old age of TWO! Here's a bit of trivia; two is the number of novels written by Joan's sister Jackie, if you divide the number of novels she wrote by sixteen (she wrote 32 novels – maths!)
Then on Sunday it is of course the inimitable, incomparable Horse Meat Disco. If you somehow have never ventured to it before, go! Immediately! It's joyous and beautiful, full of a heady mix of young queer party kids, seasoned London scenesters, indistructable people who have been out all weekend, and a smattering of slightly confused but very happy straight people.
That's three nights of fabulousness at Vauxhall's home of gay hedonism. Can't ask for more than that!
For more info on the Eagle, head to eaglelondon.com