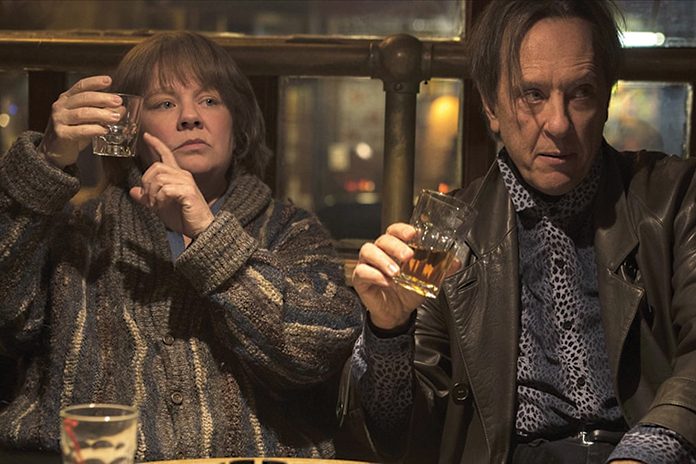 Melissa McCarthy's performance is divisive in this detailed etching of a forgotten fraudster.
---
In a performance that has garnered both 'Worst' and 'Best' Actress Award nominations, all eyes are on Melissa McCarthy as she takes on the role of writer Lee Israel in the darkest days of her career. Since becoming a household name following the immense success of Bridesmaid, this role comes out of left field for an actress who's forged a career capitalising on the 'fat lady falls over' trope. This transition into weightier subject matter is seamless as McCarthy succeeds in bringing a light touch to this portrait of a washed-up writer.
Bringing with her the rolodex of hilarity that she's built her career on, McCarthy brings out the comedy of Lee Israel in the true to life Can You Ever Forgive Me?. After a drunken spat with her manager had her out of a day job, she is at the mercy of her agent pleading for an advance despite the failure of her failed Estée Lauder biography. Two months behind on her rent and drinking heavily, she turns to a more creative way of making a living. Leveraging her status as a moderately successful biographer, she swindles traders by selling forged letters from historical celebrities, from Noël Coward to Marlene Dietrich. Along for the ride is her new acquaintance Jack Hock (Richard E. Grant), a nomadic, intellectual British gent living off of the extravagance of an early nineties Manhattan.
Making her return to the big screen after the success of The Diary of a Teenage Girl back in 2015, New York resident Marielle Heller brings the air of an underground, downtown bar to this picture, once again corroborating her panache for nuance. Her take on Israel's alcoholism and the extant AIDS crisis embellish the film's development, without becoming cumbersome deviations from its progression. Much like Grant's portrayal of a gay man navigating life in an epidemic, there is a deep desperation simmering just at the fringes of the film's literary witticisms. In his turn as Jack Hock, Grant has seen his first Academy Award Nomination which is well deserved as he presents the resilience and gusto of those who persevered through an epidemic littered with death and dismay.
In this detailed etching of literature's most prolific forgotten fraudster, the performances are undeniably brilliant in playing with this whisky-hazed version of real-life events. Despite not quite looking the part of the haggard, alcoholic writer, McCarthy's performance is one that has you looking beyond her pore-less skin to the troubled soul she's portraying. This story of forging letters is one that manages to evoke an authentic sense of literary history.
Can You Ever Forgive Me? is playing in theatres now.