We meet the minds behind the UK's brand new LGBT magazine, Louche Mag
The name "Louche" is just COOL isn't it. It evokes a sort of anarchic apathy. Perhaps the most mainstream example of "louche" is Lana Del Rey.
But THIS Louche is anything but mainstream. They're a dynamic new print mag celebrating drag in the UK. And by drag, they mean ALL drag, across a kaleidoscopic spectrum of genres and genders.
We spoke to editor Georgeous Michael to find out more.
Hey Georgeous…tell us about Louche Mag!
Hey QX! Louche is a new indie print magazine celebrating drag today. It's the first of its kind in the UK, spanning the full spectrum of this diverse art – from queens to kings, and everything in between. Issue 1 gives readers 100 pages of gorgeous original photography, queer theory and even a Dragony Aunt column!
Zines are doing really well at the moment – why do you think that is?
I think there's an appetite for fresh thinking and authenticity in today's otherwise fairly corporate media world, and zines tend to emerge directly from a subculture so feel special that way. There are more print nerds out there than you might think too. High quality, beautiful print offers something tangible you can hold, and feels genuinely different to on-screen consumption.
What do you make of Drag Race UK?
RuPaul's Drag Race has made a massive mark on the world, and for the most part a positive one. But it's also been quite devicive, for example being pretty dismissive of drag kings. As a performer in the scene, I feel worried about how the show might reinforce certain hierarchies already present. You hear about variety nights in America where the crowd only stays for the RuPaul queens, and there's a huge disparity in how much local performers earn by contrast to the higher fees paid to drag race stars. Ultimately, there's so much more to drag than drag race and the more we support diversity the better. That's why I created Louche, and also why I'm running an alternative drag night together with WOOF Cabaret the very same night RPDR airs! We wanted to create an alternative platform for everything which sits outside of the show's narrow scope.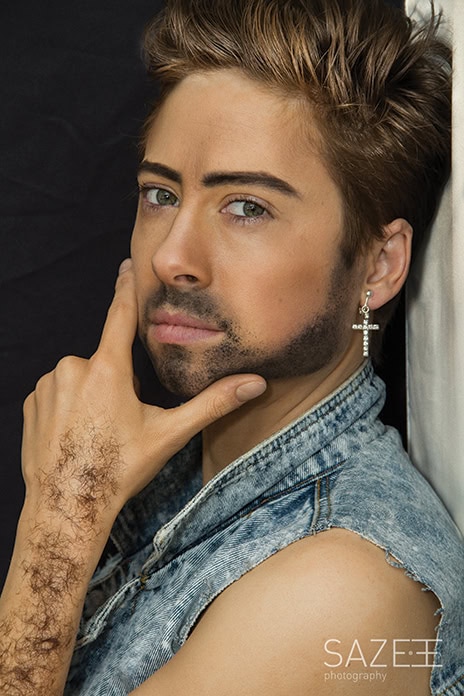 And in a more general sense, what's your take on how drag is evolving in the UK right now?
The past few years have been transformational, with some parts of drag having reached a mainstream audience. This may well dilute the potency of the art form as critique, of drag as radical, but it also brings important messages about gender fluidity and queer culture to people who might otherwise not have been exposed to these ideas. With so much emphasis on the drag we see on tv, the irl scenes can almost be forgotten. But they're very much alive and welI! I would encourage anyone reading this to get yourself down to a queer bar and check out your local drag scene.
Drag Kings are still quite underrepresented – why do you think that is?
Errm, the patriarchy! In a society heavily dominated by men, art that challenges, critiques, or takes apart fixed ideas we have around masculinity still feels taboo and gets undermined as a result. But it's honestly baffling that drag kings are frequently left out of the picture when there are so many talented artists in the UK who are quite frankly KILLING IT (plug: Wesley Dykes, Beau Jangles, Adam All, Prinx Silver, Louis Cyfer, and Benjamin Butch, to name a few).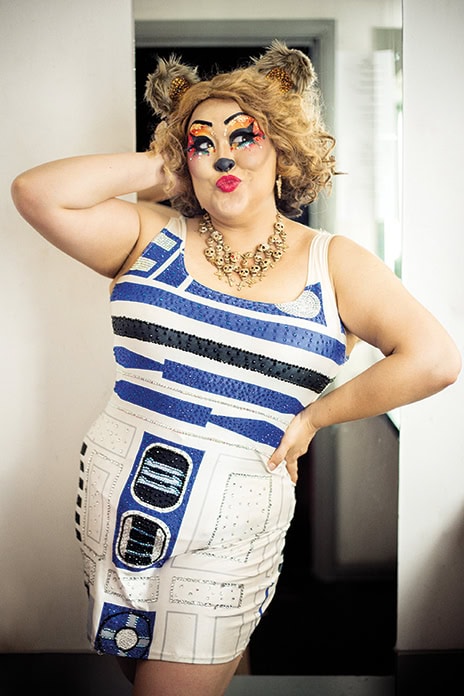 Who'd be your dream Louche Mag cover star?
If Leigh Bowery were still alive, he would have been perfect! His looks were so inspired and otherworldly. I'd want him to do something really outrageous and genre-pushing for Louche, maybe even making the cover itself into a garment the reader might wear! ™ that.
What are your plans for the future?
Issue 2! But at the very heart of Louche is that anarchic spirit which also propels the best drag, and something which isn't predictable or cliché. I hope Louche grows and adapts with the scene, constantly asking questions of itself and the community as well as celebrating and archiving. We'll also be running a few very special pop-up performance nights in the coming months so watch this space!
The launch party for issue 1 of Louche Magazine is on 9th October at The Glory. Follow them on Instagram @louchemag
READ MORE: