Four Play at Above The Stag review ★★★★☆ by Ifan Llewelyn
Though our wider society might grab their collective pearls at the notion of non-monogamy, it's fairly commonplace among queer men. You need only take a late-night scroll down your Grindr feed to spot "two looking for third" or a hunky couple who are "open, looking for hung". According to several studies over the past two decades, almost half of gay men have been "open" with a partner at some point their romantic lives. In Jake Brunger's Four Play the issue is explored through the struggle of two couples trying to navigate this bumpy terrain. Returning to the stage this January at Above The Stag Theatre, this witty and relatable short play keenly lays out trials and trepidations of modern love.
We meet Rafe (Ashley Byam) as he nervously propositions a handsome friend at a frenetic pace as his partner of seven years Pete (Keeran Blessie) looks on, head buried in his crossed arms leaning on their kitchen island. The two have not so much as "brushed" against other men since getting together at university, and have decided that might need to change. Having carefully thumbed through their mutual Facebook friends, they decide that gym-bunny Michael (Declan Spaine) would be a good fit. Wringing his hands, it's down to Rafe to ask him if he'd be up for sleeping with them. Separately. Just so the two can see what it would be like. Things quickly take a turn for the awkward as Michael asks if boyfriend Andrew (Marc MacKinnon) would be alright with him agreeing to the arrangement, despite the two being open.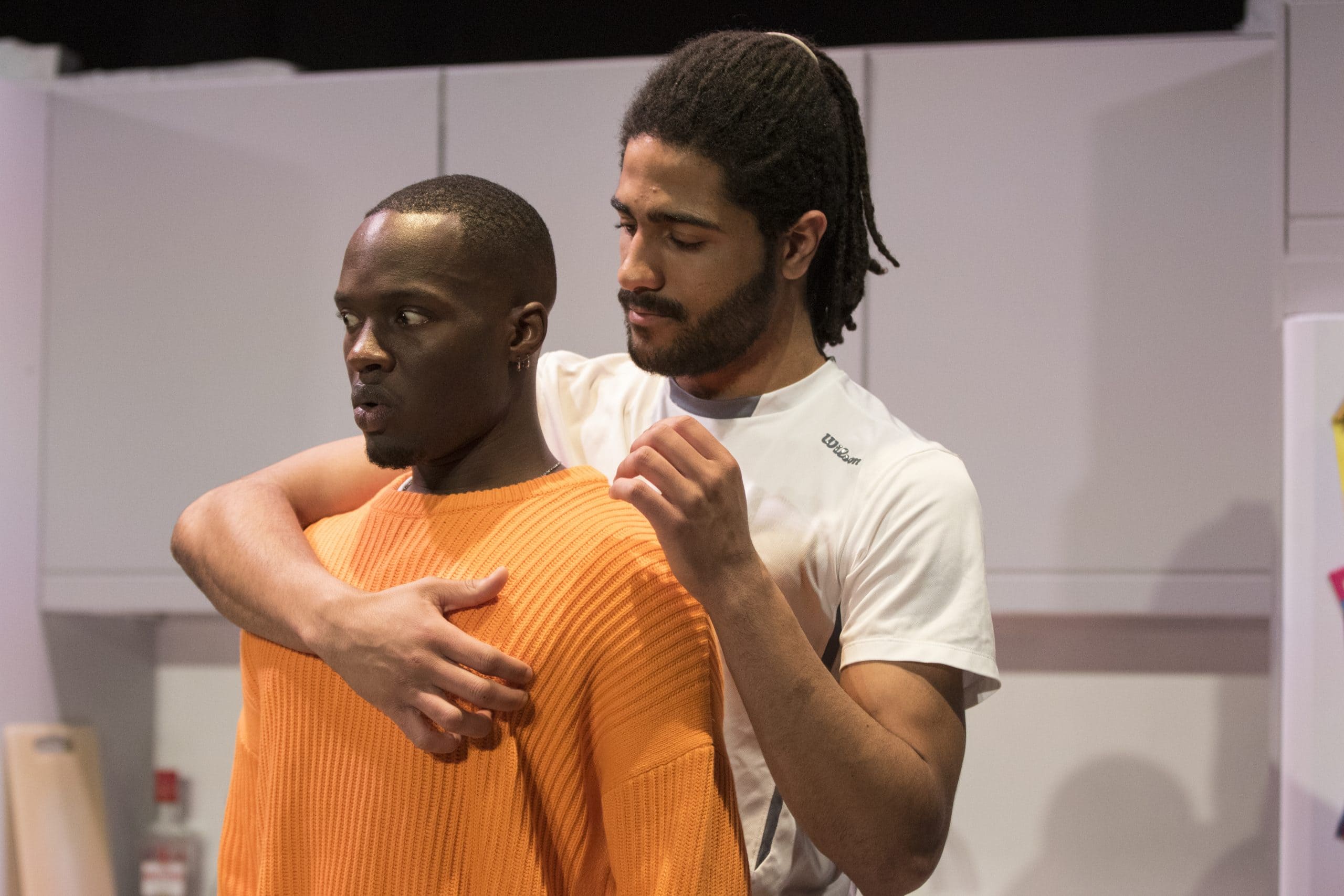 As their sexual adventures unfold and unfurl, it soon becomes evident that they haven't quite considered the ramifications of their complicated copulating. Some uncomfortable truths come bubbling to the surface, and there's no going back once it's out there. Under Matthew Iliffe's direction, this production highlights that any relationship without open and honest communication is destined to blow up in spectacular fashion, and doing the proverbial where you eat is never a good decision.
This kitchen pink drama is glittering with undeniably true take-downs of those Chablis-drinking, Ralph Lauren-wearing gays that are the plague of every dinner party. As the embittered partner who's had enough of his handsome partner running off with other men, MacKinnon is clearly delighting in dishing out the snark and some of the play's best one-liners. with a healthy splash of camp. When it comes to giving a more rooted performance, Blessie takes us on a real journey from excited beginning to disastrous end. The tension between these four almost vibrates the walls of Carrie-Ann Stein's keenly observed white, modern interior.
Though not the kindest rendering of the lives of gay men in open relationships, this is a thoroughly enjoyable evening spent prying into the lives of these four men. Leaving the theatre, you can't help wondering if London might be ready for a more positive on stage rendering of non-monogamous relationships.
Four Play is running at Above The Stag Theatre, Vauxhall SE1 7TP 'til 22nd February. qxtickets.com
READ MORE related to Four Play at Above The Stag review:
Getting Into 'Four Play' – the Above The Stag cast talk open relationships