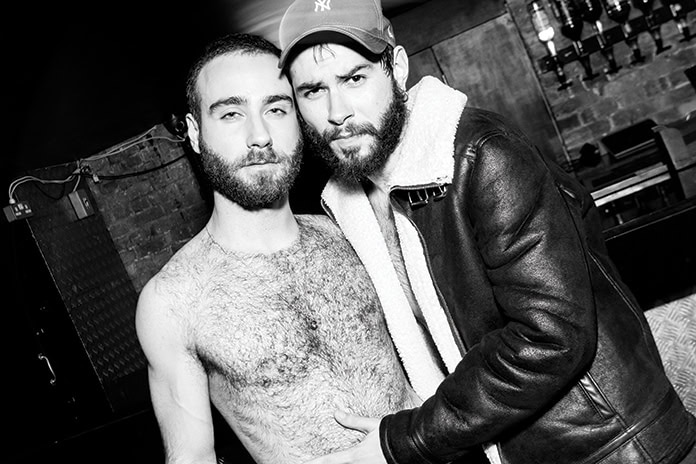 Muscled up party brand BRÜT are taking Tottenham by storm with some steamy action.
---
London's favourite stylish monochrome party brand is BACK this month. After a short hiatus, they're here with an event that's sure to leave your knees quaking and your member dripping. Taking over the sprawling, industrial club The Cause, famed for hosting some of London's heaviest raves, they're returning with one thick and juicy night of man action. It's time to slip into that leather harness, pump up those pectorals and get dancing 'til the early hours.
If you've never been to a BRUT event before, get ready because it's quite the experience. The only way one could describe it is like a night-long fever dream after spending way too much time staring at Tom of Finland comics. We don't know where these big, muscly brutes are the rest of the year, but they always come out for BRUT. You can expect bulging biceps and drool-inducing hairy chests as far as the eye can see.
A huge draw to BRUT is always the music. Each event they consistently line up some talented DJs playing all your favourite house and dance mixes. The perfect soundtrack to an evening of dark mischief. Taking to the decks this time around are LCB, Ross Jones and the talented Paul Heron. They've been knob-twiddling their way across London's favourite naughty parties. Keeping things going into the early hours, their fresh mixes are sure to keep you around 'til closing.
With tickets starting from just £10 online, there really is no better place to be heading this Saturday if you're looking for a sweaty romp. The night kicks off at 11 pm and won't stop going until sunrise. With a 24h tube just a stone's throw away, there's no need to pack the night in early at BRUT. You may as well wave your Sunday goodbye once you're in the hands of this high-octane party.
---
BRUT Warehouse Party is on Saturday, 15th February at The Cause, Ashley House, Ashley Road N17 8LZ. Tickets available at qxtickets.com