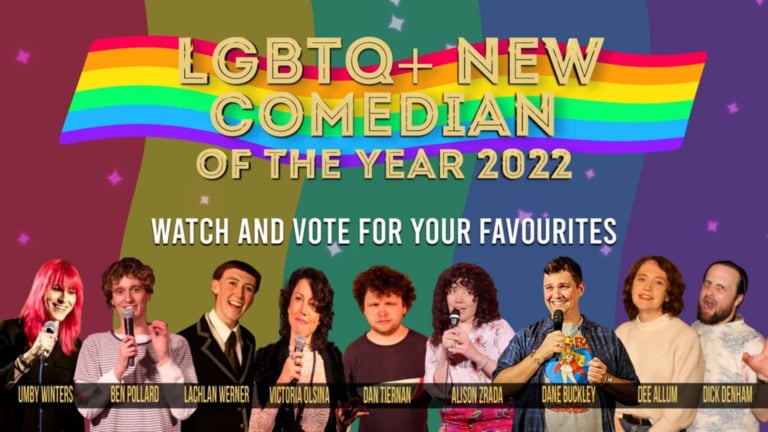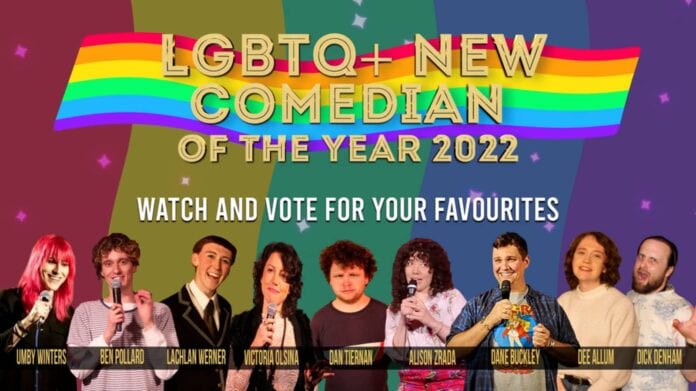 Comedy Bloomers LGBTQ+ Comedian of the year is set for The Clapham Grand on June the 14th 2022. Fresh comedy talents on the circuit have the chance to compete for the title of LGBTQ+ Comedian of the year and they can win prizes that include a trophy and their own solo show which will be professionally streamed on the leading comedy platform Next Up Comedy, home of the best stand-up. Next Up Comedy will also be streaming the final competition.
This year's finalists include; Dick Denham, Ben Pollard, Lachlan Werner, Umby Winters, Alison Zrada, Dee Allum, Dane Buckley, Victoria Olsina, and Dan Tiernan. These acts will be competing in the finals at The Clapham Grand on June the 14th 2022, where the audience vote on their favourites of the night.
Celebrity judges on the night include Zoe Lyons, Vinegar Strokes, Sikisa and Stephen Bailey will be critiquing their performance, making this an exceptional night of comedy entertainment.
When asking the Celebrity judges for their thoughts on the upcoming finals, Zoe Lyons said "I am delighted to be part of the judging panel for this years LGBTQ+ New Comedian of the year. With so many interesting and diverse voices on the circuit today I am really looking forward to the opportunity of getting to know some of the best new LGBTQ+ acts breaking into the world of comedy and having a really good laugh in a supportive and encouraging environment". Stephen Bailey added "I am so proud to be helping find the next crop of LGBTQ+ comedians. For so long it has been one at a time and I am glad we are changing that and building a queer comedy army! "
Previous Comedy Bloomer (2019) winner Charlie George says "it was a great experience for which was a warm, fun, well run competition to be part of. It was amazing to get live feedback from pro-comics and it has helped develop my confidence no end. It has definitely helped my career to gain more gigs on the circuit and I have been signed by Chambers Management since." (comedy.co.uk) Charlie went on to write for Frankie Boyle's New World Order ,Joe Lycett's Got Your Back, as well as appearing on Comedy Central in Rhod Gilbert's Growing Pains and is continuing to perform at live comedy appearances at festivals and Pride this year.
Chris Smith founded Comedy Bloomers in 2017 having concluded that the LGBTQ+ comedy scene was underrepresented within both the LGBTQ+ scene and mainstream comedy. Comedy Bloomers is home of the LBGTQ+ New Comedian of the Year, a competition primarily aimed at acts on the open spot circuit no more than 5 years who identify as part of the LGBTQ+ community.
Chris is ecstatic to finally announce that the competition is now open again, bringing the final show to The Clapham Grand on June the 14th 2022 for the final of 'LBGTQ+ New Comedian of the Year'. Chris said "The support we have had in the LGBTQ community from the judges, performers and audiences has been incredible over the last two months. The judging panels so far including Ella Vaday, Rachel Parris, Jordan Gray and Scott Capurro added so much joy to the semi-finals and with our celebrity panel at the finals voting along with the audience this is an important night for the LGBTQ+ Comedy community and a unique celebration of all the individual voices that the finalists will bring"
This year's competitions have featured RuPaul's Drag Race UK season three finalist Ella Vaday, who hopes her appearance at the 'Comedy Bloomers LGBTQ+ New Comedian of the Year' will "shape the future of LGBTQ+ comedy" after judging the semi-finals back in early May, with the competition about to host the final round.
Ella Vaday was not the only celebrity judge for the competition heats this year, Scott Capurro, Rachel Parris and Jordan Gray were also part of the celebrity judging panels. They all offered feedback for the contestants and have loved supporting such a wonderful and important celebration of the LGBTQ+ community in comedy.
After the second semi-finals celebrity judge Rachel Parris said "It's been an absolute pleasure to see such amazing talent and such a variety of acts with so much positive energy. It was really hard to decide who should go through, everyone we saw tonight I think we'll see in bigger places, on TV but we found an outstanding 4 comedians to go through and I can't wait to see what they do next"
View this post on Instagram
Dick Denham
Non-binary, thirtysomething, up-and-coming comedian and writer based in London, originally from the Isle of Wight. A hit with queer and straight crowds alike, Dick has audiences in stitches with their surreal observations on being genderqueer in a heteronormative world, and the aspects of British culture that we all love to be indifferent about usually.
"So much fun" – Ella Vaday, Runner-up, Ru Paul's Drag Race UK Series 3
"Very, very funny … [Dick] takes subject matter that most comedy audiences… will not have heard jokes about and makes them palatable and accessible… brilliant" – Scott Capurro, actor and comedian
"Wonderful" – Jordan Gray, actor, writer, and comedian
Ben Pollard
They say that musical comedy is the lowest form of comedy and Ben Pollard is here to prove them right. A new comic fresh on the London scene, his signature blend of off-kilter comedy, poor dancing and irritatingly catchy tunes is sure to leave you thinking 'So that's why he had to leave the South West'.
'Fucking brilliant … One of the fucking funniest things I have ever seen' – Scott Capurro
'I fucking loved it … It was fabulous' Ella Vaday
'So many clever jokes in there' Jordan Gray
Lachlan Werner
Lachlan Werner is comedy's poof prince of puppets. With a fast-growing following, "frenetic energy" and small squishy witch always screaming over him – expect surprising physical comedy and voice throwing like never before. His solo show, 'Voices Of Evil' was a recent sell out at London Horror Festival
Thrilling to watch. I don't blush very often but I enjoyed that a lot" – Scott Capurro
"Unlike anything I've ever seen before. I loved the physical comedy. Really funny, well done" – Ella Vaday
"I enjoyed that so much. So funny that we take for granted how much skill goes into that performance. Incredible performance. I'm still taken aback. I'm gonna need to sit in a dark corner" – Jordan Gray
Umby Winters
The Goth Princess of Comedy. Nonbinary, pansexual, and Polyamorous, "they come with the sort of adjectives that would make Piers Morgan break out in a cold sweat" (-Chortle). Manic and mentally unstable, but never mean, Umby Winters brings their unique perspective of love and life from outside the gender binary.
"Fast and furious (with) lots of jokes." – Scott Capurro
"The most stylish comedian we've had" – Jordan Gray
Alison Zrada
London-based comedian and nerd who did Classics at university and is determined to make it everyone else's problem. Purveyor of dressing like an art teacher and history lessons thinly disguised as comedy.
"I rarely hear a comedian do material that's as smart as she happens to be" – Scott Capurro
"I feel like you know who you are, which is really cool" – Jordan Gray
Dee Allum
The most interesting person to come out of Watford since Elton John. A comedian from who came out as transgender just over a year ago, and started talking about it on stage within weeks because standup is cheaper than therapy. 2Northdown New Act winner 2021. Leicester Square Theatre New Comedian runner-up 2021. Pleasance Reserve 2022.
Dane Buckley
The world's only left-handed, Irish, Indian, gay comedian. Probably. Dane has won King Gong at the Comedy store, won The Blackout at Up The Creek and came second out of 200 for the Max Turner Prize 2022. He has played The Comedy Store, Top Secret Comedy, Vauxhall Comedy Club and has been on the same billing as Russell Howard. For a day job Dane manages a support service for LGBTQI+ asylum seekers.
"Superb.. slick, finesse. Such a beautiful turn of phrase just packed full of joke upon joke – Rachel Parris
"Such original material and so blisteringly funny all the way through" – Rachel Parris
"Actual genuine triple threat. Slick, elegant, confident, properly funny" – Jordan Gray
Victoria Olsina
Victoria is the lesbian daughter of an Argentinian loanshark who came to the UK to steal jobs and steal women. So far she has only stolen the title of Semifinalist in the Funny Women Stage Awards 2020 and 2Northdown New Act Competition 2020.
"Superb, incredibly clever comedy" – Rachel Parris
Dan Tiernan
As seen on Rosie Jones's Disability Comedy Extravaganza (Dave), Tour Support for Jamali Maddix and Best Newcomer Nominee (Chortle).
"You are an absolute balls out, relentlessly hilarious ball of energy" Jordan Grey
The final is at 21-25, The Clapham Grand, St John's Hill, London SW11 1TT, United Kingdom on June 14th 2022 at 7:30pm and doors open at 6:30pm, tickets are available here.