A mere couple of hours on the fastest train from London, Stratford-upon-Avon is a pretty town that sits by the side of the River Avon in the midst of the verdant Warwickshire countryside. Known primarily for being the birthplace of William Shakespeare, Stratford-upon-Avon is home to the Royal Shakespeare Company and its three permanent theatres (there are also temporary ones).
Of particular interest to us is The Royal Shakespeare Company's forthcoming production of Charlie Josephine's new play, Cowbois. Cowbois is a queer Western running at the Swan Theatre between 14 October and 18 November 2023.
Cowbois a big queer cowboy show.
The plot runs like this. In the Wild West, there's a sleepy town where the women drift through their days like tumbleweed. Their husbands have been swept up in the gold rush and have been missing for nearly a year. They show no sign of returning. Almost cut off from outsiders entirely, the town has only one drunken sheriff for protection. Then handsome bandit Jack Cannon, a trans masc cowboy, swaggers into the town's saloon and inspires a gender revolution.
The production is co-directed by Charlie Josephine (they/he) and Sean Holmes (he/him). Charlie Josephine is an award-winning writer and actor whose most recent work includes I, Joan (Shakespeare's Globe, 2022) and One of Them Ones (Pentabus).
Pictured are Vinnie Heaven (they/them) as trans-masc cowboy Jack Cannon and Sophie Melville (she/her) as Miss Lillian. Both actors will make their debut with the RSC this Autumn.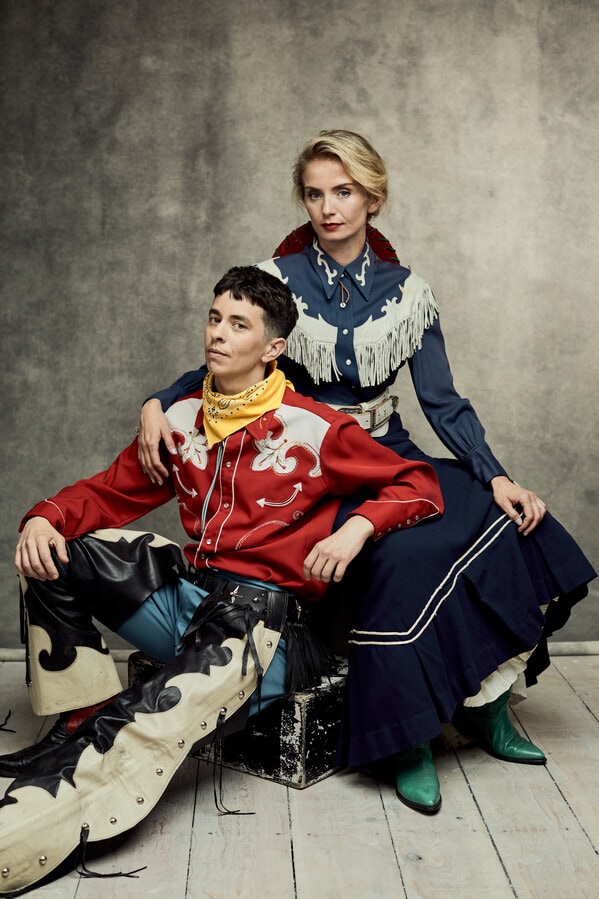 Talking about Cowbois, Charlie told QX: "Cowbois a big queer cowboy show. It's full of everything you'd expect from a Western, but our lone ranger – Jack Cannon – is a gender outlaw who fights patriarchy and inspires a revolution in a town full of women. It's an exploration of honest desire in bodies assigned female at birth, when they're free from the male gaze and given the chance to be their authentic selves.
"I love cowboys and wanted to be one growing up. There's something about the iconic gesture and pose of a cowboy, the sexiness, the swagger that I used as the inspiration for the character of Jack. I also wanted to disrupt the Hollywood version of cowboys: the white cis straight men who are often misogynistic and racist. Instead, I wanted to write about sexy trans masculine cowboys and queer working-class women.
"There's not enough theatre by, for and about working-class women and queer people. I hope people coming to watch this show feel empowered seeing these characters on this stage. I hope people have some interesting chats about patriarchy, gender and freedom after seeing it. And, of course, I hope that everyone will have a great night out!
"Cowbois is an exploration of masculinity, power and freedom. But moreover, it's a love letter to the trans masculine people in history whose stories have been ignored or erased."
Besides the theatre, there's lots to see and do in Stratford-upon-Avon. Many buildings associated with William Shakespeare, AKA The Bard, still exist: his birthplace, the school where he was educated, and Holy Trinity Church, his place of rest, are but three. Besides the pretty River Avon on which you can hire a row boat, there is a very pretty canal basin. There are lots of old pubs, great restaurants, and some really nice hotels. Nearby is the famous town of Warwick with its great castle. The town is also surrounded by pretty Olde English villages. It all adds up to making Stratford-upon-Avon an ideal destination for a long weekend.
Cowbois runs from Saturday 14th of October to Saturday 18th of November 2023, at The Swan Theatre, Waterside, Stratford-upon-Avon CV37 7LS, United Kingdom.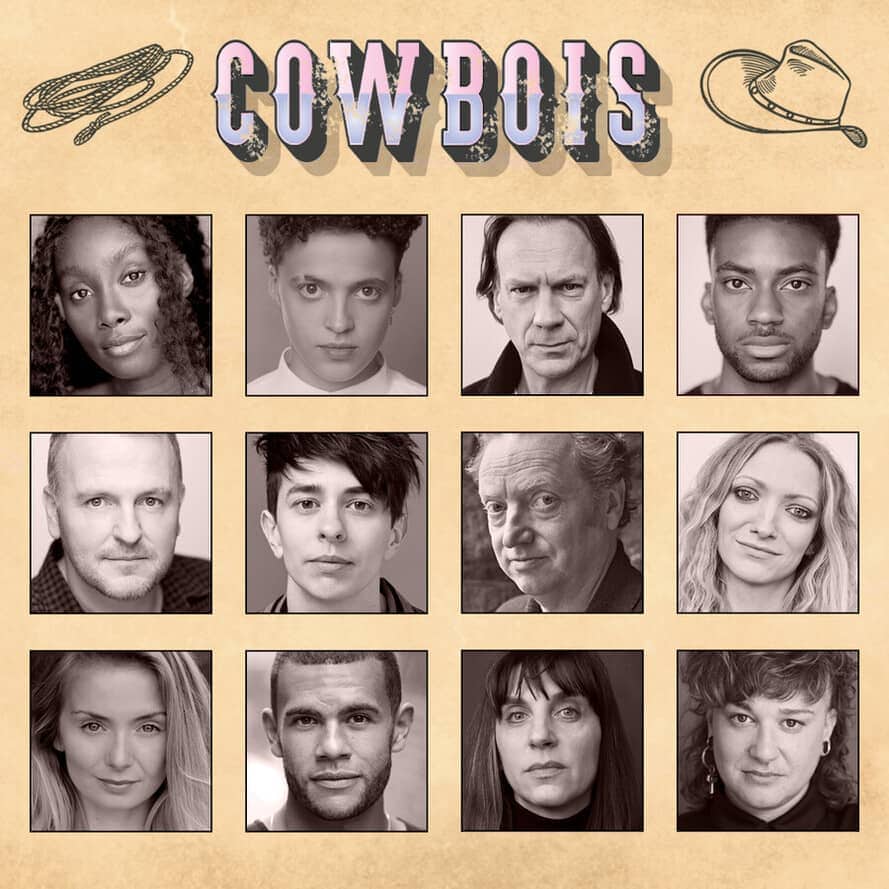 The cast comprises: Bridgette Amofah (she/her) plays Mary; Lee Braithwaite (they/them) plays Lucy/Lou; Shaun Dingwall (he/him) plays Frank/Tommy; Michael Elcock (he/him) plays George; Colm Gormley (he/him) plays John; Vinnie Heaven (they/them) plays Jack; Paul Hunter (he/him) plays Sheriff Roger Jones; Lucy McCormick(she/her) plays Jayne; Sophie Melville (she/her) plays Miss Lillian; Julian Moore-Cook (he/him) plays James; Emma Pallant (she/her) plays Sally-Ann; and LJ Parkinson (they/them) plays Charley Parkhurst. The role of Kid will be shared by Robert Addi (he/him), Aiden Cole (he/him) and Alastair Ngwenya (he/him).
Actors' bios can be seen here.