From his teens years as a young lad in the farming community of Somerset to his current status as a world-famous porn star, he's also competed internationally as a Show Jumper and owned a bar in Bournemouth – not to mention as promoting the city's famous Opera House venue – Bruno Knight has done it all, it seems.
Except run his own London club night! That's all about to change with the launch of Furrvert this weekend!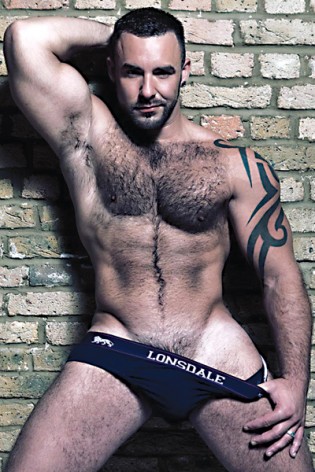 Let's fill the very few readers in that may not know who you are… tell us what makes Bruno Knight the right person to launch a club night called Furrvert?   
Anyone who knows me can answer that! I'm a horny, hairy furry fella that knows how to party. I get off on my job, I love to make people happy, not just in front of the camera, but also on the dance floor.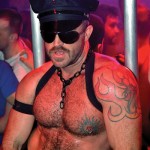 What can we look forward to at the night? 
Now that's a question! The short answer to that is three rooms with three very different vibes, from chilled to intense, and that's not even including the contact area! LOL Grrr! You will find an all-male team, including hand-picked furry barmen, horny hairy 21st Century Men performers, and not a fan or cha cha heel in sight! Men in heels, waving a fan? No, no not at Furrvert! Never! As for the crowd, this is what makes Furrvert! It's all about the hair and not about the bear. Furrvert was designed for everyone who loves a bear, or loves a beard, or a nice hairy chest but doesn't have one himself. Some younger guys who are hairy won't go to other bear parties as its aimed at bears, as they don't feel like they fit in, however, they do love furry fellas. I'm creating a Furrvert a party for all within that hairy bracket!
And what's happening musically there? 
Over three rooms you will find a sound for you: deep and chunky, funky disco and the main room where two very different sounds will meet. We have the very sexy Michel Mizrahi playing without his shirt on. Have you seen him? Woof! He is HOT! With his beats and his body this guy will rock!
You are a hugely famous porn star! How did you get started in the industry? 
Am I? Not yet I don't think, but I'm working on it. LOL It started when I split with my boyfriend and decided I wanted to make one movie… six weeks after I made that choice I was on stage at HustlaBall London doing my first live show. It's been a crazy time since then!
What kind of sound do you play? 
My music is generally progressive with pulsating and uplifting beats, sometimes with vocal or tribal infusions, with always an open mind to use other elements such as funk or tech at times. I can be very eclectic, getting inspired by the sounds from New York to Spain, or from Rio to Tel Aviv. I believe in the energy and connection, and I see myself as a storyteller and will use any element necessary to get my message across.
How did you hook up with Bruno Knight to play at Furrvert? 
I have met Bruno a few times in the London scene, and have always been inspired by his presence and positive energy. One day he was telling me how much he liked my 'Mission 2011' set, and not long after that, he asked me to play for Furrvert. Once I heard the concept behind it, I immediately accepted. I think London really needs a party like Furrvert right now.
---
Furrvert is at Fire (South Lambeth Road, Vauxhall, SW8 1RT) this Saturday 10th September, 11pm-6am.
---