The shocking story of a gay brothel in Cleveland Street has been turned into a musical. David McGillivray saw the show and met the author, but first revisits the scandal that rocked 10 Downing Street and Buckingham Palace in the summer of 1889…
The most powerful prostitute of recent times is probably Christine Keeler, whose affair with War Minister John Profumo helped bring down the Tory government in 1963. But nearly 75 years earlier a male prostitute briefly wielded even greater influence when it seemed as though his actions might destroy both government and monarchy. Thanks only to a gigantic cover-up operation, Britain was saved.
But the Cleveland Street scandal alerted press and public to the way in which sodomites had worked their loathsome way into the very highest echelons of society. Only five years later it contributed to the conviction of Oscar Wilde and then ensured that homosexuality remained illegal in the UK for most of the 20th century.
Glenn Chandler is the Scottish writer best known for creating Glaswegian detective Taggart. But Chandler began his writing career with gay plays on the London Fringe in the 1970s and now he's returned to his roots with the musical Cleveland Street. "I've known about it for years," he tells me after the press night at the Above the Stag theatre. "Then I went to the National Archives at Kew and started to read the old newspaper reports about the trial. I dug out all the boys' statements, the statement Jack Saul made to the police about all the men he'd taken back to Cleveland Street. I thought this is dynamite, this is wonderful stuff."
Jack Saul was one of the rent boys who plied his trade around Piccadilly and then took clients back to Charles Hammond's elegant brothel at 19, Cleveland Street, near the old Middlesex Hospital. "It was a four storey town-house, furnished with velvet curtains, antique furniture, oil paintings, Dresden china, silk bedding and a grand piano," says Chandler. "One would be offered a glass of champagne beforehand." But the story of the scandal begins with another of the brothel's boys, a 15-year-old telegraph messenger named Charles Swinscow. (In the days before email, the telegram was an efficient, fast message service, which could travel from one end of the country to the other in minutes).
"Almost by accident, PC Hanks had uncovered a network of male prostitution involving telegraph boys."
On 15th July, 1889, PC Hanks was investigating a series of petty thefts at the General Post Office headquarters in St Martin's le-Grand. (The present BT HQ is on the same site). Hanks wanted to know why Swinscow had eighteen shillings (90p) in his pocket when his weekly wage was only eleven shillings. Innocent of the theft, Swinscow was forced to admit that he got the extra cash by "going to bed with gentlemen" at Hammond's house. As Neil McKenna says in The Secret Life of Oscar Wilde, "Almost by accident, PC Hanks had uncovered a network of male prostitution involving telegraph boys."
Swinscow revealed that he'd been recruited by another telegraph boy, Henry Newlove, who seduced colleagues in the toilets of the GPO and then sent them round to Hammond. Scotland Yard was called in. But when officers went to Cleveland Street to arrest Hammond, they found the building empty. The brothel keeper had fled to France with his French prostitute wife. Not to be outdone, the police arrested Newlove. "I think it is hard that I should get into trouble," protested Newlove, "while men in high positions are allowed to walk free." He then provided a list of Hammond's clients, which included some very famous names indeed.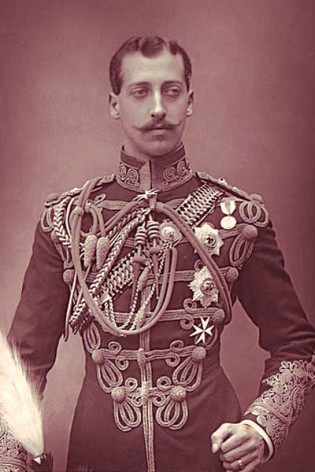 A watch was placed on 19, Cleveland Street, and, sure enough, "a number of men of superior bearing and apparently of good position" were recorded knocking in vain at the door. Chief Inspector Frederick Abberline, who had failed the previous year to catch Jack the Ripper, reported that the visitors included at least two MPs and Lord Arthur Somerset, Assistant Equerry to the Prince of Wales. There was enough evidence to make further arrests. But nothing happened. Why? This is where the story gets really juicy.
Somerset's solicitor, Arthur Newton, "quietly let it be known," says McKenna, "that any prosecution of Lord Arthur would mean that the name of a very important person would be dragged into the scandal." The Assistant Director of Public Prosecutions named this VIP as none other than Prince Albert Victor, eldest son of the Prince of Wales, grandson of Queen Victoria. Was Newton bluffing in order to keep his client out of court? "If Eddie [the Prince's family name] was involved nobody will ever know," Chandler admits. "If he went to Cleveland Street, he went there in disguise."  Significantly, however, Somerset never said in so many words that Eddie wasn't one of Hammond's clients.
"He was a very strange character," Chandler continues. "There were lots of rumours about his sexual life. We know nothing about it. It's never been explored. We know all about his father, the Prince of Wales, who was gambling and screwing his way around Europe. He was a red-blooded heterosexual. But with Eddie there was never anything you could put your finger on." Whether or not the Prince was a secret homo, Newton's threat did the trick. Only Newlove and another boy, George Veck, were prosecuted. They received light sentences. It's alleged that Somerset, via Newton, paid Hammond to move to the US (by now the UK had an extradition treaty with France) and other potential witnesses to emigrate to Australia or the USA.
But Somerset still didn't feel safe. He'd already skipped the country once and now he disappeared abroad again. On 16th November the North London Press named Somerset and the Earl of Euston as "among the number of aristocrats who was mixed up in an indescribably loathsome scandal in Cleveland Street." Editor Ernest Parke believed that both toffs had fled justice. But Euston hadn't. He was still in London and immediately sued Parke for libel.
On the face of it, Euston was mad to bring a case against Parke. A lot of people claimed that His Lordship visited 19, Cleveland Street. One of them was Jack Saul and his evidence was damning. Today it still has the ring of truth: "The Duke, as we called him, came near me, and asked me where I was going. I said, 'Home' and he said, 'What sort is your place?' 'Very comfortable', I replied. He said, 'Is it very quiet there?' I said yes it was, and then we took a hansom cab there.'" Saul also described sex with Euston very precisely: "He likes to play with you and then 'spend' on your belly."
Today Euston's explanation for his presence at Cleveland Street doesn't stand up to much scrutiny. He claimed that he had gone there expecting to find Poses Plastiques (live displays of female nudity). But at the Old Bailey on 15th January, 1890, this defence was enough to satisfy the jury, which took only forty minutes to find Parke guilty of libel. He was sentenced to twelve months' imprisonment. None of the aristocratic visitors to Cleveland Street was ever charged. During the scandal Prince Eddy was conveniently absent on a tour of India. In 1891 his engagement was announced to Princess Mary of Teck. But before the wedding, he died aged 28 on 14th January, 1892. The official cause of death was pneumonia. The conspiracy theories surrounding his sudden and unexpected death have never gone away.
Having been through the archive, what's Glenn Chandler's personal view of Prince Eddy's involvement in the Cleveland Street scandal? Did he or didn't he? "I think it's quite possible he visited", the playwright pronounces.