The Lady Sasha discusses ballet's inherent homoeroticism
---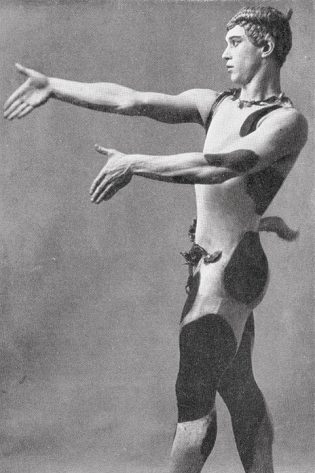 Is ballet homosexual? How could it be? Always, it's been an OTT, sexually perverse marriage of lust and athleticism, with evil, cross-dressing fairies festooning the repertoire! And frankly, no other respected performing art almost the audience drool like voyeurs over perfect, pumping penises outlined in tights!
No wonder the much-missed Quentin Crisp – a disconcerting blend of vile misanthrope and twee, precious connoisseur – had a macabre, conflicted attraction to ballet. 'The chief thrill of ballet is that one of the dancers might fall and break their neck' he once remarked, with his peculiarly vicious signature relish. Sure, that's a hypothetical, occupational hazard – the best dancers possible have slipped ass over tit before shocked crowds – but Quentin, oddly, completely missed ballet's ferocious sex-appeal!
How come? Oh, let's hazard a guess – maybe jaded cynicism, combined with an inability to surrender to the joys of anal sex, made our Quentin somewhat bitter?
Tough – that was his loss. But me, I suspect there's a flourishing, worldwide black market in discarded ballet-boy jock straps, with addicts furiously sniffing gussets! Am I exaggerating? Hardly – come to any classical ballet in the repertoire, and the stench of randy, alpha-male pheromones is literally swamping the stage and front rows. Who needs GHB or crystal meth? One snort of fiercely disciplined, balletic sweat is an instant contact high!
It's not surprising. While relatively ignored in much of 19th Century Europe, ballet thrived and flourished in Tsarist Russia. Inspired by the fierce physicality of warrior Cossacks, the Kirov and Bolshoi instilled a thrilling arrogance and contempt for mediocrity in all male dancers. Like the Spartan soldiers two thousand years previously, furiously worshipping their god-like pricks, male sexual beauty became the fanatical focus of Russian dance.
Does that shock you? Viewing ballet as a primarily art form? Get real – strip away all the flouncing ranks of mincing tutus and so-called prima ballerinas pulling focus on stage, and what's memorable is raw, snorting masculinity. Face it, without Rudolf Nureyev – the beyond-fabulous, huge-dicked poster saint of ballet – Margot Fonteyn's career, already verging on twilight eclipse, would've shrivelled and died. Instead, a fading chick in her late forties was partnered by ballet's very own Beatle, a pouting god dancing as if a huge, imaginary cock preceded him!
Still, Nureyev – the first blatantly gay, ballet superstar – was only spunkily cementing the trail blazed by fellow killer dancer. A phenomenally talented, total prodigy, Nijinsky – under the wing of multi-media impresario Serge Diaghilev – completely revolutionised ballet as cutting edge art-form of the early 20th Century. Sporting a signature, thick white streak in his hair – reminiscent of the cartoon skunk, Pepe le Pew – Disghilev turned constant heads in an often shockingly conformist Europe. But if allegedly sick, wicked and excessive in private, Diaghilev and Nijinsky – the Oscar/Bosie power-couple of dance – shagged jaw-dropping life into petrified, balletic classics in public!
Sadly, both ended badly. Nijinsky became perpetually insane, and Diaghilev died of diabetes, but there's a thrilling echo of Diaghilev's malicious exploitation of Nijinsky in the movie. Never seen it? It's a masterpiece of camp, thick with gay, 1940s Russian dancers like Massine and Lifar, a scathing portrait of an impresario driving his star dancer to death! Even more than, Bette Davis's total bitch-athon, is arguably the best critique of erudite gay bile ever filmed!
OK sure, these days, many male ballet dancers are inexplicably straight, but no-one can ignore the towering genius of gay choreographer Matthew Bourne. Single-handed, he stunned audiences worldwide with his all-male, starring the simply gorgeous Adam Cooper as living porn on legs! Along with choreographer Matthew Hart, whose groundbreaking, AIDS-themed showcased Darcey Bussell, Matthew Bourne's spearheading an unprecedented exploration of the allure of balletic, male flesh. Our advice? Stay riveted – the best is yet to cum!
• Got any surgically-urgent theatre news, views or comments? Email [email protected]