Sasha Selavie looks into the scandalous life of Arthur Rimbaud.
---
Does gay poetry suck? Only if it really wants to! See, unlike gay art, movies and sculpture – all showcasing hot, pumping pricks – words work overtime to spunk out porn movies in readers' heads! Still, if ever a poet deserved being crowned the God of gay fucks, it's French filth-fairy Paul Verlaine!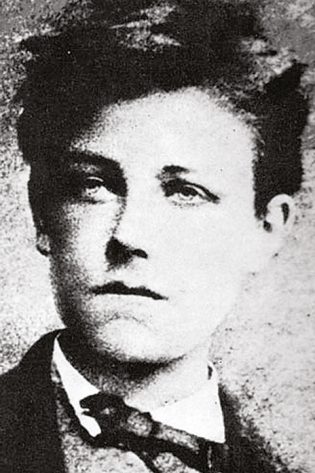 Screw mincing, effete diction – Verlaine's as gleefully memorable as a beer/glass in a bigot's face, a rhythmic thug in action, getting instantly down and shockingly dirty. 'No more metaphors. Let's fuck/Let's jostle our balls a bit/Cleanse our cocks and feast/On cum and asses and thighs and shit…' Oh dear – not exactly Sunday School reading class, huh? And that's just an entrée – elsewhere, Verlaine reads like he's setting a menu for extreme, body fluid cuisine queens. 'The soft load of your shit-shoot/straddles my thighs, melts into them…' Exactly – who needs K-Y when our frenzied butts lose control with a hot, streaming, natural lubricant?
Okay, read today, Verlaine's poetry throbs with the campy, OTT frenzy of a closet queen who's just discovered non-stop wanking to gay porn. It's not surprising – he was stuck in a dead end, heterosexual marriage until seduced by teenage poet superstar Arthur Rimbaud, the Justin Bieber of 1890s Paris. Already on the wrong, graveyard-waving side of forty, Verlaine went ape-shit for the joys of gay sex, with Rimbaud habitually slashing Paulie's chest during intercourse! Sadly, our two hotties – a gay Brangelina? – became roaming, Camden Town tramps, breaking up when Paulie shot Rimbaud in the hand! Well, it gives new meaning to a quick one off the wrist, but sadly, Verlaine's intense, overheated style – like gun-toting gay poets in Camden itself – is virtually extinct.
Big deal – should we care? Frankly, Verlaine shot his last significant load way back in the 1890s, and it's beyond insulting to assume queer, poetic porn hasn't progressed since. So, who exactly are our current, worthwhile contenders, the instant dispensers of sustained, nail-chewing, literary orgasms?
But, be warned – unlike Lord Byron and the dark, hidden side of a cock-fondling Shakespeare, our 21st boys aren't exactly queer household idols! First up, there's Scottish indie-music idol Momus, AKA Nick Currie, whose reclusive, deviant muse drips with exquisite degrees of Japanese-fixated, queer perversion.
Inexplicably, he's barely known here, but with album titles including The Tender Pervert and The Poison Boyfriend, he's gagging for greater exposure! 'Suck me till I'm thin and dry' Momus muses, 'I will always be your poison boyfriend/Bottled till the day I die'. Sharper than a hypothetical Sigmund Freud in drag, it's an astute dissection of gay psychology only matched by our next contender, the alarmingly prolific Jeremy Reed.
Like some completely incontinent, word-pissing lyricist, Reed's poetry is all cluster-fuck bulletins, words in furious anal congress screwing each other senseless! His books include Boy Caesar, Saints & Psychotics and Bona Vada, all seamlessly gang-raping Ancient Roman atrocities with cutting-edge, trans-human cybersex themes. Thrillingly, he's a super-slick devotee of a now vanishingly obscure, gay 1960s London, sensually describing queer couturier Ossie Clark's dresses as 'slippery like an oyster…' Typically, he'll mash-up his idols – 'Heliogabalus, Caligula Nero/Despotic, transvestite psychos' – with deviant, modern stars like Jagger and Scott Walker, then add scorching, scatological seasoning.
Sure, it's gorgeous, but me, I prefer the icy, semi-psychopathic voyeurism of poet and author P.P. Hartnett and his Date of birth, time of death collection. Redeploying the techniques of French Nouvelle Vague cinema, Hartnett gives splintered, Cubist takes on taut slices of ordinary, everyday chaos. Stunningly post-modern, Charismatic Sex Act audaciously quotes official guidelines of what's still taboo, while Just One Bullet and Yeah, He Died explore drive-by intimacy with blasé, teenage fatalism.
More courageously still, A Tall Slim Man is a thrilling masterclass in the masturbatory thrills of faux-psychopathy. 'It's a short step from kissing to killing', Hartnett writes, and if gay poetry changes lives, he's expanded its' range to include life, death and the unimaginable! Highly recommended!