Last night we minced down Old Compton Street and up Wardour Street to check out the newest bar to make waves on the Soho scene, The Soho Residence.
---
Walking in through those double doors, you're taken to a lush botanical haven, complete with weaved lampshades and hanging plants. The space truly evokes that sense of taking things back to the natural, a big 180 form the bright glassy modern decor of its predecessor, The O Bar. Gone are the ornate glass fixtures and glaring lights, and in there place pours in a low-lit remote tropical nest teaming with life. We're a sucker for low lighting, usually because it increases our chances of getting lucky, but here it truly speaks to the sub-Asian tropical world they evoke in this space. The first port of call was partaking in the array of spirits adorning behind the bar.
Our drink of choice was a daiquiri which was swiftly whipped up by a handsome barman whose mixing style had us cropping back for a fair few more throughout the night. That's our story and we're sticking to it. Of course, the fact that the drink was that perfect pitch between sharpness and sweetness. Lips puckered and first (of many) cocktails in hand we sauntered up the curved narrow stairs to their Gin Parlour, there is great anticipation to see if the lushness carried on through.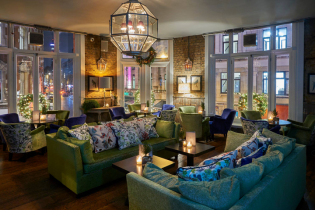 Upstairs nestled a fresh new take on the traditional gin parlour that reflects where our current drinking habits have taken us. We're no longer content with a twist of a lemon peel on the bottom of a tall glass of G&T. You feel short-changed if there isn't a garden of botanicals garlanding your round gin glass. The bare brick and vintage bird renderings was a more sophisticated take on the natural theme, bringing out a Victorian formality to it. The prime location of this historic building means this second floor has a prime view of one of the city's busiest streets. The parlours layout did well to utilise the inpouring city lights, though perhaps not quite letting patrons fully enjoy the prime people-watching spot. The large plush sofas that take up the middle of the room, and really inject a relaxed attitude to the space that could easily become rather austere. A few cocktails and we felt ready and limber for a dance down at the venue's basement festival club.
Though going a little too literal with the festival, with electric guitars hanging on bare walls,
there's plenty of space to get your two-step on. The bright white walls might need thinking as they don't quite live up to the other two floors' lushness. Hidden away are two little coves which look the perfect place to rest up after going too hard during that Ariana song. Despite it being fit for purpose, perhaps a little more thought should be given to the space. The dance room shouldn't be the brightest space in the venue, especially if we're subjecting the unsuspecting public to our dancing.
All in all, we'll gladly be returning to this gem of a venue where we'll be luxuriating over a few daiquiris after a long week at the office. We'd be sure to recommend it as a place to impress on a first date, and we can imagine curling into the nook of a date on those plush green sofas with a tasty gin in hand.
Soho Residence, 83 -85 Wardour Street, Soho, London W1D 6QE.
Keep up to date with them at SohoResidence.co.uk.