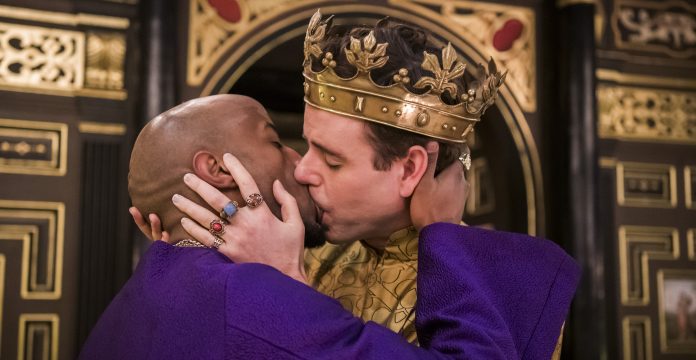 ★★★★ by Ifan Llewelyn
It takes mustering up great effort to head on down to Bankside to sit through a historically accurate production of a history play. Be it a Henry, a Richard or an Edward, there's little excitement roused by the name of a king who ruled centuries ago, and even less by their politics. Though many of these plays have their redeeming qualities, it is Edward II that is one you truly would be remiss to overlook. Gay period dramas are all the rage right now with The Favourite sweeping up awards at this year's Baftas. Taking a more familiar take on the issue, Edward II is a queer historical tragedy that bows to tragic queer history.
Christopher Marlowe's early modern adaptation of the story of Edward II and his closest consort Gaviston begins with Edward ascending to the throne following the death of his father. His inherited crown gives him the power to bring back the exiled Gaviston whom he's been missing dearly, much to the displeasure of the king's nobles and Queen Isabella. As the two's relationship develops, so does the country's political unrest which ultimately leads to a coup which tears our queer lovers from each other's arms. The play has seen many an adaptation over the years, most notably in Derek Jarman's overtly queer film version in 1991, but this production brings the play back through the centuries to a traditional setting, though maintaining a contemporary approach to Edward's sexuality. As the title role, Tom Stuart draws an audience into his tender embrace, intuitively bringing dark and light shades to his performance through to his undignified end.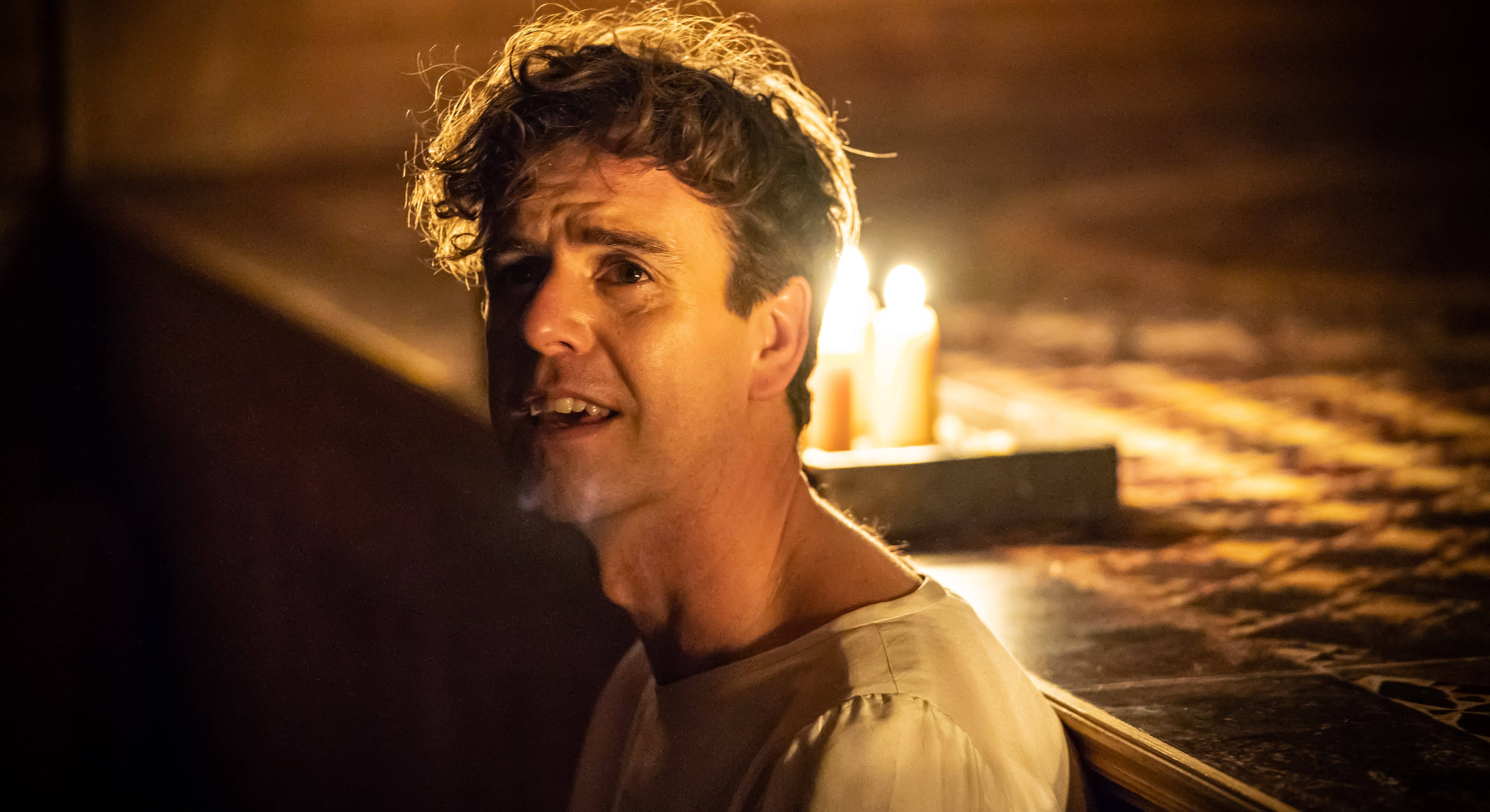 This production doesn't sacrifice anything in the name of having the play put on through traditional means, with intriguing lighting choices and an engaging soundscape that sustains interest. The manipulation of candlelight is nothing short of genius, playing within the action, putting West End lighting designers to shame with its simplicity.
Director Nick Bangall brings forward the national and political implications of this plot, playing with the constrictive space of the Sam Wanamaker Playhouse, using its barriers and architecture to convey alliances. What develops to be problematic in his interpretation is his favouritism of Edward's long-suffering wife Queen Isabella. Having great affection for your husband, who loves another man, is hard but even though she ultimately betrays Edward, Isabella is still portrayed to be this play's most sympathetic character, and not the persecuted central same-sex couple. Historically that would have been the case, but we'd like to think that the murdered gay couple might garner more sympathy in a modern production.
How overt queerness functions within the play is interesting, despite the besotted gay couple being the star-crossed lovers of this adaptation, much like in many depictions of queerness in the past, it was still the mark of a villain. Our lovers were masculine men who just happen to be in love, whilst our villains were extravagantly effeminate, from the Bishop of Coventry in his red sequined gloves to the Earl of Lancaster and his melodramatic exasperations. There are echos of gay cinematic darling Brokeback Mountains to be found here, where the central gay characters must not be overtly queer if they are to gain sympathy. There are also greater implications of tragic queer narratives which this production does little to push against.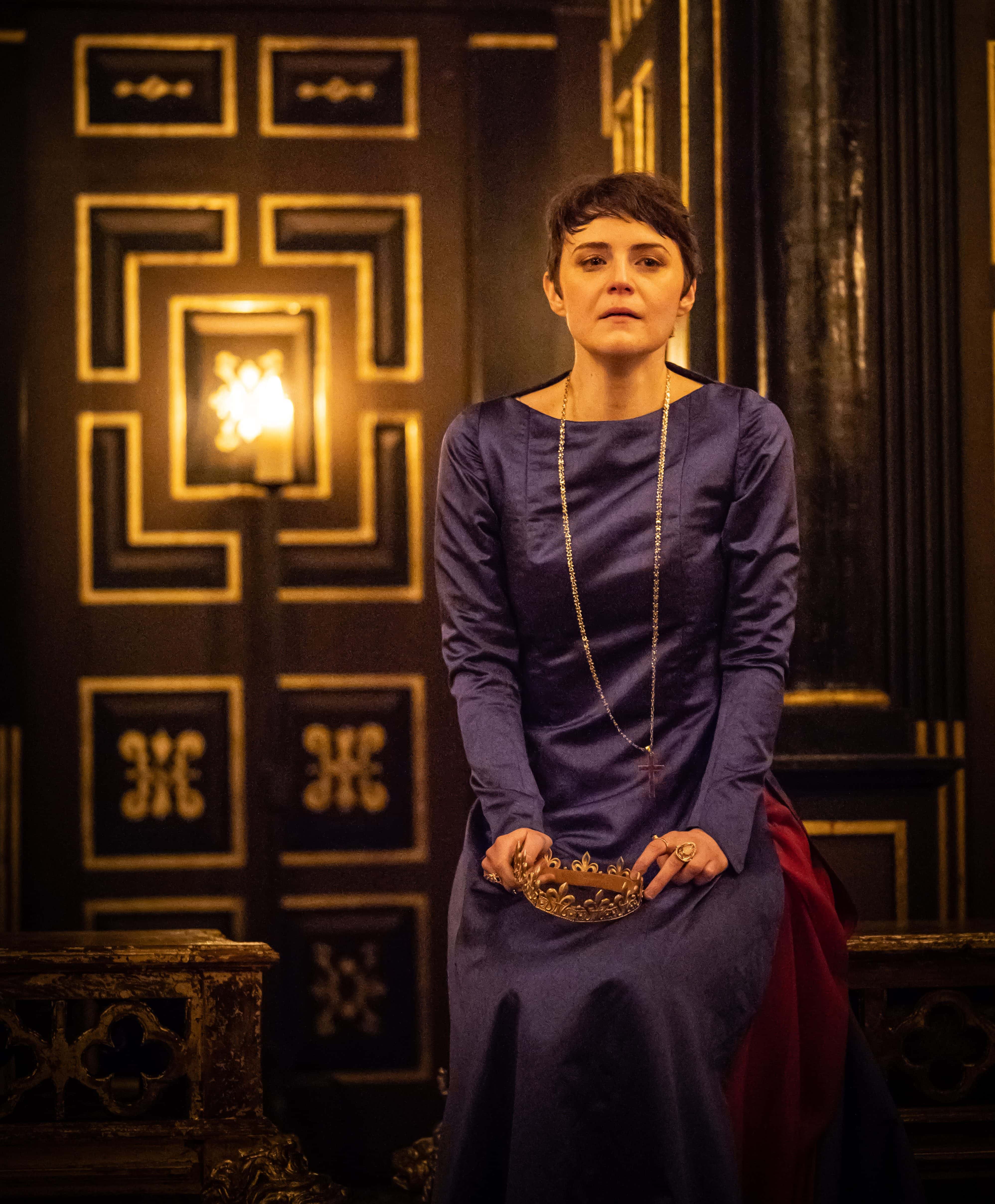 This is an evening of theatre that is essential to anyone with an interest in queer history, casting new light on historical queerness, with a nuanced portrayal of its titular character which is one to be remembered. Edward II may have us pitying its queer characters, which is a pity that we've only been free to feel in recent decades. Though not quite stirring us to tears, this production has you leaving the theatre with the bitter taste of injustice resting on your tongue.
Edward II is running at the Sam Wanamaker Playhouse, Bankside until the 20th of April. Tickets available at ShakespearesGlobe.com.