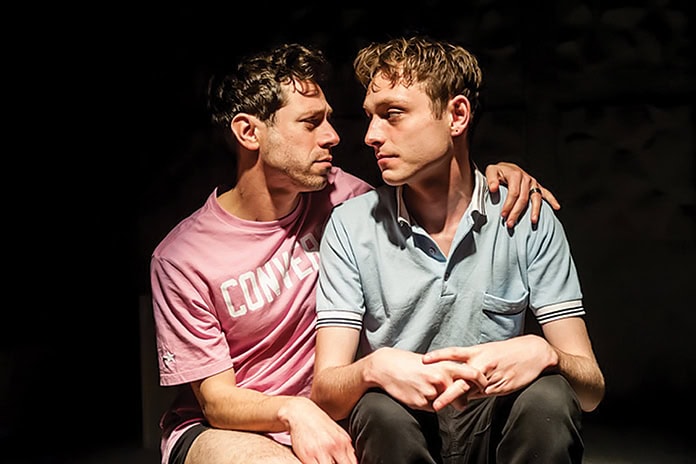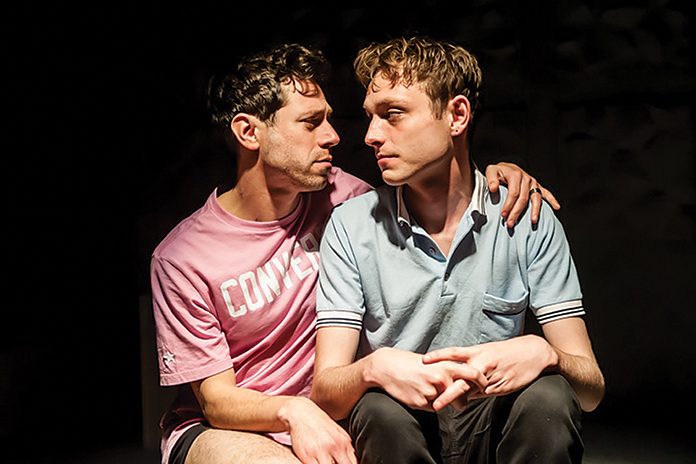 ★★★ by Ifan Llewelyn
Turn left out of Angel station and you'll find yourself at the red-lacquered doors of the unassuming Red Lion Pub. Nestled inside behind a red velvet curtain and up a few stairs is the intimate performance space of the Red Lion Theatre, where the inviting performance space beckons you to shuffle into repurposed church benches for a night of raw theatre. The sudden dimming of the lights brought Circa into action as our cast of characters set the stage for Tom Ratcliffe's whistle-stop bildungsroman of a gay man's life.
Following The Man, our central character, we see him in three distinct stages of his life, maturing from student (Thomas Flynn), to young professional (Daniel Abelson) to older age (Anthony Gabriel). There is little to be made distinctive about our central character apart from his sexuality, which translates a message of a universal queer experience. The featured life experiences are familiar, from hapless run-ins in a rural town, an escape to study in the city, to the breaking down of relationships and lost loves. The three generations bring a new slant on the gay male experience, though an ill-fated engagement to a woman (Jenna Fincken) is an interesting plot point to throw into the mix. Our protagonist is consistently striving towards the married with kids model in a gay landscape of anonymous hookups and open relationships. There is a tension between the idea of a 'normal' life and that of a gay sex-positive progressive life, which is a little uneasy, with Ratcliffe's writing airing a latent disgruntlement with the gay scene.
The malleable staging has the show effectively manipulating the space to create bedrooms to nightclubs, with sensitive uses of prop providing just enough context to set the scene. Squeezing thirty years into a hundred minutes is ambitious, to say the least, but the performance space is well utilised, with an effective portrayal of time progression. The lack of continuity between the generations of the central character portrayal proved rather strange, however, with very little affectation being carried through. They featured more like generations of Doctor Who. While not being consistent and accents coming and going, they were undeniably entertaining in their interpretation of the character. Thomas Flynn's performance the youngest iteration of the man is the most successful, with his fragility and enthusiasm glowing through to create a beguiling performance. His turn as the northern crossdressing rent boy whom the older man seeks the services of is also spectacular; both rib-tickling and heart-warming. Praise is also due to Fincken brief performance as The Man's girlfriend, being completely at ease in front of an audience.
Despite its rough edges, Circa is an evening of theatre that is effective in capturing the concerns of a gay man living in the twenty-first century, laying down the path through which one becomes older. It also poses questions of what's in store for our sexual culture as we become increasingly digitised in our sexual habits. Flynn's performance alone is reason enough to book your tickets, walk through those red-lacquered doors and shuffle into a repurposed church bench.
Circa is at The Old Red Lion Theatre until 30th March. www.oldredliontheatre.com