This year's go-to destination for gay sun-chasers
---
Looking out on a drizzly, grey afternoon in May, your mind can't help but drift away to an afternoon drenched in sun spent sipping on a margarita, feeling the granules of a salt rim tickling your lips. Bundled in knitwear is no way to spend your Spring season, and running from doorway to doorway trying to stay dry is a bore. You should be sipping on a crisp glass of Rosé, not cradling a Blackberry Lemsip for warmth because you forgot your umbrella. There's only so many nights in watching the latest binge-worthy series you can bear before getting well and truly fed up. Life's meant to be spent dancing in sunlight dressed in next to nothing surrounded by sprawling scenery, not sprawled across a sofa with your TV asking you if you're still watching.
Your next getaway is long overdue, and you're craving for a slice of paradise has become too much to handle. It's at times that you're desperate to escape that you rush into a hap-dash long weekender on a Spanish island, where you're likely to be surrounded by the same Brits that get you agitated back home. The Mammas and Papas crooned of their 'California Dreaming' on a winter's day, longing to hear the rustling of palm leaves blowing in the gentle desert wind, have you ever heard of a song devoted to a budget resort in Gran Canaria? Of course not. That's because very few places have the enchanting spirit that you find across the great state of California, where a tropical climate and the American sense of adventure meet to create the ultimate holiday destination. Glittered across the state are entire cities dedicated to those looking to kick back and relax but among these only one reigns supreme. With an enthralling arts and cultural scene nestled between the desert and the mountains, built of multi-coloured mid-century modern architecture and palm trees stand Palm Springs.
East of Los Angeles, it is a haven for those looking to flight the cramped bustle of the city, where cramped bus rides give way to taking to the desert on horseback or hiking trips through the San Jacinto State Park. If heading into the wilderness, Palm Springs has your back with its hot springs, stylish hotels and spas, or spend an afternoon browsing vintage boutiques, interior design shops before enjoying a piquant three-courses at one of the city's many restaurants. What sets the city apart is it's queer-friendly attitude, having one of the highest concentration of same-sex couples in the United States. According to former mayor Ron Oden, a third of the city is gay, making it a colourful gay oasis in the middle of the Sonoran desert. The community is thriving with a bunch of hotels catering exclusively to LGBT+ travellers, making it a bucket-list destination for most gay people.
---
The Humble Abode
Choosing the right place to hang your hat is essential to ensuring you have an amazing time in Palm Springs. It's unique in its range of hotels that mostly cater to gay travellers, all of which have their own niche in what they offer. If you're looking for a simple place to lay your head after a day of exploring, or somewhere to socialise with similar-minded folks, there's plenty to choose from.
Escape Palm Springs isn't just the home to the city's longest-running clothing-optional resorts for the gay community, it is also housed in a beautiful 1950's building. Promoting a laid-back environment, the gay-owned and operated hotel features an east/west situated pool, open 24hrs a day, which is perfect for enjoying sunshine all day. Guests can also enjoy the hotel's 15-person hot tub, pool lounges, library and social hour, making Escape Palm Springs an ideal place to relax and soak up the Palm Springs vibes. EscapePalmSprings.com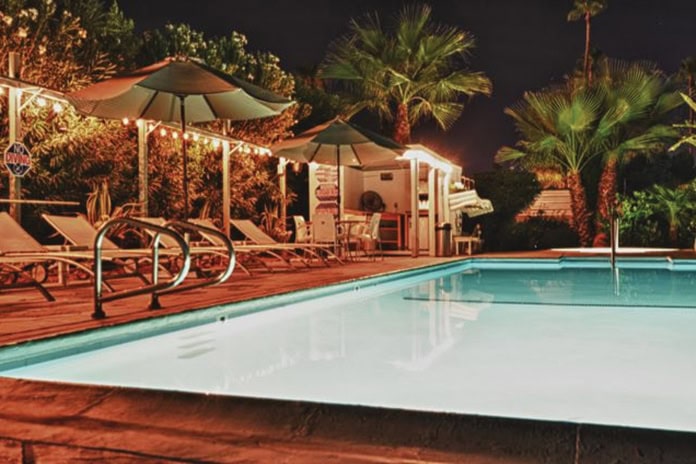 The only clothing optional resort for gay men in the historic Movie Colony neighbourhood, Bearfoot Inn offers guests a casual, elegant retreat in the city. Faithfully restored to reflect the hotel's stunning mid-century modern architecture, the hotel features 11 guestrooms, a saltwater pool and all the modern amenities needed to relax in this beautiful setting. With its fantastic location adjacent to the Palm Springs Uptown Design District, guests can easily explore the city's fantastic shops, bars and restaurants. BearFootInn.com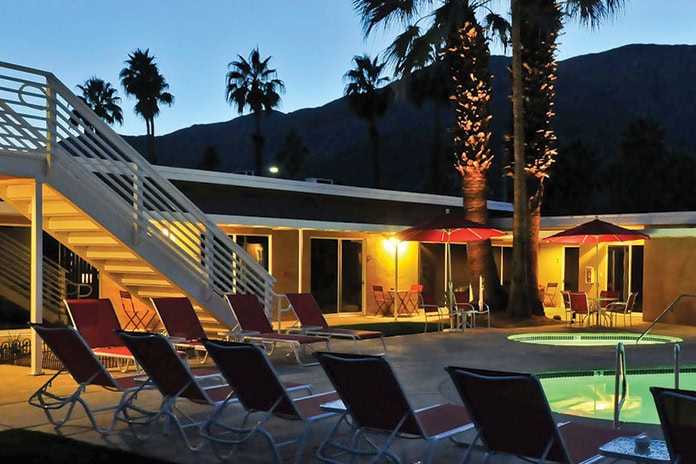 Located in a beautiful walled property, Triangle Inn offers guests a secluded clothing-optional desert oasis getaway. Featuring tropical lush gardens, a stunning outdoor pool, relaxing hot tub, serene sun decks and stunning views of the mountains, Triangle Inn creates a fantastic LGBT retreat just steps from the city's famous Palm Canyon Drive. Triangle-Inn.com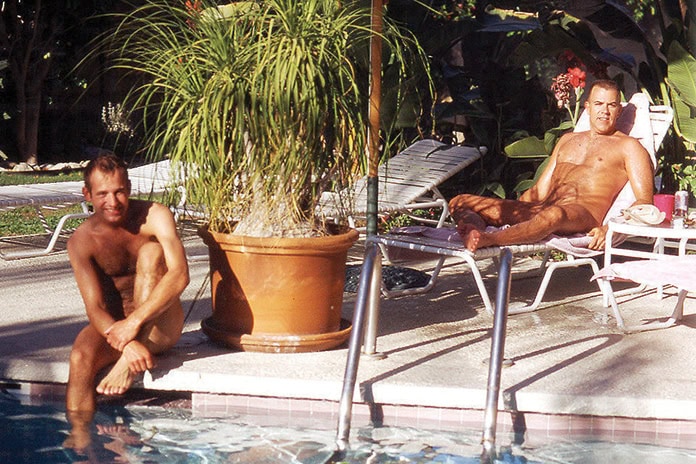 ---
A night on the Town
No holiday would be complete without a few wild evening spent knocking back cocktails and mingling with handsome locals. Being in a brand new place is liberating, where no-one back home is going to find out what mischief you get up to after a few ice-cold beers.
Considered to be the first gay bar in Palm Springs, Streetbar offers a friendly, fun atmosphere, where LGBT+ travellers and locals alike come to enjoy a great night and a martini or three. With fantastic events each week, including Karaoke and Retro Night, Streetbar is the place to go! Head to Streetbar on a Friday with some canned goods for the local food bank and you'll get $1 off your first drink. PSStreetbar.com
Seeking an upscale bar with a fab art deco feel, then look no further than Stacey's, the perfect place for refined night in the heart of Palm Spring's 'gay strip'. Offering a delectable menu of beers, wines and sophisticated cocktails, alongside live piano music, Stacey's is the perfect location to start, or finish, the night in style! StacysPS.business.site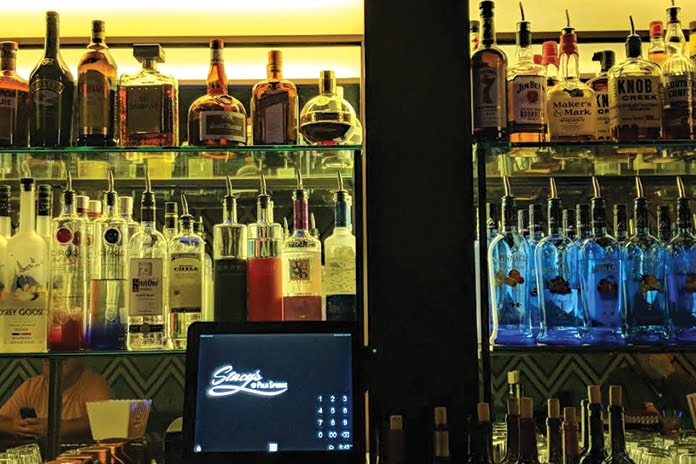 Celebrating diversity and Pride every day of the year, Chill Bar is a bar and nightclub offering 2 bars, live music, a fantastic range of signature cocktails, themed nights. as well as performances from world-renowned celebrities and DJs. For those wanting to relax and take in the Palm Springs air, Chill Bar's patio is the perfect spot for enjoying some drinks and great music! ChillBarPalmSprings.com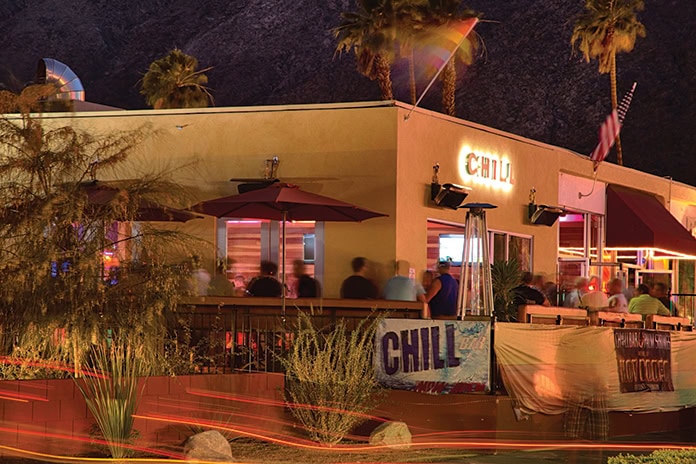 An avant-garde tropical wonderland, Toucans Tiki Lounge is a spectacular and popular nightspot in Palm Springs. Offering a pacific-island themed setting, delicious cocktails and fantastic music, as well as fantastic drag performances from Tommi Rose and The Playgirls, it isn't hard to see why Toucans Tiki Lounge is one of the city's hottest bars! ToucansTikiLounge.com
---
The Save the Date
A visit to the city is an experience in its own right, but if you're also looking to enhance your stay with one of the city's many cultural events then why not plan your trip around them in mind.
A truly unique silver screen celebration, the annual Cinema Diverse Film Festival (20th -23rd of September, 2019) is solely dedicated to showcasing the best of LGBT+ cinema from around the world. Presenting a diverse range of short films, documentaries, biopics and feature films over three days every September, the festival always delivers engaging works that inspire its audiences and spark every emotion in its viewers. Presented by the Palm Springs Cultural Centre, a not-for-profit organisation, the festival raises funds to advance education, nurture participation in arts and support scholarships to highly-deserving individuals, making this an inspiring and culturally-enriching experience in more ways than one.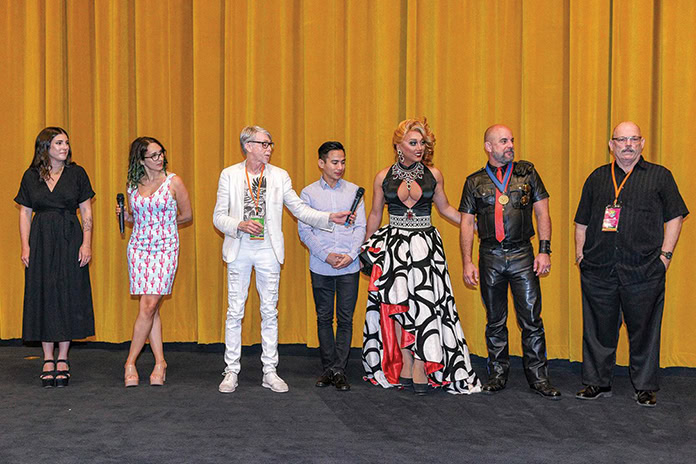 Southern California's longest-running and ever-popular LGBT festival, Greater Palm Springs Pride (1-3 November, 2019) is back this November. This year, downtown Palm Springs will play host to a vibrant two-day Pride Festival on November 2nd and 3rd. Offering a wonderfully diverse range of performances from artists and entertainers, refreshing beverage gardens and an eclectic range of stalls selling jewellery, snacks, sweets and other items, this year promises to be another amazing event.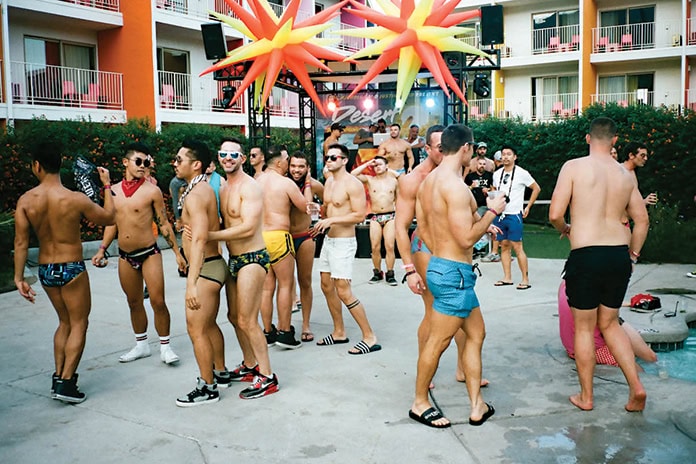 At 10am on November 3rd, the dazzling 2019 Pride Parade will take to the streets of Palm Springs. With over 60,000 spectators expected to gather under the city's blue skies, along the palm tree-lined streets to cheer on the local organisations and colourful themed floats, it promises to be another amazing highlight of the LGBT events calendar.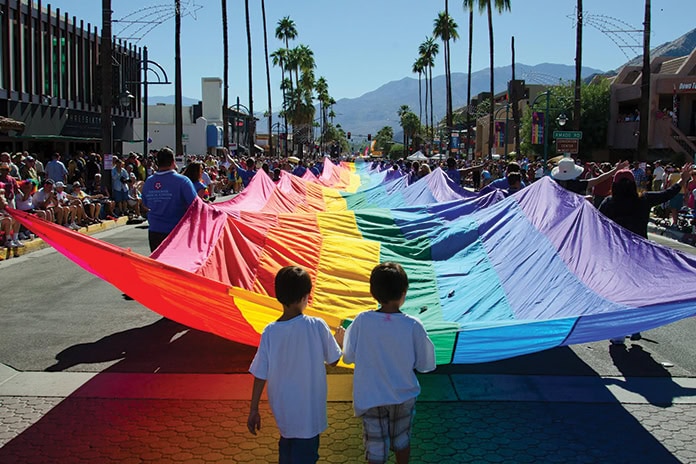 2019 marked the 30th anniversary of Jeffrey Sanker's White Party, one of the world's premier gay dance festivals and a true highlight of the Palm Springs calendar. The ever-popular and world-renowned LGBT event will kicked off on April 26th with its new Day Club Pool Party at Palm Springs Hilton. Featuring a newly-designed stage, poolside dance floor and luxurious cabanas, the pool party was the perfect way to get the celebrations started. As usual, the culturally-significant celebration played host to a range of exciting events, welcoming super-star DJs Dan Slater, Nina Slater and DJ Aron, as well as presenting mesmerising performances by Nikki Valentine and Amanda, as well as Beth Anne Sacks, creating another unmissable event. Organisers already have their minds at putting together next year's celebration, which is sure to blow this year's out of the water.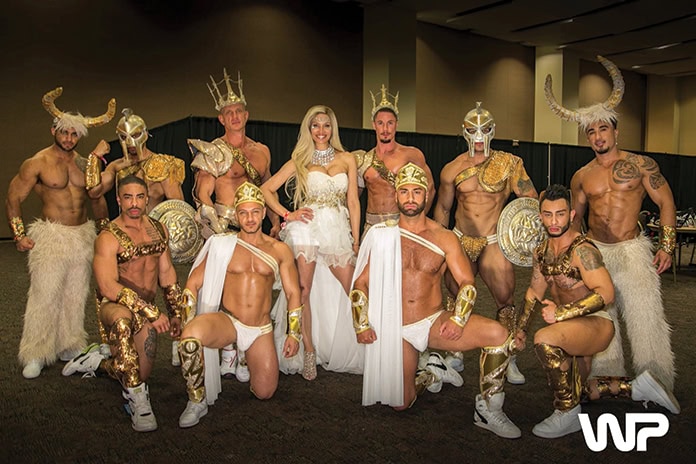 For more information and to start planning your trip head over to VisitPalmSprings.com.