As Julia jumps ship from her weekly column, we catch some parting words from this scene legend.
---
Princess Julia has had more nights out than you've had hot dinners! She's on the scene, on the decks, on the tube and on the razz, attending countless cultural events and parties, from bougie Knightsbridge art launches to gender-neutral bike shed raves in Dulwich.

She wrote about them all in QX, and her column was known across the scene as THE go-to resource for the very best queer and alternative (and alternative queer) events.
As she waltzes to pastures new, we grabbed Julia for a g&t and a catch up, and to reminisce about her iconic stint as one of the scene's most valued documenters.
---
Hey Julia! The end of an era! You're passing on your QX baton. What made you decide to do it?
Oh well, it's always good to switch things up and lets just say I've been reporting on our vibrant club scene for QX some years now!
What are the most significant changes London's scene has undergone, over the years you've been on it?
There's more going on than ever. Things have got ever more inventive. I've always been interested in and part of the underground scenes pioneering different ways of looking at and presenting things. I like the way things are constantly in flux. In some ways the creative forces for innovation never change – that's our spirit our bravery and boldness to strike out. Make things happen!
What do you think are the most important things affecting London's LGBT+ community right now?
Lots of political things – activism and the places to express yourself. Safety and LGBT+ rights.
Parties and events are happening with not only escapist and hedonistic fun times but also with vital undercurrents of important issues affecting us and our community.
Warehouse parties and independent pop-up nights seem to be doing really well right now…why do you think that is?
I mean, I come from the New Romantic era of the late 70s, so we more or less invented the idea of a pop up night – pop ups & warehouse parties are a chance for people to create unique nights. We need that. Perhaps it something inherent in the human experience. It's really exciting to be able to be part of something with friends IRL. That's really important. I think all types of gatherings provide a sense of community spirit. We need that too – now more than ever.
You are a fashion guru! What interesting changes have you seen in how people dress over the years?
Haha, I just love dressing up! The same ethos comes through in every generation and decade. Obviously I gravitate towards flamboyance. Inventive designers and lots of humour. I love how the drag scene (both kings and queens) has informed style. It works both ways of course! I love how looks travel across social media and into real life. Style, personal style and fashion style changes with trends or memes in the mainstream – it's how you translate it that makes things exciting. Perhaps a major change in dressing is the idea of planet awareness a DIY process – designers are engaging with that more and more. Fashion with a narrative.
You're a woman on a scene that's still mostly male. What's that been like as an experience?
I think I'm a pioneer of gender fluidity. I'm into no boundaries. Yes, some of the places I've been to have been quite butch – that's true. I've DJed all over the place. I like meeting friends, meeting new people, experiencing different scenes.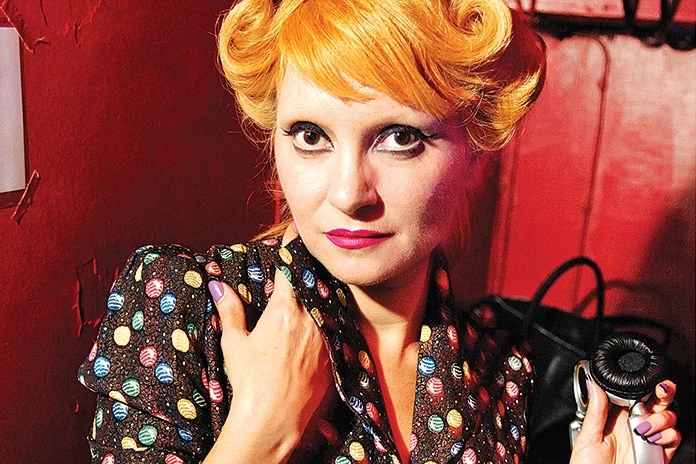 Can you pinpoint your absolute favourite scene moment?
Well there's been so many and there's more to come! Haha! Actually, you should look at the film work of friend & DJ Jeffrey Hinton, who manages to piece together a scenic journey of clubland from the early 80s to the present. Basically all our fave club moments in film reportage!
What's the most rewarding thing about the London scene?
London is a place we gravitate to at some point in our lives but every city has a scene. London is unique in that, because of the influx of visitors and people who make London their home, the scenes created here become part of something much bigger. A global community exchanging ideas. Exploring new ways of looking at things.
CASSANDRA will be filling your shoes with the column – tell us a bit about her.
I'm so thrilled Cassandra is carrying on where I've left off. Cassandra is a performance artist, musician and writer. I quite often ask Cassandra to join me at The Glory where I have a Sunday night, Cassandra or Charles sometimes performs their own musical compositions or for a bit of spice performs a full on drag show! Cassandra is lots of fun and thirsty for action! In a good way! Cassandra is also inquisitive and has a endearing and serious streak. Very much part of our community!
And finally…what plans have you got for the future?
Well I'm just carrying on as usual, DJing, writing, setting myself challenges. I'll still be informing you of happenings from time to time too!
---
Follow Julia on Instagram @hrhprincessjulia