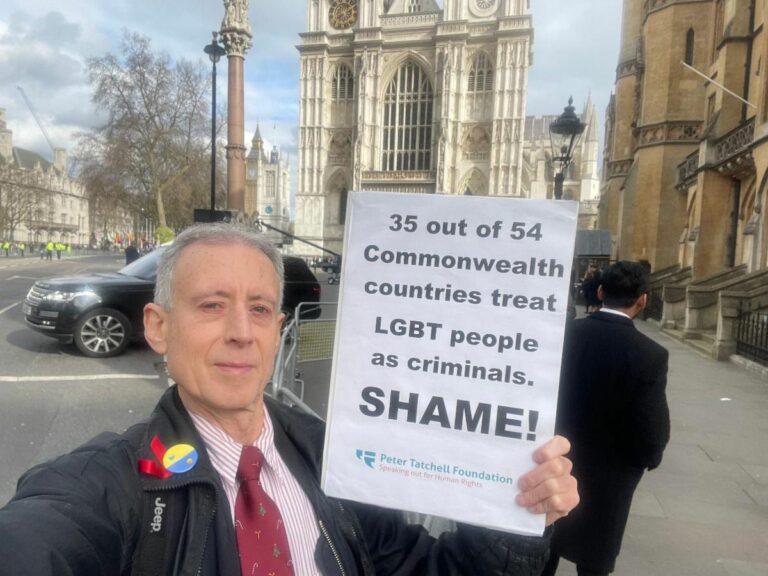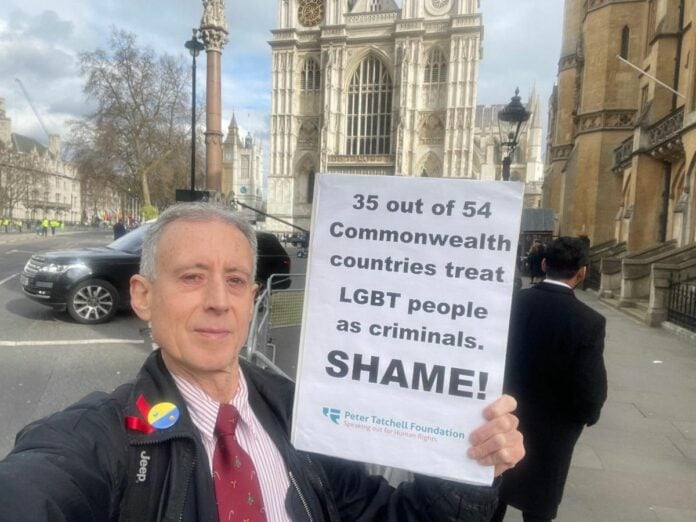 Peter Tatchell was on Monday 14 March threatened with arrest when he tried to stage a one-person silent peaceful protest for LGBT+ rights outside Westminster Abbey as Commonwealth leaders arrived for the annual Commonwealth Day service.
He was told that holding a placard near the Abbey entrance criticising the 35 Commonwealth countries that criminalise LGBT+ people was "likely to cause a breach of the peace" and that he would be arrested and prosecuted – a clear abuse of police power.
Officers forced Mr Tatchell to move to the other side of road, where Commonwealth leaders and High Commissioners could not see him.
"Undeterred, Mr Tatchell went to the side of Abbey and shouted his critique of Commonwealth homophobia through a high-powered megaphone, which interrupted parts of the service and could be heard inside by some of the dignitaries.
Mr Tatchell shouted:
"Thirty-five out of 54 Commonwealth counties criminalise homosexuality. Seven have life imprisonment. The Commonwealth's estimated 100-200 million LGBT+ citizens are treated as criminals.
"These anti-LGBT+ laws violate the Commonwealth Charter which pledges that all member states are 'committed to equality' and 'opposed to all forms of discrimination.'
"Commonwealth leaders refuse to recognise that LGBT+ rights are human rights. For over 50 years, they've vetoed any discussion of the issue at their heads of government meetings.
"Countries that criminalise LGBT+ people should be suspended from the Commonwealth."
Speaking after the protest, Mr Tatchell added:
"Commonwealth countries account for over half of the world's 69 nations where same-sex relations are illegal, mostly under laws imposed by Britain during the nineteenth century when it was the colonial power.
"Hate crimes against LGBT+ people are widespread and unchecked in most Commonwealth countries. The vast majority of LGBT+ people living in the Commonwealth have no legal protection against discrimination in employment, housing and the provision of goods and services. This makes a mockery of Commonwealth values and the human rights principles of the Commonwealth Charter," said Mr Tatchell.
Mr Tatchell is urging all Commonwealth governments to:
· Decriminalise same-sex relations
· Prohibit discrimination based on sexual orientation and gender identity
· Enforce laws against threats and violence, to protect LGBT+ people from hate crimes
· Consult and dialogue with their LGBT+ organisations
NOTE: The seven Commonwealth countries that have a maximum penalty of life imprisonment for same-sex acts are: Bangladesh, Barbados, Guyana, Pakistan, Sierra Leone, Tanzania and Uganda.