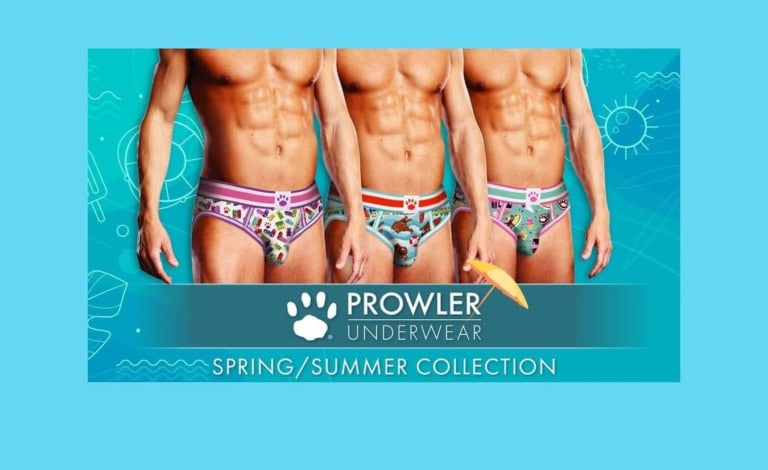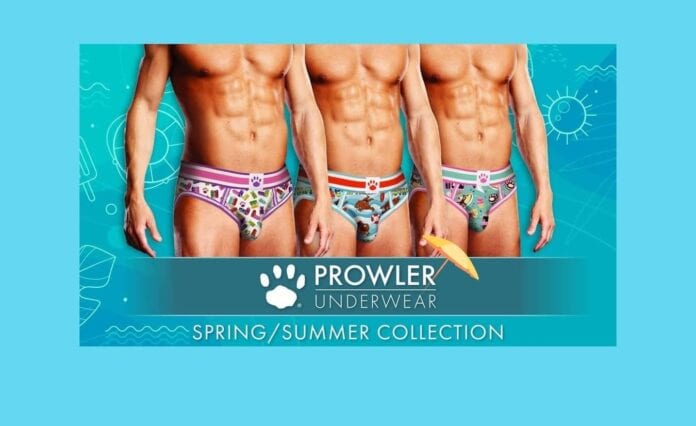 The UK's biggest gay lifestyle superstore now has its own underwear and fashion range! For 25 years, since the first Prowler store opened in Soho, many more stores have opened in the UK, and now you can wear the classic Prowler look with their range of sexy underwear.
Choose from briefs, trunks, jock straps and backless briefs, in their basics range in smart colours, and don't miss out on their seasonal prints, coming in a variety of cute and cheeky prints. Fill up your underwear drawers with nothing but the best from Prowler! Take a look at Prowler's brand-new Spring Summer 2023 collection for you to look your best in!
Prowler have created a playful, sexy, and comfortable underwear collection for the modern man. Inspired by the world of bondage play, Prowler gear isn't limited to just kinksters: they're perfect for every guy who wants to spice up his undergarments. The Prowler BDSM Rubber Ducks Trunk features fun illustrations of submissives and dominant rubber duckies, these trunks are sure to turn heads when you wear them! And with the signature Prowler paw print logo waistband, there's no question whose handy work is at play here.
Sweeten things up with the Prowler Gummy Bear trunks! These trunks are made with a comfortable, stretchy fabric and feature an eye-catching purple waistband featuring the Prowler signature paw print logo, which will give you all the support and sexiness you need. And did we mention that it has gummy bears on it? The Prowler Gummy Bear trunks are great for everyday wear and can be paired with any outfit, whether you're going out or staying in!
In the bedroom, some people like to take charge and others prefer to be on the receiving end of a good spanking. And then there are those who want to do both. That's where Prowler comes in. These sexy Prowler Leather Pride Open Briefs can help you achieve your wildest fantasies, no matter what they are. This style features an elastic waistband and playful illustrations of sexy dom daddies. Whether you want to wear it under your favourite pair of jeans or keep it on display in your underwear drawer, Prowler will get the job done.
There's always room for dessert with the Prowler Sundae Open Briefs! Featuring a sexy green background with imagery of an ice cream truck, ice cream scoops, and snow cones and decadent Prowler Paw logo ice cream sandwiches, these open briefs look so good it might just make you drool. These briefs are perfect for any occasion; whether you're lounging around the house or heading out for a night on the town with friends. So, whether you're looking for something comfy or something sexy and playful, Prowler have got you covered!
The Prowler Barcelona Brief is the perfect blend of sexy and playful. It's got a Barcelona theme with a splash of pride, so you can wear it anywhere and look good doing it. Featuring colourful Spanish themed imagery of guitars, matadors, sangria and more, these briefs are an instant conversation starter as you show off your physique. The Prowler Paw logo waistband will keep you comfortable all day long, while the brief design will show off your assets in a way that's both confident and proud.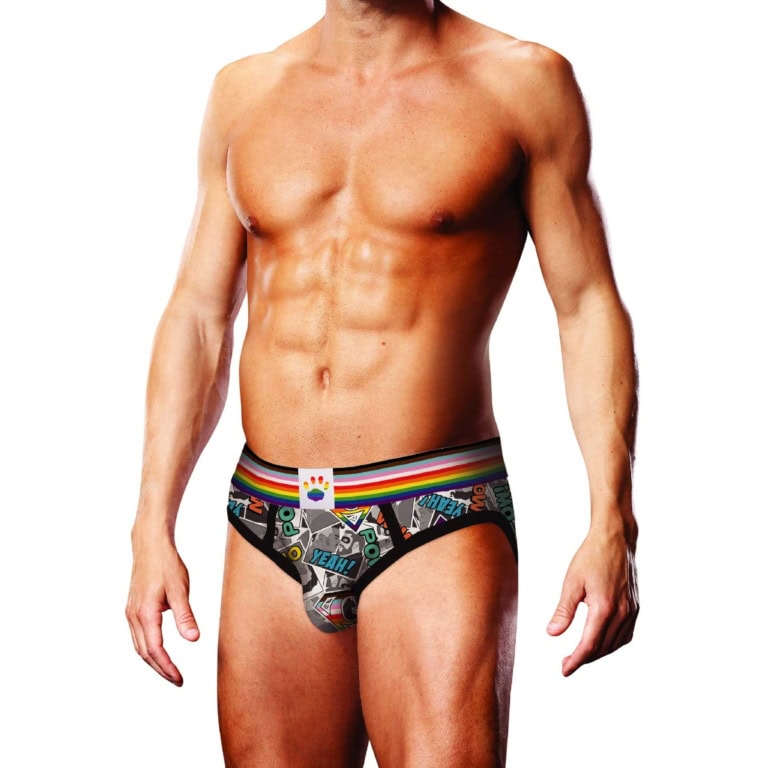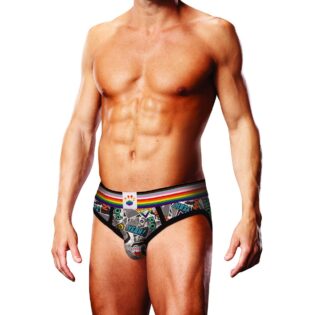 You've read the comic books. You know what happens when you put on a pair of Prowler underwear; sexiness becomes your superpower. These ultra-comfortable Prowler Comic Book Briefs are made from a soft fabric blend. Each style is made from 100% cotton and features a comic book theme with fun, playful imagery. The waistband features our classic Prowler Paw logo for an extra touch of style and pride. We believe that every man deserves to feel attractive and confident in his underwear, whether he's wearing them at home or out in public, and we want to help you get there!
The Prowler Gaywatch Bears Jockstrap will make you feel like you can conquer the world and live your best Hasselhoff fantasies. The blue ocean wave background is a calming, refreshing backdrop to the playful imagery of sexy Gaywatch bear lifeguards. Featuring a roomy pouch to secure your package, the straps in the back showcase the rear. Wear it anywhere; it's comfortable enough for everyday wear, and it's got the Prowler Paw logo waistband that makes it clear you're here to play!
Whether you're looking for a pair of underwear that can do it all, or just something to wear on Pride Day, the Prowler Pixel Art Gay Pride Collection Jock Strap is for you. They feature pixel art of rainbows and playful images that are sure to get you noticed. They're also super comfortable and made from 100% cotton so they're perfect for wearing anywhere. And with their signature Prowler paw print logo waistband, they'll be sure to make a statement wherever you go!
Prowler's Spring/Summer Collection is available at Prowler stores and online at https://www.prowler.co.uk/