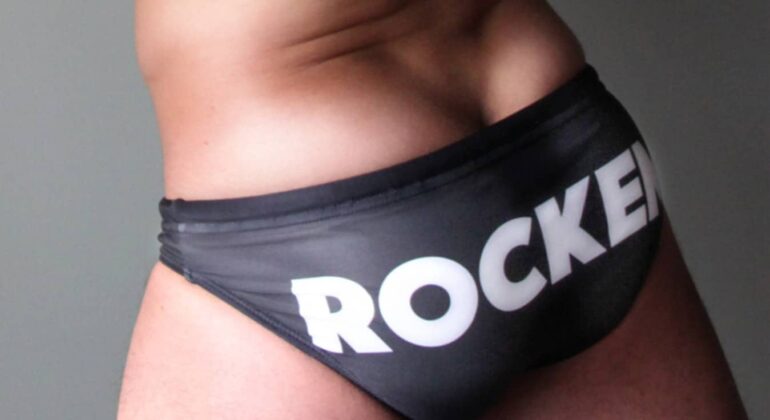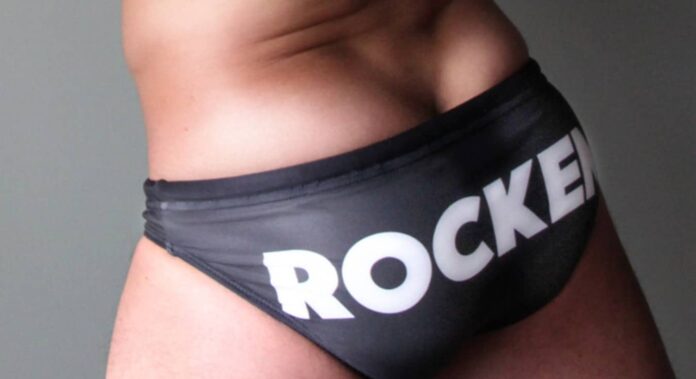 CLOCKEM ROCKEM is a men's fashion brand formed in 2022, and they've launched a fabulous butt-hugging swimwear range.
Established in Nottingham and the passion project of married couple Shaun and Paul Swift, the boys decided to have a pop at creating and making the kind of swimwear and clothing they love, admire and want to wear.
Paul explains what motivates them, 'We have always been interested in swimwear. A personal fetish for swim fashions, beach wear, tanning and water polo wear from ranges such as Speedo, AussieBum, Box, and Aronik. We are sun and holiday whores, and we own an impressive collection of trunks and swimwear. We could never shake the idea that we should try and develop and produce our own product. The idea was ten years in the making. We had to utilise all the pros, eliminate the cons of the swimwear that had passed through our hands, and then add fresh ideas to the mix we had not seen for sale. So, we did it, and here we are. Our first range is now live.'
This passion project for CLOCKEM ROCKEM has been a long time in development, and the process has been filled with trials, all of which helped us to learn and correct the product so that it was at a standard they could be proud of. Their first range featuring premium men's bikini swimwear, while small, is a perfectly formed range of swimwear available now, exclusively through their website.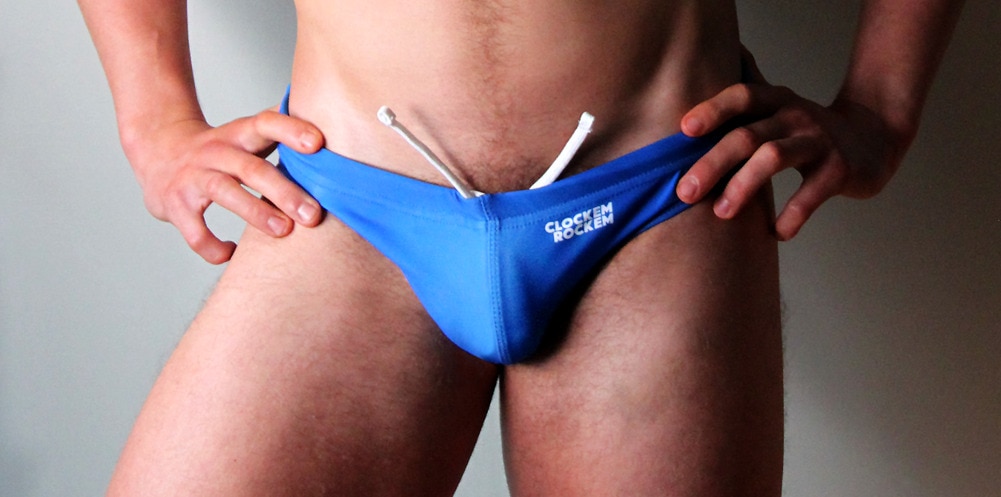 Paul continues, 'A high standard of physique was at the forefront of our inspiration. We have designed for peacocks, the body proud, and those sculpted from granite, while not forge=ng those with fluffier edges, who don't give a **** what others think of them. All are welcome.'
'Our beachwear range is cut, shaped and developed to showcase and stylise the male body shape. Our range is tight, shiny and offers something different for you to frolic in.' – CLOCKEM ROCKEM
The polyester swimwear fabric is quick-drying, has a high degree of durability, is colourfast, holds its shape when wet (and dry) and has a certain amount of stretch, but CLOCKEM ROCKEM have cut a tighter bias; the range is double-lined to hide any unwanted 'when wet exposure'. No unsightly labels are added that poke out to ruin your tan line. Cut in a bikini fit, light and small, to show off your greatest assets.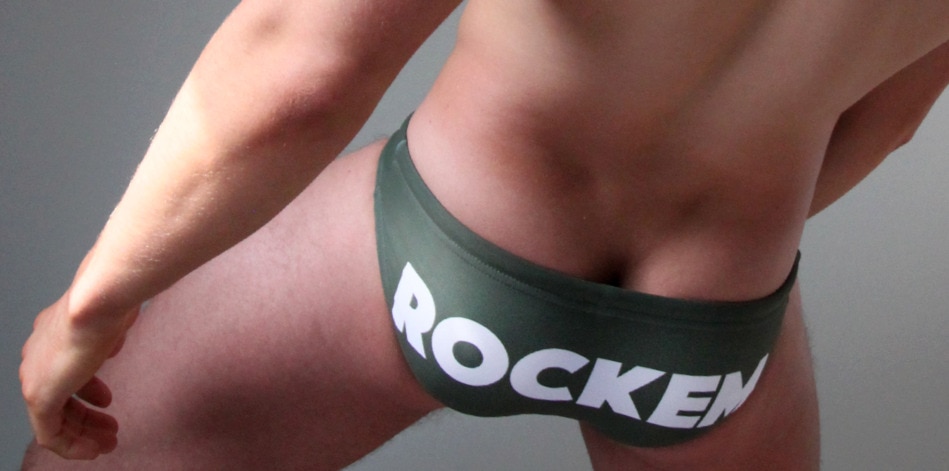 The logos are sublimated, so there is no unsightly long-term peel away or fading, and the range has been fair-priced for a quality product. The boys at CLOCKEM ROCKEM promise excellent customer service, which stays with you through the shopping process. Both are training in customer care but are also freakishly chatty. They want you to have a great experience and help them with suggestions on where to pivot next.
Local models have been sourced to showcase the first range. 'It's amazing how many straight lads offered to drop them for a gay swimwear brand'. CLOCKEM ROCKEM are always on the lookout for models, and if you're interested, you can reach them through their website. Paul has even put his money where his mouth is and will be stripping for the next range due later this year.
On top of this, CLOCKEM ROCKEM will upload your tasteful images of you wearing their products and promote your social sites if you want the exposure.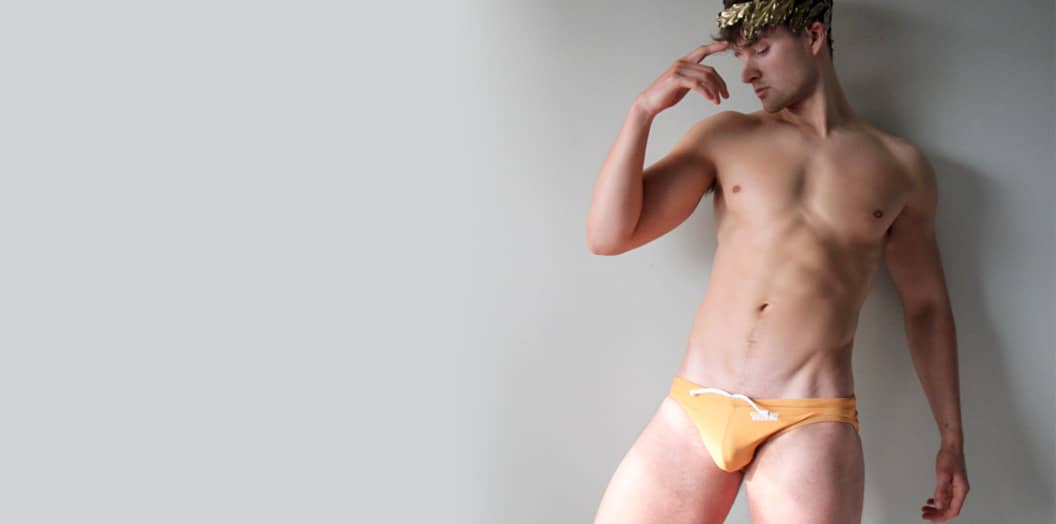 As you can understand, with a start-up, CLOCKEM ROCKEM are taking this slow. Shaun tells us about their plans for the future, 'We will expand our shop to create men's underwear, jocks, thongs, sportswear, wrestle suits, athleisure, casual wear, fetish wear and anything else we can wrap our enthusiasm around. Our first range of underwear and our swim briefs range are in development.'
Current production runs will have limited numbers to not saturate the swimwear market and avoid awkward costume clashes and 'who wore it better moments.
Shaun continues, 'We don't have high expectations of being a major player in such a competitive industry; we are doing this for pleasure. We're doing this so that we can design for ourselves and our followers and push the boundaries by providing items we want (as a disgracefully ageing pervert) but cannot find. Call it a hobby if you like.'
Nothing is more attractive than a wet pair of trunks caressing a tight peach. If you appreciate the male form and have a fetish for swimwear, why not join CLOCKEM ROCKEM on their journey? They are open to ideas and your feedback. Their first small range is online at www.clockemrockem.com, available in six butt-hugging, bikini-fit colours. With limited run numbers, why not take the opportunity to get your hands on a range that is truly beach unique?
Paul finishes our chat by telling us how much having a relationship with their customers means to them both, 'Come with us, we would really appreciate your company and support. We hope you love our work and would really like to read what you think of what we are doing. We are available on most leading social media sites; why not follow us, drop in for a chat, or share our content… we don't mind. We will update new content on a frequent, but hopefully not annoying frequency.'
QX agrees. Once you CLOCKEM, we know you'll ROCKEM.