Will Corder and Max Mclean, otherwise known on the dancefloor as DJs Will C and Macwel, are quite literally, as their Latin name precedes them: 'seizing the night' in London's club scene. This London-based DJ duo will have you throwing shapes in the club while fundraising for Ukraine.
Will recaps how Carpe Noctem started: "It just happened. Max started putting on 'Dance Nights' in local event spaces, and we'd get together for a much overdue knees-up. I started DJing for Max in 2022, but earlier this year, Max and his partner, with whom he used to put the nights on, decided to go their separate ways. I took up the reigns with Max, bringing my fresh perspective and ideas to the table, and Carpe Noctem was born." Max adds why: "to create a safe space for like-minded people to come together and DANCE."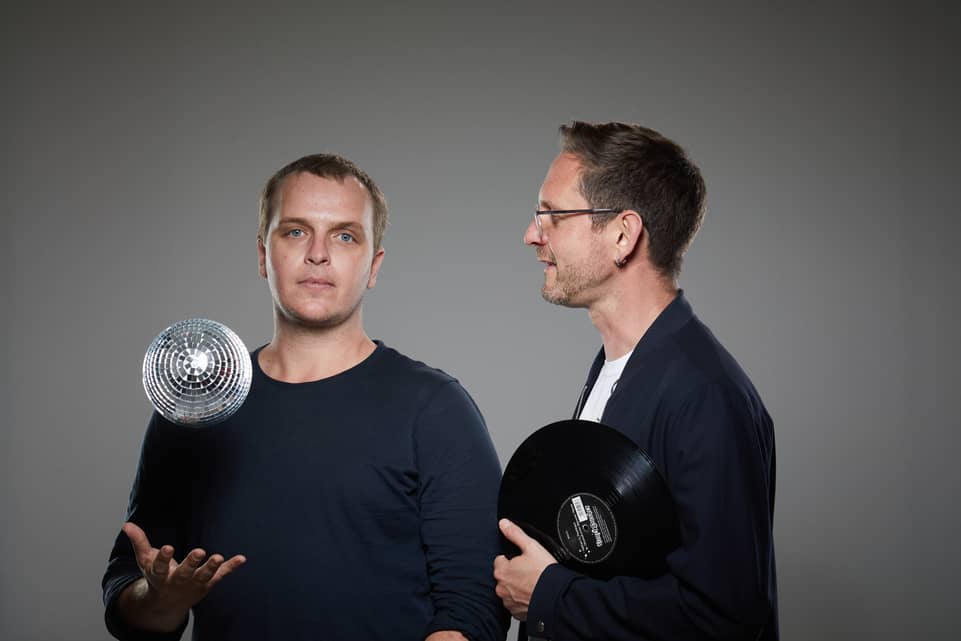 These music enthusiasts support the LGBTQ+ community, which Will is a member of and says: "Max is very much an ally and supporter of the community and a lover of the vibe and freeing atmosphere that comes with LBGTQ+ venues and events."
Will feels he owes his community "a great party, with awesome music in a safe space" due to his time spent with them in the club scene, which contributed to shaping who he is today. From these experiences, he was able to help bring an unorthodox way of partying to Carpe Noctem compared to the pre-existing clubs out there. Not only this, but they're assisting Ukraine: "Since Russia invaded Ukraine in February 2022, I have been looking for a way to support Ukraine", says Will. "Given the devastating war in Ukraine, we also want to support the fight for LGBTQ+ rights there."
They've therefore arranged their official launch night to take place on the 2nd of July at the LGBTQ+ venue: Village 512 in Dalston, London, coinciding with the Pride in London weekend.
In support of Ukraine, Will reached out to Sofia Lapina, the president of UKRAINEPRIDE, and they're now collaborating on this event to fundraise for the country in crisis, with a Ukrainian DJ playing on the night. Sofia explains: "The Ukrainian LGBTQ+ community is an integral part of Ukraine's cultural identity … When war comes to your land, it does not ask about your gender or sexual orientation … For us, the support of Carpe Noctem is [solid]; it [brings us all together to remind us of the initial idea of what Pride is about – promoting the community's protection of rights and equality in solidarity]. We are incredibly grateful for this support and are honoured to [partner with them].
That's only part of what this delightful duo is doing for Ukraine. Come August this year, they'll host a 24-hour marathon mix DJ livestream, with a couple of Ukrainian guest DJs mastering the decks alongside them. They'll ask for sponsorship and support from people and organisations who they hope will lend them studio space to host the event. Viewers can make donations and leave comments while watching the magical melodies come to life as they stream live on Twitch and Mixcloud. All proceeds will go to UKRAINEPRIDE.
So, what are their nights like? We hear you ask. Well, definitely different from what you would expect from your average club night out; these guys are doing things differently. Will exclaims: "It's all about [having a] good time. We have live sax and percussionists who play along with our DJs at our parties at the end of the month to add their magic". Max expresses: "We play a diverse range of underground house music from the last 20 years spanning across genres of disco, progressive, melodic, tech and funky house." Will adds that their latest themed event: 'Disco Royale: The Other Coronation Party at Village 512 was "a great success and has led to us putting on bi-monthly events at the venue".
Alongside their upcoming events, the team's future plans are ambitious. Max notes: "We intend to build a community that caters for queer, creative and unconventional audiences." Will adds: "We want to create legendary nights, with music, you won't find on the high street."
Grab your tickets to their launch event:
Tickets for

Disco Royale:

Pride Afterparty

HERE
The Carpe Noctem 'Disco Royale: Pride Afterparty x UKRAINEPRIDE Fundraiser' is on 2 July 2023, 10 pm – 6 am, Pride Village 512, 512 Kingsland Road, London E8 4AE, United Kingdom.
Interviewer Holly Houlton: https://www.hollyhoulton.com/writing
@holly_houlton_photography (Instagram handle)