As thousands of LGBTQ+ people paraded through the streets of London this weekend, hundreds protested peacefully. Some halted the corporate-funded parade, and arrests by the Met Police ensued. Protest, and the right to protest, are now centre stage at Pride.
Early in the afternoon, LGBTQ+ supporters of Just Stop Oil blocked Coca-Cola's float while spraying black and pink paint over the road. They had previously met with the organisers of Pride in London, demanding they make a statement condemning new oil and gas licences and stop taking sponsorship from highly polluting corporations. Coca-Cola is regarded as the world's top plastic polluter by a significant margin.
In a previous statement, LGBTQ+ supporters of Just Stop Oil had said, "We are a group of LGBTQ+ supporters of Just Stop Oil… We take action because the Government is continuing to develop new fossil fuel projects in 2023, even though the world's climate scientists agree that this threatens the collapse of our food systems and the breakdown of ordered society." And reminding everyone that Pride was born from a protest, they concluded, "It speaks to how far we've come as a community, that high polluting industries and the banks that fund them now see Pride as a useful vehicle for sanitising their reputations, waving rainbow flags in one hand whilst accelerating social collapse with the other… These partnerships embarrass the LGBTQ+ community at a time when much of the cultural world is rejecting ties to these toxic industries."
https://twitter.com/juststop_oil/status/1675129382828924935?s=46&t=k5uYTPoWTw4sfVUukIls-A
Several of the Just Stop Oil protesters were arrested by the Met Police. Five of the protesters, ranging in age from 20 to 68 years old, were later charged under the Public Order Act, with the Met Police citing "behaviour likely to cause harassment, alarm or distress". The Public Order Act 2023 was recently passed by the Government, greatly increasing police powers of arrest with possible prison terms if found guilty. The legislation has been called draconian and anti-democratic, seriously impacting citizens' rights to protest. Amnesty International and other human rights organisations have condemned the UK government's attempts to silence dissent.
Meanwhile, the Mayor of London, Sadiq Khan, has described Stop Oil as a "really important pressure group".
Elsewhere on the march, more protesters made their feelings known. Campaign group Lesbians And Gays Support The Migrants (a name inspired by the 80s activist group Lesbians And Gays Support the Miners) dropped banners at the Pride In London Parade, condemning the Met police, the Conservative party and headline sponsor United Airlines. The group calls on the LGBTQ+ community and allies to demand that Pride in London does not allow these organisations to march in future parades.
The bright and sparkly banners appeared at various points along the parade barriers when the respective groups passed by, accompanied by fanfare, including drumming and confetti canons.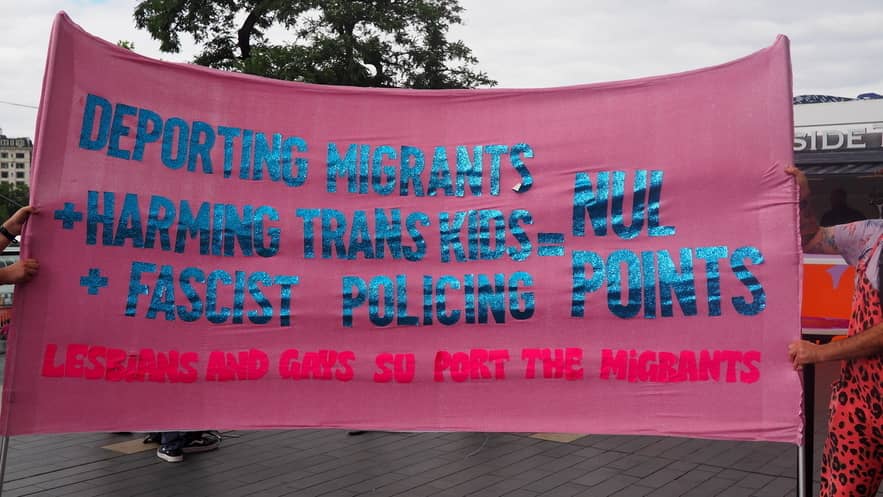 One of the banners was aimed at ParliOUT, the group representing MPs, Peers and staff of the Houses of Parliament. Regarding ParliOUT, Lesbians And Gays Support The Migrants' statement declared, "Conservative members of the Houses of Parliament intend to introduce guidance that would endanger transgender children and young people, implement anti-protest measures, and pass legislation that will put the lives of migrants and asylum-seekers at risk." And they continued, "Their participation in the Pride in London parade is insulting to communities affected by the government's stances and policies, as well as to those who stand alongside those communities."
Another banner was raised as the Met Police LGBT+ Network walked past in the parade. With the use of a four-letter expletive, it was made clear that they were not welcome. Many people in the queer community feel that the Met should not be permitted to march in the parade following the Casey report findings that the Met are "institutionally racist, sexist and homophobic".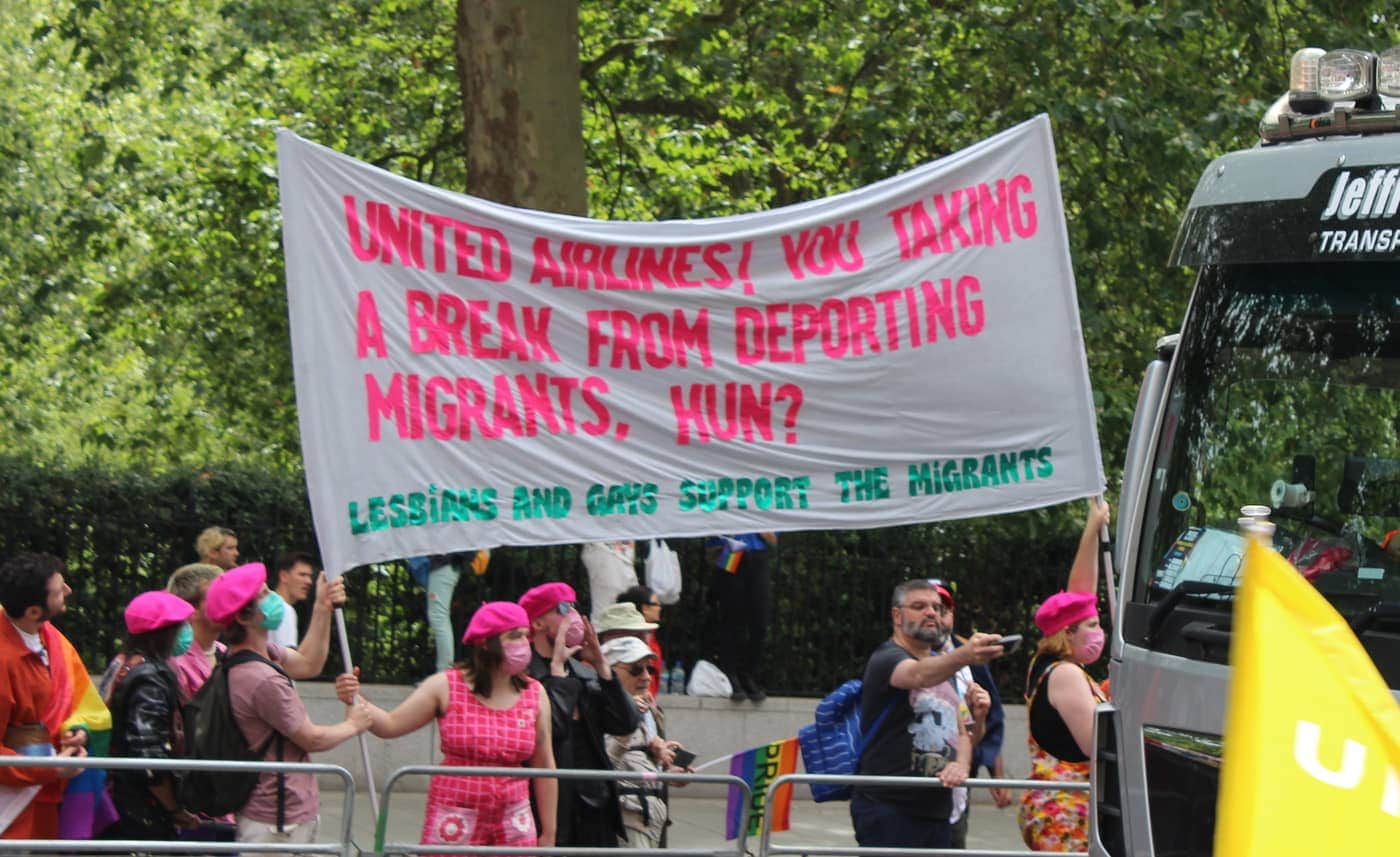 The third point of action was London Pride's headline sponsor, United Airlines. In their statement, Lesbians And Gays Support The Migrants explained, "This company is the primary and sole headline sponsor of Pride in London 2023. Data from ICE also shows that it is one of the commercial airlines that was used for deportation flights to Central America in at least 1,386 cases between January 1, 2019, and January 16, 2020. United Airlines facilitated a total of 677 of the deportation flights." The Green Party's deputy leader Zack Polanski also criticised their sponsorship of Pride in London due to United Airlines' contribution to the climate crisis.
"Exposing the hypocrisy of racist and queerphobic institutions can be done with sass, shade, and a sh*t tonne of glitter." – LGSMigrants
In the statement, one LGSMigrants spokesperson said: "Pride started as a protest, and we are proud to continue that history. Many people come to Pride in London to experience queer joy and celebrate their identities. It is therefore extremely harmful and upsetting when people of marginalised communities — whether they're migrants or LGBTQ+ — have to watch institutions and companies walk past them that have actively enacted violence and created hostile environments towards them."
"The choice to walk in the parade is a transparent, rainbow-washing attempt to hide from their hypocrisy. The choice by the Pride in London organisers to let these groups walk in the parade is neglectful and upsetting. Our action today is to call out these institutions and to show solidarity with the many people at Pride in London and beyond who have been harmed by these organisations' actions. Pride is liberation for all, so we will fight for the liberation of all."
Another LGSMigrants member said, "It's a serious and distressing topic that we addressed today. But we wanted to show that solidarity and standing up for your rights can be a camp, joyful act as well. Exposing the hypocrisy of racist and queerphobic institutions can be done with sass, shade, and a sh*t tonne of glitter. We took up space and shouted loud and proud that we are here, we are queer, and we will fight for migrants' rights. And we'll look cute while doing it."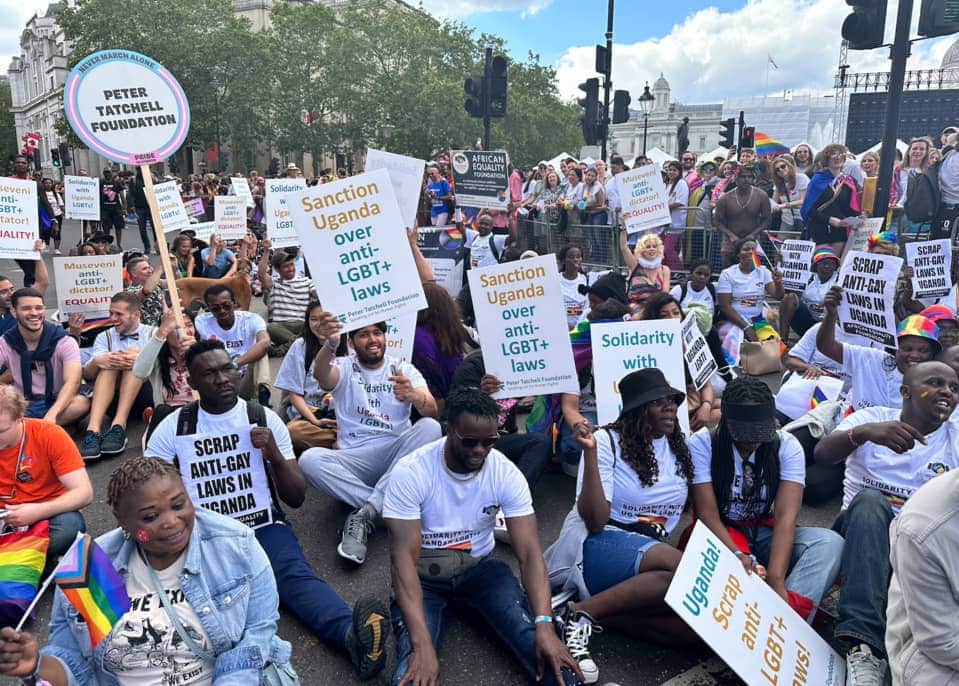 Hundreds of marchers, including Ugandan LGBT+ refugees, staged a sit-down protest outside the Ugandan High Commission in Trafalgar Square. They received cheers and applause from the Pride crowds and remained on the roadway for 15 minutes, despite Pride stewards trying to move them on.
Besieging the Ugandan High Commission, they chanted: "Hey hey! Ho ho! Anti-gay laws have to go!" and "What do we want? Sanctions on Uganda. When do we want them? Now! "
The sit-down marchers were protesting the country's draconian new Anti-Homosexuality Act, which became law four weeks ago, on May 26.
They urged the UK government and international community to impose travel bans and asset freezes on Ugandan MPs who voted for the new anti-LGBT+ legislation.
The protest was organised by the Peter Tatchell Foundation, with the support of LGBTs from the African Equality Foundation and Out and Proud African LGBTI– many of whose members have fled Uganda to escape arrest, imprisonment, torture and mob violence.
The Anti-Homosexuality Act stipulates the death penalty for repeat homosexual offenders and for gay sex with a person aged over 75 or under 18. It includes 20 years in jail for advocating LGBT+ human rights, seven years imprisonment for renting housing to LGBT+ people – and much more.
Peter Tatchell, Director of the Peter Tatchell Foundation, told QX, "We took non-violent direct action outside Uganda House to stand in solidarity with heroic Ugandan LGBT+ campaigners and to register our strong objection to the new Uganda legislation. It is one of the most sweeping and draconian homophobic laws in the world. Almost every aspect of LGBT+ existence is outlawed, including LGBT+ sex, advocacy, and organisation. The Act violates the Commonwealth Charter. It also breaches Article 21 of the Uganda constitution, which guarantees equal treatment and prohibits discrimination."
Gay Ugandan Abbey Kiwanuka of Out and Proud African LGBTI added, "Uganda is going backwards. As LGBTI Ugandans, we are not even asking for same-sex marriage; we are advocating for LGBTI people to be left free to love whoever they want without fear of harm. Politicians in Uganda scapegoat LGBTIs and use homosexuality as a pretext to divert people from questioning their failed policies. It's high time Ugandans woke up and realised that homosexuality is not the cause of people's suffering. The problem is the rotten, corrupt system."
Edwin Sesange of the African Equality Foundation, also from Uganda, added, "Uganda must stop its persecution, respect LGBTI human rights, and uphold the equality and non-discrimination principles of the Commonwealth Charter. I call on the Commonwealth leadership to speak out and hold Uganda accountable."
The debate around the protests at Pride In London has been heated on social media. Whether or not you agree with the protesters' actions, protest is back at the heart of Pride, and QX believes that the right to engage in non-violent protest is a vital part of any healthy democracy.
LOVE & REBELLION: We meet queer members of the activist group that's saving the world.