The Iris Prize LGBTQ+ Film Festival is an annual Cardiff-based film festival offering the largest LGBTQ+ shorts film prize in the world. Presenting shorts from 21 countries competing for £30,000 to make a new LGBTQ+ themed film in the UK, plus feature films, Iris Week runs from 10 – 15 October 2023 (the online festival is available in the UK till the end of October). The festival makes Cardiff an excellent getaway destination for lovers of queer cinema. The box office opens to the general public today, 19 September 2023,
This year's programme includes more than 50 short films, 12 feature films, talks from film industry professionals and the spectacular opening night and glamorous Awards Show – along with an exciting gig held at Cardiff's newest queer space, Enby's, in Wharton Street, Cardiff.
Guests at the festival include Russell T Davies (Queer as Folk, It's A Sin), Heartstopper director Euros Lyn, the unstoppable Fawzia Mirza (Kam Kardashian, Brown Girl Problems and The Queen of My Dreams showing at this year's festival), and the filmmakers who are representing their films in the competition.
"This year, we have a fabulous mix of LGBTQ+ stories to share; our audience is in for a week of emotions as we watch films, talk about films, and much more." – Berwyn Rowlands, Iris Prize LGBTQ+ Film Festival Director.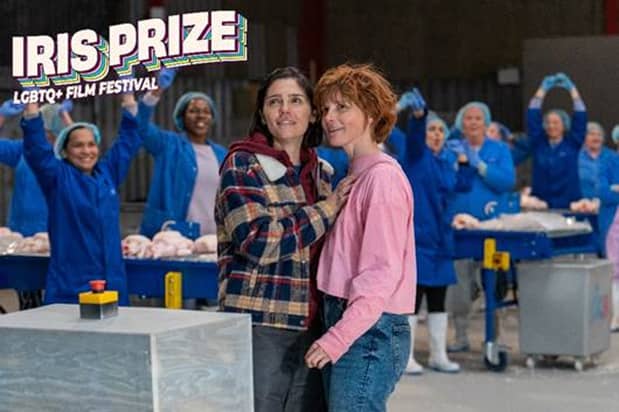 The Iris Prize has 25 partner festivals that nominated 18 shortlisted films, with the remainder chosen by a pre-selection jury. You can find out more about the shortlisted films in the competition festival here:
– Iris Prize International Short Film Competition supported by The Michael Bishop Foundation 2023 Iris Prize Shortlist – Iris Prize
– Best British Shorts sponsored by Film4 and Pinewood Studios 2023 Best British Shortlist – Iris Prize
Here is a taste of three very different films
The Queen of My Dreams (Director: Fawzia Mirza, Canada, 2023)
In 1999, the sudden death of her father Hassan (Hamza Haq) sends queer Muslim grad student Azra (Amrit Kaur) flying back to her ancestral home in Pakistan, where her stern mother Mariam (Nimra Bucha) demands that she play the role of the perfect grieving daughter. But through flashbacks to Mariam's life in Karachi 30 years prior, we see the connections uniting mother and daughter, starting with their shared love of the Bollywood star Sharmila Tagore.
Chuck, Chuck Baby, (Director: Janis Pugh, Wales, 2023)
Helen (Louise Brealey) lives with her ex-husband, his 20-year-old girlfriend, their new baby – and his dying mother, Gwen. Her life is a grind, and like all the other women she toils with at the local chicken factory, is spent in service of the clock. She lives only for laughing with her friends at work, caring for Gwen, and music. When Joanne, the girl she secretly loved at school, returns to town, Helen's world is turned upside down.
Our Son (Director: Bill Oliver, USA, 2023)
As they divorce, a couple fight over the custody of their 8-year-old son. Starring Luke Evans (Nicky) and Billy Porter (Gabriel). Both workaholic breadwinner Nicky and former actor/devoted stay-at-home dad Gabriel feel entitled to full custody as the former partners struggle to redefine their lives post-separation.
There are many ways to enjoy Iris – for an evening, a weekend or the whole festival. Ticket prices are very reasonable, with full-price short films at £7 and full-price feature films at £8, which allows you to dip in and out. Students receive a special discount for all feature and short film screenings. You can go the full monty with the Full Festival Pass (£140), which includes all screenings and events, including Opening Night, Awards Show, Saturday lunch at the Clayton, parties including Iris Loves, and the Online Pass.
The entire programme for this year's Iris Prize https://irisprize.org/news/iris-prize-festival-programme-2023-goes-live/
or in person from 10 -15 October 2023 at the Festival Box Office at Vue Cardiff.
Full details about the Iris Prize can be found here: www.irisprize.org
Travel from London to Cardiff
Bus London Victoria to Cardiff: It takes around three and a half hours, with tickets available for under £10. https://www.nationalexpress.com/
Train Paddington to Cardiff: It takes less than two hours, with tickets for under £50. https://www.thetrainline.com/