Join The Red Run in Victoria Park and help raise vital funds for HIV Charities, 25 November 2023.
The Red Run is an annual event which aims to raise money for HIV charities and organisations. The Red Run will occur on Saturday, 25 November 2023, in Victoria Park, east London.
The RED RUN is a non-competitive event and welcomes people of all abilities and ages. Focusing on community, not competition, Red Run creates an annual large-scale platform to help the HIV movement forward.
In 2022, 4,000 people attended, raising over £235,000 for 27 HIV charities. So you'll be joined by thousands of people who will be running, walking, sashaying and jogging along the 5k/10k (chipped timed) route that takes you through leafy Victoria Park to raise awareness and vital funding to help strengthen the UK's response to HIV.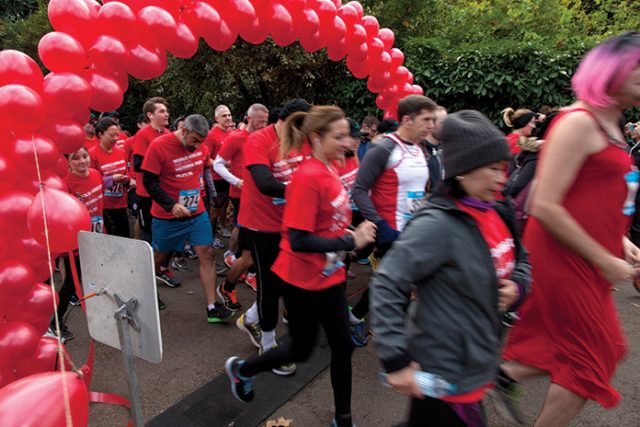 There are several charities that you can help support in The Red Run
Positive East, 56 Dean Street, AHF, Breakout Youth, CHIVA, Controlling Chemsex, Elop, Food Chain, LGBT HERO, Metro Charity Mildmay, mothers2mothers, NAM – Aidsmap, National AIDS Trust National HIV Story Trust, NHIVNA, NAZ, Plushealth, Positively UK, Prepster, Redbridge Rainbow, Royal Free Charity – Ian Charleson Day Centre, Sophia Forum, Spectra, STOPAIDS, Switchboard LGBT+ Helpline, Tackle Africa, Terrence Higgins Trust and Wandsworth Oasis.
There is a £25 registration fee, which goes directly to Positive East, the organisers of the Red Run, enabling them to put on the event.
You can do a 5k/10k run, and if a isn't your thing you can do a 5k walk.
(and tick the box to say who you're supporting).
They'd love to see you at The Red Run, but if you're unable to take part, you can still donate here: https://www.justgiving.com/campaign/redrunprepster.