High-flying Australian comedian Pam Ann is everything we love here at QX – hilarious, brash, confident and er…a bit unhinged.
She specializes in GAY, PLANE-THEMED humour. Quite niche! The only other person who's done gay plane-themed humour is Tom Cruise, and that was by accident, as far as we know.
Pam's just jetted over to London for a string of sparkling shows, celebrating her twentieth anniversary at the Leicester Square Theatre. She chatted to Dylan Jones about deconstructed sausage rolls, the treatment of female comics in the industry, and Gatwick Airport toilets.
---
Pam! Describe yourself in three shiny words.
Hungry, power, bottom!
Have you ever done anything on a Sunday morning? If so, what?
Who is 'Sunday Morning'…is that the name of Nicole Kidman's kid?
If you did a strip show in the aisle of a Virgin Atlantic flight, what song would you use as the soundtrack?
I'm Every Woman by Whitney Houston
What about if it was RyanAir?
Who Let The Dogs Out
What's the best airline meal you've ever eaten?
Neil Perry for Qantas deconstructed sausage roll, but nothing beats a bucket of KFC on Easy Jet.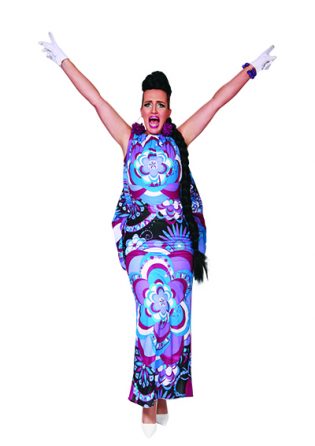 We loved that mad Marks & Spencer's spoof you did ages ago! We're always in there hungover. What would you buy in Marks & Spencers if you were hungover?
I'm always hungover, so this is easy. I'd buy 32 bacon and sausage rolls…but these aren't any ordinary 32 bacon and sausage rolls…these 32 bacon and sausage rolls are rolled by hairy bears rimming each other's assholes in Vauxhall. I would also put in my basket some Jerk Chicken. But this isn't ANY ordinary jerk chicken, this jerk chicken is jerked off by Jamaican muscle marys in a jerk circle in Clapham. For dessert, I'd buy a Profiterole Stack…but this isn't ANY ordinary Profiterole Stack! This stack is stacked by trans lesbians in Hebden Bridge while dusty old queens watch on. All washed down with a can of Lemonade. But this isn't any ordinary Lemonade, this Lemonade comes from BEYONCE'S PUSSY!
What advice would you give to a gay man planning a threesome in Gatwick Airport toilets? (asking for a friend)
I'd advise them to get the fuck out of Gatwick and go to LHR Terminal 5; much better facilities.
RIGHT, some slightly more serious ones now…
BREXIT! Tell us your views.
Looks like no more Mykonos for you Brits…this year, how about a lovely Summer STAYcation by the River Tyne in Newcastle. I just feel bad for those poor Italians, having to leave London and go back to that dump called Capri!
Obviously Pam Ann's whole shtick is to do with flying and aeroplanes and all that. Why?! What inspired it all? How was Pam Ann born?
Vodka! I dressed up as a Pan Am 60's air hostess at my James Bond themed birthday party, as James Bond only flew Pan Am. As the night went on, and people got more drunk, people were calling me Pan Am but after so much vodka it sounded like PAM ANN…say Pan Am 10 times! SEE…that was the day PAM ANN was born. Seventeenth of December, 1996. I blame it all on vodka and the gays…I mean you get blamed for everything, so I might as well blame this on you too.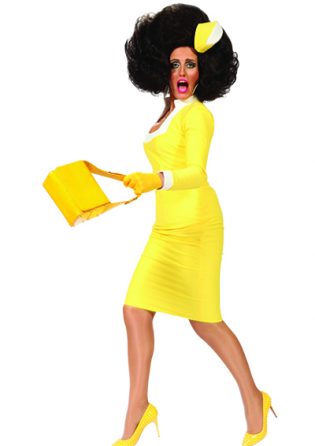 It's notoriously difficult for women to make it in comedy, but attitudes seem to be changing, and female comedians are doing really well at the moment. Why do you think that is?
I'm glad attitudes are changing towards female comics…I guess it's because women are fucking funny bitches.
Have you experienced a lot of misogyny on the comedy circuit?
Yes! I've had loads experiences of it. But you just have to put your head down and focus on the work and get on with it.
You're Australian! Tell us about Australia. Has anything ever tried to eat you?
It's a long fucking way and it has big insects with things that can eat you whole. Nothing has tried to eat me, but I have eaten them.
We LOVE Australian comedy – Kath & Kim, Summer Heights High etc. Do you think Australians and Brits have a similar sense of humour?
Absolutely! I think because most of us come from the UK. My mum is actually from Heswall in Cheshire. I carry a British and Australian passport so it makes sense we have a similar, if not the same sense of humor.
FINALLY – tell us your plans for the future. Both for the next few months, and in a wider sense, your ultimate goals in life.
I am now based in Miami (after living in NYC for eight years) which has been one of the most fulfilling life changes…my biggest stress now is pool, beach or boat. I plan to tour the world this year and of course balance my touring life with many days spent in Mykonos and Miami. My plan for the years ahead is to write two books; one by Pam Ann on Travel Tips and the other my Memoir 'Sucking Cock To The Middle'. I would like to one day write, executive produce and star in a Pam Ann Movie and also a Pam Ann TV show. But I think I've already reached my ultimate goal, and that is to be happy. Everything else is a bonus.
Pam Ann is at the Leicester Square Theatre from 18th April – 27th May
For full listings and tickets, head to leicestersquaretheatre.com