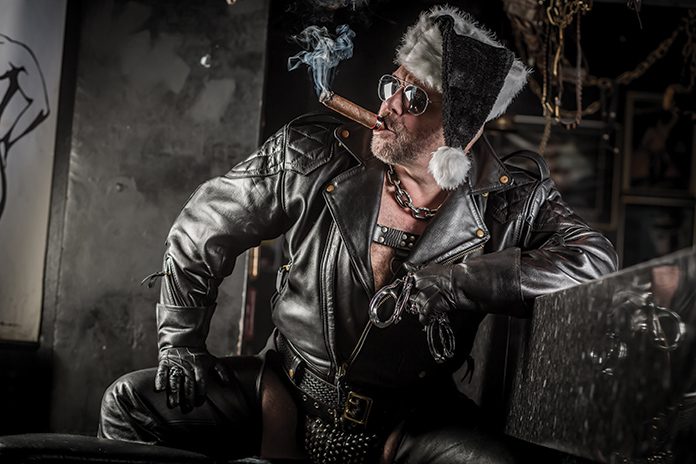 Leather daddy Brew Hunter talks boys, bondage and BDSM
Our cover star this week, in all his leather clad, cigar smoking, grinning glory, is Brew Hunter.
Brew is, shall we say, an aficionado of the London gay fetish scene. And it's a scene that's been in flux in recent years.
With the advent of apps, many thought the fetish community would dwindle and disappear. Happily, this hasn't been the case! In fact, it's been clawing its way back with lube-smeared gusto – not only are fetish nights more hotly attended than ever, but for the first time in years, young men are being reintroduced to the joys and inhibitions of fetish.
Dylan Jones went to Backstreet, a down and dirty fetish club in Mile End, and sat on a barrel while Brew smoked a cigar and chatted to him about the psychology behind fetish, people's motivations for it, and more.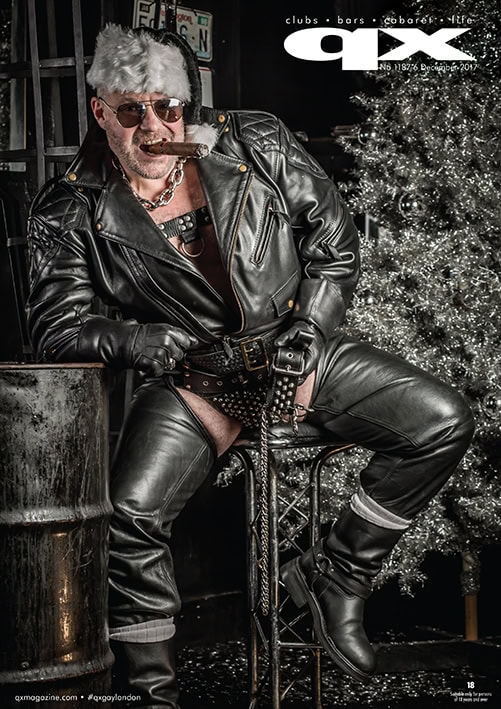 Hey Brew! Is it accurate to say more people have been getting into fetish lately?
Oh, a hundred per cent! After seeing packed nights, with London's hottest and horniest heavy fetish players at The Backstreet with Mastery, Smokehouse and last week's Rubbermen Launch Party, I'd say it's a resounding yes! Sexuality is becoming far more open and free these days. Fetishes that people would have hidden, or were afraid to admit to in the past, are now becoming acceptable. Leather and rubber are, of course, mainstream – but the sexual practices that are now talked about surrounding those gear fetishes are publicly intensifying – Watersports, fisting, flogging et cetera. The fact that many organisations now hold BDSM workshops show that vanilla sex is definitely passé! Things that were shocking in the 60s and 70s are the norm in kink sex these days. But it's fascinating to note that new fetishes are pups, lycra and furries. And also, to acknowledge the fact that sports, skin and scally are now acknowledged as 'Fetish', shows that whatever gives you a hard cock is something to be celebrated!
What's the most obscure fetish someone's told you about, or wanted you to perform on them?
I've been asked to Master subs and pigs in every situation; from nappies, to chains, to dirty dogs, to feet worship, to smoke play, to TT, BD, SM, CBT – the whole alphabet soup!  My reaction to anything with my willing subs is to pass on Mae West's advice – "Try anything once. Twice if you like it. Three times just to make sure!" Play safe, play sane – but above all – play filthy!
What do you think is behind it, psychologically? Do you think different life experiences lead to different fetishes?
We are ALL born different in our tastes. Who knows why we're born liking or not liking different foods – likewise, fetishes. It all has to do with individually enjoying or craving domination, submission or discipline. Most fetishes (of course) have their roots in childhood experiences. But the secret is to embrace those desires and appetites, and not to be ashamed of celebrating our individual sexualities and journeys.
Tell us a bit about your fetishes! And why you think you have them.
I am an out-and-out hard leather man. Although I now mix it up with very dirty rubber! I'm a heavy BDSM player, and have a large collections of floggers, cuffs, hoods, chains etc hanging from my sling. There's nothing better than introducing a sub lad to the fuck and fascination of SM. I'm pretty sure my fetishes started with my first pair of scuffed boots, leather jacket and first motorcycle as an 18 year old leather boy! My inspiration is old school leather SM porn, Robert Mapplethorpe, Tom Of Finland and the history of the San Francisco/New York Leather bars – that's why Mastery celebrates retro leather fetish, sex and cruising!
Why is it important to have fetishes and a fetish community available?
Because we can't hide our deepest, darkest desires. It's far healthier and sexier and be out and proud with our fetishes – as long as (as Mrs Partick Campbell, the Victorian actress once said) "it's not done in the street and frightens the horses".
Do you think Santa has fetishes? Would he fit in at your nights?
He sure would! A big bearded daddy would always enjoy a fat cigar and plenty attention at a Mastery night. I always think Santa needs an outlet for all that Festive "ho ho ho"; I'm petty sure he'd be getting down and dirty with his hard-working muscle elves!
Tell us about what you're doing this month.
Mastery XXmas is cumming up next week, and that's always a big celebration with all the London leather (and rubber) players. It's a filthy and horned-up night with masters, slaves, subs, pups, gimps and pigs, where the smoking yard is always packed with cigar daddies and their smokeboys – and Backstreet's cage, sling and dark corners are busy all night. Then in January, we celebrate Mastery's 4th Birthday, with an exclusive pre-party event at the astounding new GEAR store in the East End. Everyone's invited for filth, fun and fetish frolics!
What would be your dream christmas present?  
My tastes are simple – I enjoy the best! I've been a cigar smoker since I was 21, so a box of fat Cubans would do me well – a bottle or two of vintage bourbon, and a couple of leatherboys working hard on my boots and polishing up the christmas sling! Santa treated me to a couple of bags of amazing fetish clothes from Gear last week, so I'm a very happy leather man. Happy XXXMas everyone!
Mastery XXMas is on Saturday 16th December at Backstreet, Wentworth Mews, E3. 10pm – 3am. £10 members, £15 non-members.