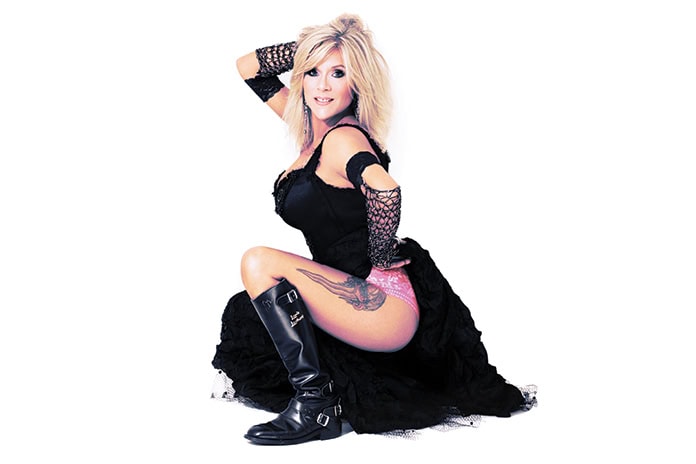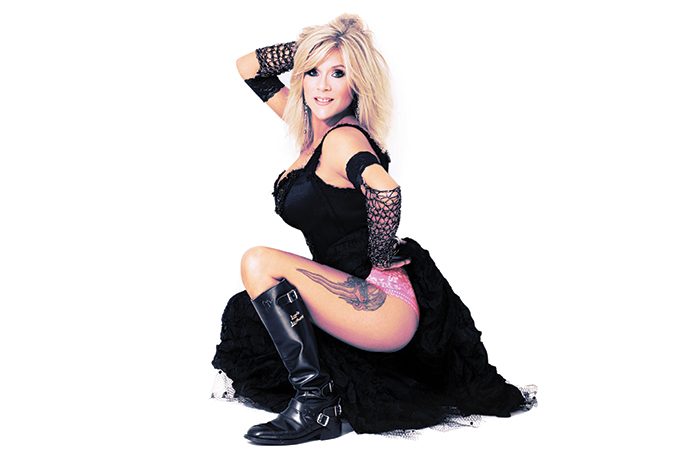 Singer, gay icon and pop culture muse, Samantha Fox is a living legend! She's had more life-changing experiences than you've had hot dinners, and now she's coming to Eagle London for a special one-off appearance!
She called Dylan B Jones from an island in the middle of the sea, and talked partying with Freddie Mercury, and what it's like being a poster girl.
Hey Sam! Where are you?
I'm with my partner…we've just gone to visit her mum for a couple of days. We're camping on the little island where her mum lives. We're here for a couple of nights having a break because it's been so crazy this summer.
What have you been up to this summer then?
Oh I've just been travelling so much, honey. All over the place. So many gay prides. You know what it's like.
So our designer Janne used to have a poster of you on his wall…how does it feel, knowing people have posters of you?
I've got used to it now. It was stranger in my glamour model days, when I was younger. I used to visit troops and say to my mum 'mum, why am I on the wall?' And my mum goes 'don't worry, I'll tell you when we get home.' But to know I was a postergirl, it's flattering at the end of the day. Those guys who are a little bit older now, they might have put me in the garage. When they got married their wives said 'she's gotta come out of the bedroom now and go in the garage.' Hopefully with the new album I'll get out of the garages and back in the bedroom. Who knows.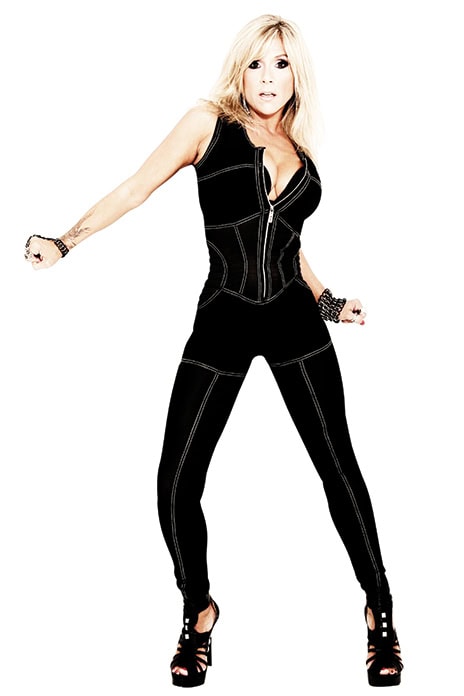 Do you think you're in a lot of gay men's garages?
It's amazing how many gay boys wrote to me, saying they were so scared to tell their dad they were gay, so they put my poster up on their bedroom wall. So that's quite funny. There are even t-shirts flying around saying "Samantha Fox made me gay!"
Do you take that as a compliment!
Of course! It really is a compliment. But being up on the walls is a wonderful thing. The day you start coming down off the walls is when you start worrying. At least I'm still up there.

Absolutely.
I remember Boy George once said to me when he came home from India, "I couldn't believe it, I was walking through the streets in India and there were pictures of Ganesh next to pictures of you."
Amazing! What's been your most memorable celeb encounter?
The best one for me, was in 1986 when Touch Me first came out. I'd come from Page 3. And I did have a lot of stick in the UK. "Is it really her singing on the record" all that. Certain DJs wouldn't play it, and it was tough for a bit. I went to Queen's 10th anniversary party. We'd all been to Wembley, and we went back to their private party in a roof garden. It was Freddie's party. Kim Wilde was there, Spandau Ballet, Paul Young…just people I admired so much. Annie Lennox! Big stars. And Freddie pulled me up on stage and said "what song can we do together?" and for a laugh I said "do you know my song Touch Me?" and he said "not yet love!" So we did Go Johnny, Go. And it went front page of all the papers. And suddenly I gained a lot of respect overnight. There's a video of it YouTube. I watch it sometimes and think "wow, what a night." The fact that he picked me out of all those people to sing with him, it made me think…YEAH, I'M A POP STAR! Another time was at the Brits with my dressing room, and they said "Would you mind sharing a dressing room with Shirley Bassey?" and I said "Ooh well you'd better ask Shirley!" We got on like a house on fire. There's been loads of great encounters with people. What can I say, read my book!
Did people judge you in the beginning?
They did! It's crazy how some people think that just because you look good and you're sexy, you can't do anything else. And if you have a very successful career in glamour modeling – which I did – it makes it even harder. There are some singers who weren't as famous in glamour modeling, who didn't get as much grief as I did. But all these years later and millions of albums later, people finally accept me as a singer, thank god.
So you're coming to the Eagle to do this show! Have you been before?
Never! Heard a lot about it. I work abroad so much, so when I get a gig in London, my hometown, it's lovely. And it's up close and personal, which I love. All my fans on Instagram and Facebook, I know they're gonna be there, and that's really exciting. I'm so looking forward to it, it's gonna be a really fun night.
Cheer Up featuring Samantha Fox is on Friday 10th August at Eagle London. 349 Kennington Lane, SE11 5QY. For more info head to eaglelondon.com.