The Two Brewers might be closed for a refurb, but fear not #ClaphamGays, This Saturday in Clapham Junction over at The Grand it's their Little Mermaid Screening and Party.
Expect sexy topless mermen competing in the £100 bar tab dance-off contest, plus live hosting from comedian Lucy Baker as Neptune, an Ursula sing-a-long moment, and fishbowl sharing cocktails that will have you under the seats in no time. The Grand don't do things in half measures, the film starts at 8pm but the party goes on until 3am. Or if you don't care about The Little Mermaid bit, you can join later.
But wait up .. if you've not been to one of The Grand's movie nights before, don't knock them until you've tried them. Like Uber, Princess Diana and Geri Halliwell, The Clapham Grand's movie nights are what you might call "a disruptor", they completely shake up the norm, and just like European drinks measures and Cam4, once you've got into it, it's hard to go back. For a tenner you get a lot, Odeon must be quaking in their boots. They're somehow cheaper than going to the cinema, but WAY more fun. With live hosts, dance shows, onstage games, daft cocktail menus themed around the film, and prizes for the best / tackiest costumes .. it's like if Jonathan Van Ness from Queer Eye had a TV show called "Pimp My Cinema".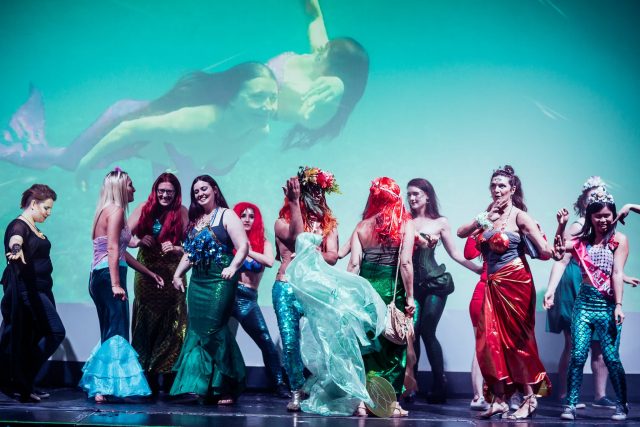 Also, perfect for gays, The Grand was purpose-built as a Victorian variety theatre with gargoyles and velvet upholstery which makes most normal cinemas look like the third day of a chem sex party in Brockley.
Last time we went to The Grand, Little Mix were in the Royal Box just feet away from us and Aquaria was at the bar. Sadly we got too drunk to say hi to them and like all the best nights in South London we ended up in KFC on Grindr.
This Saturday it's The Grand's final Little Mermaid screening and party, and then they start getting ready for their Halloween movie nights season – which includes Hocus Pocus their 25th anniversary party, a Rocky Horror sing-a-long, and Tim Burton's Corpse Bride for any gay horror-geeks out there. – https://halloween-at-the-grand.designmynight.com/
For more info, an to grab your tickets for The Little Mermaid CLICK HERE!