NEW YEAR, NEW YOU: Your Guide to the January Gym Bag Must-haves
---
Yup, it's that time of the year again. Pills, potions, wacky diets and new gym memberships at the ready; it's time for New Year's fitness resolution bollox! But instead of focussing on what you should and shouldn't be doing to hit those belly-busting goals, this year we're loading you with what's hot and what's not in gym bag must-haves! Let's not sweat the small stuff eh?!
---
The Bag
It goes without saying; you can't have a gym bag must-haves segment without an actual gym bag! So here it is; the Lyle and Scott Buchanan Sports Holdall. The perfect bag for a trip to the gym, the Buchanan Sports Holdall includes enough room to store your entire kit and more. An internal zip pocket provides easy access storage for your valuables, and the bag features an adjustable shoulder strap and handles, increasing the overall functionality. RRP £50.00 (www.lyleandscott.com).
---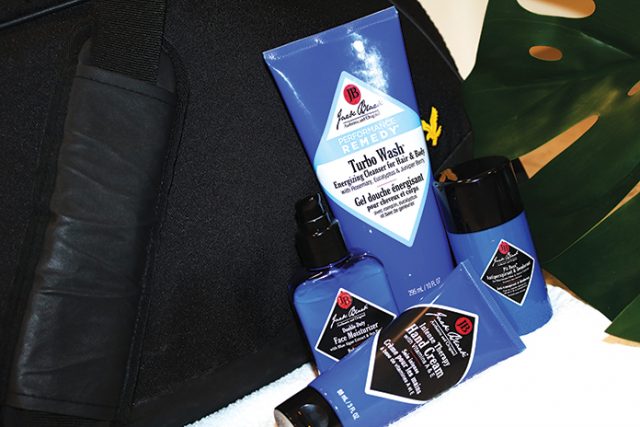 ---
Hair and Body
Wash away the sweat and grime from your workout with Jack Black Turbo Wash Energizing Cleansers for Hair & Body available online and in-store at Boots. This two-in-one product cleanses both your body and hair, leaving you feeling refreshed, and it takes up less space in your gym bag. Rosemary and Eucalyptus help naturally support immunity by reducing bacteria on the skin's surface. The energizing aroma helps clear nasal passages and aid breathing. Juniper Berry helps detox the body and assists in post-workout recovery. RRP £16.95 (www.boots.com).
---
Deodorant
Fight the smell but not the sweat with Jack Black Pit Boss Antiperspirant & Deodorant. It offers superior protection from odor and wetness in a gentle formula that won't irritate skin. This invisible solid glides on easily, leaving no trace of residue on skin or clothes. RRP £15.50 (www.boots.com).
---
Face and Hands
Moisturise your face with Jack Black Double-Duty Face Moisturizer SPF 20 (RRP £42.00 for 251ml). Ideal for daily use, this lightweight moisturiser is an advanced facial treatment product with a built in sunscreen, SPF 20. The formula visibly improves skin's overall appearance and provides lasting hydration without oiliness or heaviness. Contains potent antioxidants and vitamins, and offers broad-spectrum UVA and UVB protection to help shield skin from premature aging due to sun exposure. Finally, don't let your hands get dried thanks to Jack Black Intense Therapy Hand Cream. This rich, non-greasy formula helps heal and soothe dry, chapped, cracked hands after a tough workout. RRP £14.50 (www.boots.com).
www.mystylemanual.com @_tonyflynn