BritBears are a a burgeoning organisation who aim to bring bears together! That can only be a good thing, right?
We got one of their head bear honchos Brendon to tell us all about it!
Hi Brendon – for those who don't know, give a little summing up of BritBears.
We launched in July 2018 – we wanted to bring a similar bear club model seen in other cities around the world to London, but on a much bigger scale. We offer an annual membership for the cost of a few pints down the local, and members get access to a growing number of exclusive discounts with businesses and brands that we have partnered with such as CloneZone, Prowler, Above The Stag Theatre, Bobo-Bear, Hartzak and a number of others ranging from online shopping to restaurants. We're always looking out for new partners to offer more to members. We also set up regular events to get people out and meeting others in attitude-free and welcoming spaces. Navigating the gay scene can be hard, so we want to help people by offering them a place to find their feet. A small portion of the membership fees we collect help us run the club, but the majority of the money we raise in membership fees goes to charities that support those in the LGBT community living with HIV and mental illness. We're all volunteers here at BritBears and we always look for ways to run things or put on events at minimal or zero cost as well as calling in many favours from those that support our work, so that as much money gets to these charities as possible. That's our main goal.
What kind of stuff can people get involved in with BritBears?
We try to organise a variety of activities like picnics and outdoor events in the warmer months – film screenings, theatre outings and excursions. This month will be a little quiet but we're working on filling the calendar up from February as we speak. We are giving people time to recover from a busy December. We recently went to Winter Wonderland which was fun, and of course there are our staple nights at the amazing Duke of Wellington which are our Sunday Socials and our Quiz Nights, hosted by great drag acts like Taylor Trash and Sum Ting Wong. We ended 2018 on a high, with our amazing Christmas Party at the Duke of Wellington which everyone loved. We try to offer something for everyone and are always open to suggestions from members.
How did it all start?
AThe idea to start something like BritBears began after I had met someone at the Kings Arms in early 2017. This person came up to me and mentioned seeing me around and wanted to say hello for some time. He was so friendly and I've always loved meeting new people so I really appreciated him making the effort. We arranged to meet up for a friendly coffee the week after but he took his own life the day before we were to meet up. I heard later that it was mental illness related. While I didn't know him, it affected me quite deeply. I've been living with quite severe depression myself for a number of years and I have many friends who battle the big black dog and while I'm very open about it, there are so many people, especially LGBT people, that either don't talk about it or don't have anyone to turn to and I find that heartbreaking. It was then that doing something in the community that helps charities dealing with mental illness and HIV – two of the major issues affecting the gay community – became something I wanted to do. I'm a social person and I've always enjoyed introducing people to others and putting on events for friends. I wanted to combine helping charities with bringing people together through activities and events so it sort of seemed written in the stars that BritBears was the path to take. I've also experienced the good side and the bad side of the gay community and I wanted to put my experiences to some sort of productive use where I could. My husband Robert has also been an enormous support and help with the club and not long after launching, Peter O'Sullivan (Vice-President) and Robb Mookhoek (Treasurer and Design) came on board and the three of them have been fundamental to its success so far. BritBears would not be where it is right now had it not been for these three amazing guys. While I may have created the club, BritBears is very much a team effort. We make an amazing team and are all passionate about what we want to do in the community.
What's your favourite thing about being a bear?
Apart from the warmth of my long ginger beard, I feel a great sense of pride being a bear. It took me years to grow into my own bear skin – navigating the scene and trying to find my place. I've always found bears to be some of the most welcoming in the gay community and I am often found at places like the Duke of Wellington or XXL because that is where I feel most at home when it comes to bars and clubs. While I try not to let a label like 'bear' define me as there is a lot more to me than being a bear, it is a big part of who I am.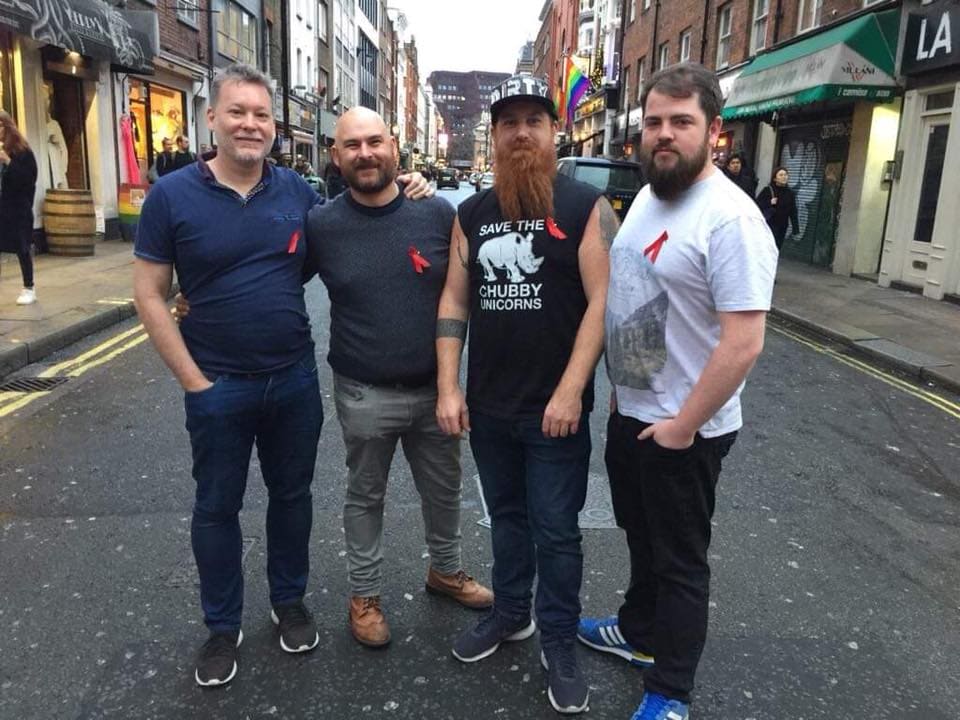 Who's your favourite famous bear?
I would have to say Chris Pratt. Though Jason Mamoa is currently sitting pretty at the top of my list these days. I guess he isn't what you would consider a bear though so I think Chris Pratt has to take the crown here. But I do wish Jason would grow a belly and chest full of fur so that he could take the reigns.
How can people get in touch with you?
We are very active on social media so people can reach us through Instagram (BritBearsLDN), Facebook (BritBearsLDN) and Twitter (BritBearsClub) and also through our website (BritBears.org) where people can see our upcoming activities, look over photos that our amazing photographer George takes at our events and of course its is also where you can sign up for a BritBears membership. We just opened out 2019 membership so its the perfect time to consider becoming a BritBear – its cheap and for great causes.
Anything else to add?
If you have a business that would like to partner with BritBears to offer member discounts, get in touch with Brendon at [email protected].