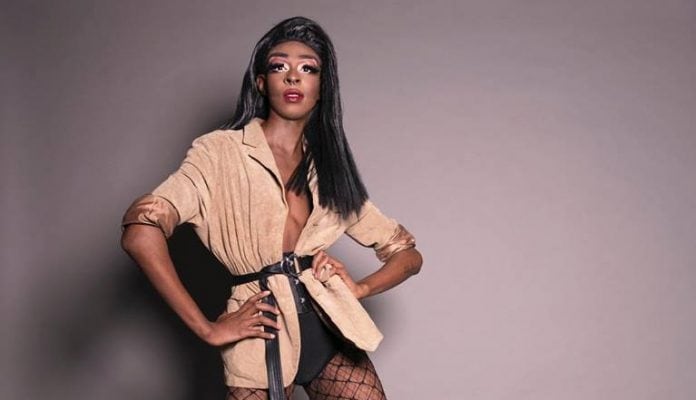 You can never have too much inspired new cabaret talent that illuminates stages and minds, right? Whereas…vomiting unicorns and racist queers really ought to be permanently consigned to the trash bin of the past.
ANYWAY, this week Jason Reid gets to know more about lip-sync sensation and resident artist at Bar Wotever, Shakona Fire…
Who is Shakona Fire?
Shakona Fire is the dissertation I wasn't able to write whilst at drama school. I never knew much about my gender and wanted to speak about gender and race at the time but unfortunately it didn't happen the way I wanted it to; however as I grew as an artist I realised that I could make all the statements I wanted to in performance as well as still being fierce and fabulous, so it all turned out for the best.
Describe your performance style in three words.
Powerful, fierce, political.
What's your aesthetic?
Everything I do is a reflection of my upbringing, growing up in North London on an estate. I was surrounded by so many types of people and that's reflected in my drag and performance.
Three artists who inspire you?
Lilly Snatchdragon, Rubyyy Jones and Alexander Luttley aka Pi the Mime. I've taken a lot of inspiration from them, having watched them perform from early on in my career.
Who would you like to see on Drag Race UK?
Margo Marshall, Freida Slaves, Rhys' Pieces, Crystal Lubrikunt, Chiyo, Benjamin Butch, Tayce, Cara Melle, ShayShay, Rodent, Delirium, Eileen Bothways, Soraya Marchelle aaaaaaand Grace Shush.
What's been your proudest achievement to date?
My residency at Bar Wotever, which started in February last year. To know I'm part of this family means the world to me; it has opened so many doors and allowed me to create things that I've always wanted to. I still get a bit emotional seeing my name on the side of such a historic venue (RVT) in our community.
The world would be a better place without?
People thinking they are better than others because of instagram followers; it should never be about the followers you receive but rather the work you put out.
Fave cabaret nights in London, apart from your own?
Cybil's House, ShayShay Show, Cocoa Butter Club and LADS.
What makes you happy?
Seeing my queer family soar and do well. I love cheering my fellow kings and queens – in person and online.
If you were PM for a day, what new law would you introduce?
I'd add queer history to the national curriculum.
What's the best piece of performance advice you've been given?
Breathe, don't be too obvious with your moves, and watch what your hands are doing [laughs].
If you could only watch one film, read one book, and listen to one album for the rest of your days, what would you choose?
The film would be The Colour Purple because Whoopi Goldberg's performance is absolutely outstanding; the book would actually be a play and it's called Random by Debbie Tucker Green; the album would have to be SWV by SWV (for those who don't know it stands for sisters with voices).
Who are your fave new performers right now?
There are loads but the ones who have struck me the most are Wanda Cookie, Karma and L'Archiduchesse. They are all so powerful and talented in their own way.
What's the drag dream?
To have a solo show at the National Theatre. And to tour the world with my queer family.
One thing you'd change about the London cabaret scene?
More diversity in all venues. I perform on any scene and on any stage and I'm so lucky that I've gotten those opportunities but I feel we have a bit more work to do as a community. Also, a bigger drag king push because they are just as amazing as anyone else. Big love to all my kings out there.
Tell us something about yourself that not many people know.
I'm such an open book I don't think there is anything to say. Ask me about anything in my life and I'll give you an honest answer.
Shakona Fire performs at the Voho Revue Show, Eagle London, 349 Kennington Lane, London SE11 5QY on Wednesday 6th February.