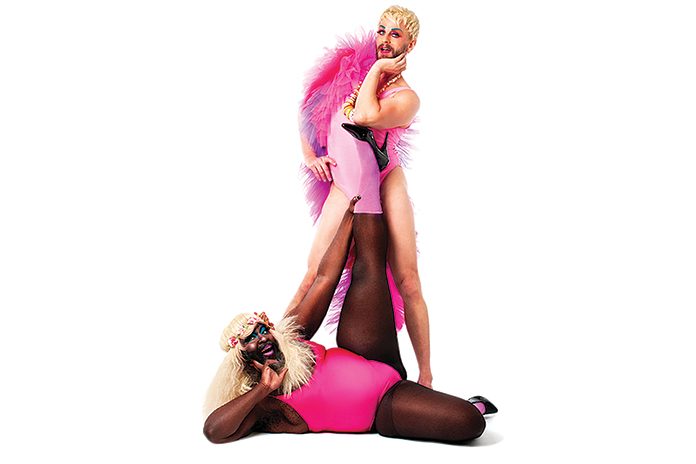 Jonny Woo and Le Gateau Chocolat are twirling and high-kicking into the Soho Theatre later this month for a run of their acclaimed show, A Night At The Musicals!
It's all your fave musical hits, performed by a pair of drag queens, with a queer drag slant – as if musicals weren't gay enough!
We got our Musicals Correspondent Ifan Llewelyn to ask Jonny some musical-related questions. We're not sure what Gateau was doing – probably fighting off Elsa for the last nylon blue princess dress is the kids aisle of Matalan.
What would you say is the first musical you remembering listening to?
I guess something like the Sound Of Music from TV; it was always on at Christmas, but I think Carousel was the first soundtrack I really listened to when I was in it at school.
Who's the Elphaba and who's the Glinda out of this duo?
I guess I'm Elphaba, but I've not seen Wicked. I always wanted to be the witch in The Wizard Of Oz, so I guess I'm the green one.
If you had to be locked in a room for one hundred twenty five thousand six hundred minutes with a celeb, who would they be?
Oh god I couldn't be locked in a room with myself for that long. I have no answer, I hate celebs anyway.
Sondheim, Lloyd Webber, Hammerstein. Which one would you pick to compose a musical about your life?
Rogers and Hammerstein of course, like we'd have to go back in time to get them to do it though.
Any new musical that you just can't stop listening to?
Company! It's not new, but I've literally just discovered Sondheim in a big way.
Turning movies into hit musicals has always made for a hit show. Which movie are you dying to be turned into a musical?
Dogville.
La La Land. Loved it or hated it?
La La loathed it.
Have you ever casually burst into song in real life?
Life is a song dear…right?
If you had to hand pick one character out of the vast musical theatre catalogue that you most identify with, who would it be.
The prostitute in Les Mis who sings…'come on captain you can wear your shoes…' I'm easy like that too.
Pop. Six. Squish. Uh u. Cicero. Lipschitz. Which merry murderess of murders row would you say is most you?
Myra Hindley.
A Night At The Musicals is at Soho Theatre from Monday 11th March – Saturday 30th March. More tickets and info available sohotheatre.com.