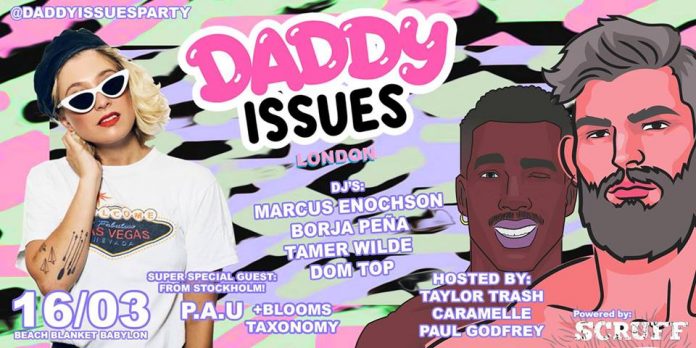 POW! It's P.A.U. at Daddy issues! Haven't heard of her? She's a Swedish singing sensation and she's doing a special appearance at Daddy Issues tomorrow night.
We asked her what to expect below!
Hey PAU! Describe yourself in one gorgeous sentence.
Hi, I'm P A U – and I'm free 'til you catch me.
Swedish pop music is GREAT. Why do you think that is?
Oh my – I do think it's because we live in the dark almost all year around and have a hard time communicating so we write music and we are not so complicated so it ends up in the amazing genre pop music. But what do I know, I'm just man-guessing. hehe.
Are you excited for Eurovision?
Haha, always! Who can wait to see all the bad and tasteless styling?! It's a big thing in Sweden and we believe every year we're gonna win. LOL.
Who is the greatest living performer?
Oh, my. I have to say Sade. That woman has grace and just a natural flow of musicality. But this always change for me, very depending on what mode I'm in when it comes to my own life. I'm in transition right now o I have to mention that I LOVE Rihanna as well, she's an alien. GORGEOUS.
Can you remember the greatest moment of your life?
So far it has to be when I started to make music again as P A U. and when I wrote my first honest break up song. My tears where running through my heart and out in my eyes and got translated into words by my month. It was so powerful.
What's your hangover food of choice?
Shit, now I feel like you're gonna think I'm lying or hate me..but I love eating a crunchy sallad with Halloumi.. I don't like pizza, I'm a weird one.. I know..
Who'd be your ideal romantic partner?
Shit, I have no idea. Right now I'm just keeping a list of what I don't want. Way easier to know. There i have experience, you know.
And finally…what have you got planned for Saturday night?!
It's so amazing to collaborate with Daddy Issues. It's a dream come true and we have everything you need to have a magical night. To greet you and make you feel at home we have our lovely hosts Traylor Trash & Paul Godfrey. I'm performing Liquor Talk (of course), and some new material live with the electronic Swedish duo YXA. Borja Pena, Rut Meyersson and Marcus Enochson (who used to share booth and get ass pinched by the legend Frankie Knuckles) is keeping the club vibes HOT down stairs. Our other performances will blow you away as well, Daddyissues presents to you Blooms Taxonomy and Caramelle. And up stairs Tamer Wilde and Dom Top is keeping the floor busy and gorgeous as always! This team will bring fire from 22-03.
Listen to Liquor Talk here.
Hit attending to Daddy Issues here.