We give the lowdown on London's fabbest queer festival.
---
Only in its third year, Mighty Hoopla has already become a day festival phenomenon that has everyone from your in-the-know scene queens to Karen from accounts donning glitter jumpsuits and iridescent face-gems ready for a frolic. Tempting the denizens of the London scene to crawl out and bask in the sun for a day packed with performances by everyone from fringe drag queens to the titans of pop music.
'Extravaganza' is putting this fest mildly. All those overpriced edgy day festivals your straight friends are heading to can't help but cower in the flamboyant, harlequin mug of the Mighty Hoopla. Would you rather be surrounded by roadmen in bucket hats nodding their heads to ambient grime, or be screaming "YAS QUEEN" as Bananarama blows their glitter-cannon load over a cross-dresser?
They've upped their game with a move down south to Brockwell Park, and are serving up an astonishing set of headliners who'll catapult you into those summer feels. They've also jumped ship over to Saturday, which means there's no need to hold yourself back from going full god-damn throttle! Go three red velvet sheets to the wind.
With so much popping off, you're going to need to know what to look out for. We've got your back with a quick round-up of what you should be checking out when you're running around that South London park in nothing but a g-string and some glitter.
---
High up on your list should be kicking back with a beer watching these headliners get into it on the main stage. Taking the main slot is the 10-time Grammy winning, 70 million record selling electro-funk vixen Chaka Khan, perhaps best known for rocking the charts with 'I'm Every Woman'. And BOY is she. She's back on the scene making noise following the release of her first album in over twelve years. This is a rare chance to catch Ch-Ch-Chaka Khan in the flesh!
Serving up a healthy dose of divine light will be All Saints, who are sure to have you hailing Mary. Their self-titled debut album shot them to instant legend status back in 1997, with three singles shooting to number one. Their British-Canadian flare epitomised that late nineties sound, and twenty years later they're showing no signs of slowing down with the release of Testament just last year. They've swapped their 'Pure Shores' for a Brixton park full of glittered queers.
When it comes to falling ass-first out of taxis, before Eddie and Patsy were getting off their faces on Boli Stoli, Bananarama served Jennifer Saunders with inspiration since "no one drank like Bananarama". It's clear that the Hoopla crowd are going to give them a run for their money. They're still surfing that New Wave, and splashing onto the main stage to be your VENUS! Expect to see drag queens writhing on the ground à la Gillette Advert once those synths start playing.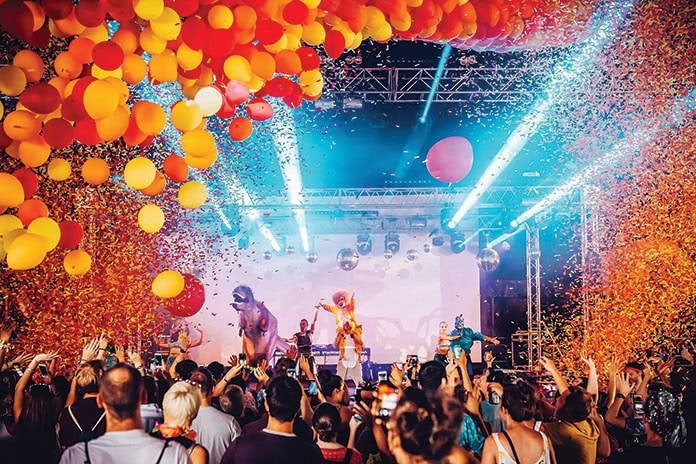 Bringing a delicate flavour of outer-London indie, Kate Nash is lending her distinctly British soulful flair to the Hoopla stage. She's spent her past few years as a female wrestler on Netflix's Glow, and will surely bring that high-camp energy with her. There's no word yet on whether we'll be treated to a mid-set round of female wrestling…
Also taking to the stage are the Liberty X who'll be serving more than 'Just a Little', nineties house crooner Cathy Dennis, electro pop Australian import Confidence Man, noughties naughty girl Samantha Mumba, Jamelia who'll be getting 'So High' and Scandy songstress Tove Lo who's Stay[ing] High (All The Time).
When you're singing at the top of your lungs to some throwback hits, Klub Kids are here with DragRace breakout star Trinity the Tuck fresh on the back of her All Stars 4 win. Guilty Pleasures will be serving up their infamous energetic DJ action for you to get your hip-and-dip dancing. The now world-renowned Sink the Pink will also be serving an exploration on the theme of Pop.
One of our favourite venues The Grand are getting their own stage with a pansexual party for one and all. They're hosting some of the day's biggest events, from Push The Button & Tuckshop who are resenting knock-off drag darlings Gals Aloud, through some ball-play with the folks at Bongo's Bingo, to Gay Garage who along with Artful Dodger are playing right on into the night.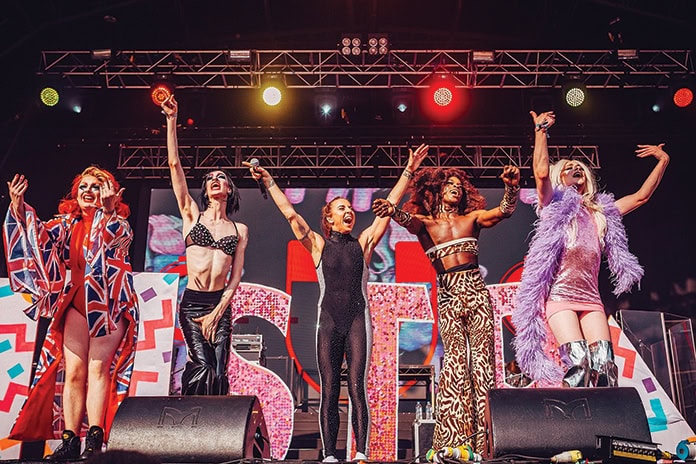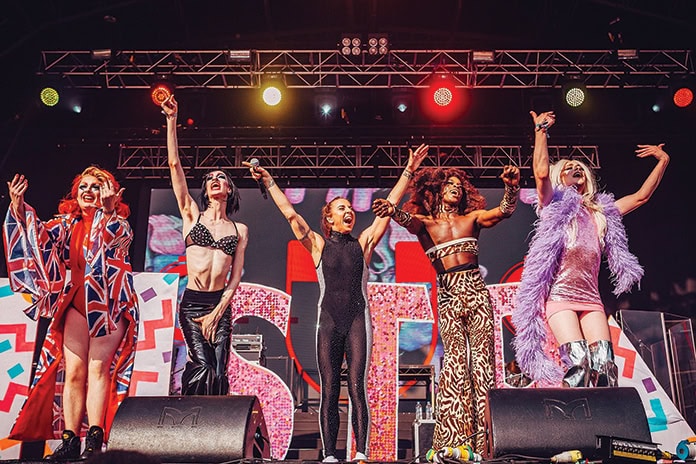 Your favourite East London drag mecca is setting up their own dragstravaganza. The Glory are taking over Brockwell Park with an hour and a half slice of wet and wild high-octane cabaret featuring your fave East London performers. No stimulating substances needed for this psychedelic, sexsational acid trip. John Sizzle and Johnny Woo will be anchoring this clusterfuck orgy, featuring Cassandra, Barbs, Margo Marshall plus a bunch of self-discovered up-and-comers from this year's Lipsync 1000 and Man UP. Also, keep an eye out for some surprise guests from showbiz's gritty underbelly who'll be making a rare daytime appearance.
Also on your list are the parties that are popping off all over the place. Out top picks have to include Barcelona queer performance-party collective Pluma, East London queer Bollywood Hip Hop night Hungama, Neo-Soul and Motown burlesque and drag sensation The Cocoa Butter Club and brand spanking new outrageous trashbag dance sensation U OK HUN?. WHEW!
Mighty Hoopla is at Brockwell Park on Saturday, the 8th of June. For more info and to grab your tickets head over to MightyHoopla.com.