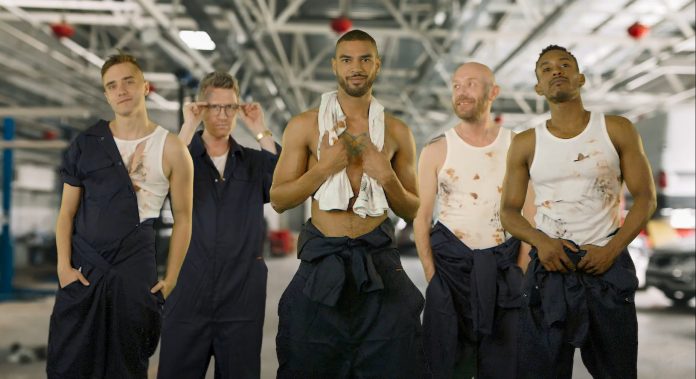 This article has been developed and funded by Gilead Sciences Ltd.
Along with a host of other LGBTQ+ advocates, the drag queen and singer duo have come together to sound the horn for HIV health assessments in new video series HIV Garage.
Don't you just love a mechanic in a greasy white vest and a pair of overalls? Irish drag queen Panti Bliss and US musician John Grant certainly do. As two stars ageing gracefully with HIV, they have joined forces in a new video series for the My HIV, My Rules, My Journey campaign.
Following the launch of a sneak peek in August, this month we have been treated to the first full video in the HIV Garage series which sees "Love is Magic" singer John Grant play a 'Garage owner' alongside 'customer' Panti who needs a full-service HIV health assessment. Making up the trusty crew of mechanics assisting the duo are YouTuber Calum McSwiggan, columnist Justin Myers, hunky actor Taofique Folarin, dashing performer Sadiq Ali, HIV advocate Paul Fleming and writer Kristian Johns.
The video series is set to cover a number of MOT health topics that are important for people ageing with HIV, including heart, bone and kidney assessments, encouraging viewers to follow in Panti's footsteps and take their own MOT at the campaign website to create a personalised list of topics to discuss with their doctor.
The series is part of the My HIV, My Rules, My Journey campaign which successfully saw Panti take on the role of a sassy air steward on Flight HIV Air, taking back control of her health and HIV journey. As well as planning ahead for long term health, the campaign website also helps people consider managing their finances, support systems and emotional and mental wellbeing as they age with the long term condition.
Subscribe to the My Journey YouTube channel to keep an eye out for the upcoming HIV Garage videos which will be released every month. The next video in the series will see Panti Bliss flexing her muscles with the strapping mechanics to highlight the importance of regular exercise if you're someone living with HIV. We're sure she'll feel right at home!
Check out the launch video HERE:
001/UK/19-03/MI/1013aj
Date of preparation: September 2019