Emma Frankland is taking a sledgehammer to artistic convention – literally. For three weeks during the Ovalhouse's final season before its demolition, Emma will be digging a giant and very real hole in the ground as she explores the experiences of trans women and trans feminine people around the world. And you thought Book of Mormon was subversive theatre.
The production is a collaborative devised process, drafting in a host of other hammer-wielding trans artists, including poet and performer Travis Alabanza, Indonesian stage star Tamarra and host of the One From The Vaults podcast, Morgan M Page.
This show will be loudly, defiantly digging to the core of the human psyche, confronting its audience with something dark, deep and unignorably there. We spoke to Emma to find out more.
Hey Emma – what's your ethos?
As an artist, my ethos is to make work that honestly speaks to my lived experience. I don't think that means something can't be silly or funny – I reserve that right. But I don't ever want to pretend I'm something I'm not. Aesthetically, my work tends to have a playfully destructive theme…I love to see mess onstage and I love theatricality. I want to see things happen onstage that I wouldn't see in the street…magic.
What's the most important thing in the world right now?
If I'm thinking about trans rights, the most important thing to me isn't visibility at all costs, but better communication both with the state and people in general, and within the LGBTQIA community. Globally, the situation varies hugely, but there's a great benefit in making connections. In the UK we can learn a lot more about other trans communities around the world. It is also important that we remove the barriers to accessing support with transition. NHS waiting lists cost lives. I also feel cautious about the rise in fascist extremism we've seen globally – a better respect of history might be essential in preparing ourselves.
Your art and performance seem very physical – is there a reason for that?
There's something I enjoy about seeing a feminine person accessing strength and actions reserved for masculine bodies, and a trans woman there is an expectation that I will have rejected many of these things. So to reclaim them feels exciting. I'm excited about this project, [We Dig] as I am collaborating with a group of transfeminine performers and we are dealing with a very physical activity – digging. I am looking forward to seeing our bodies working together and taking on strenuous tasks
How do you think society views gender currently?
As a trans person and also as a parent of a young child, I'm keenly aware of how in 2019 society seems more intent than ever of pushing an idea of 'male ' and 'female' as 'normal'. I see this manifest in the children's clothing section of stores where the choice is either pink sparkly unicorns or black and brown T-Rexes. And it manifests in the ways that society is seeking to take control of our bodies and continues to discriminate against women, girls and gender non-conforming people. I think it is indicative of where society is in general – something that Travis Alabanza highlighted that I think is crucial, is that we are at a point of great change and people are frightened, and no group represents change more clearly than trans people. Hence in 2019 trans people are taking a lot of fire.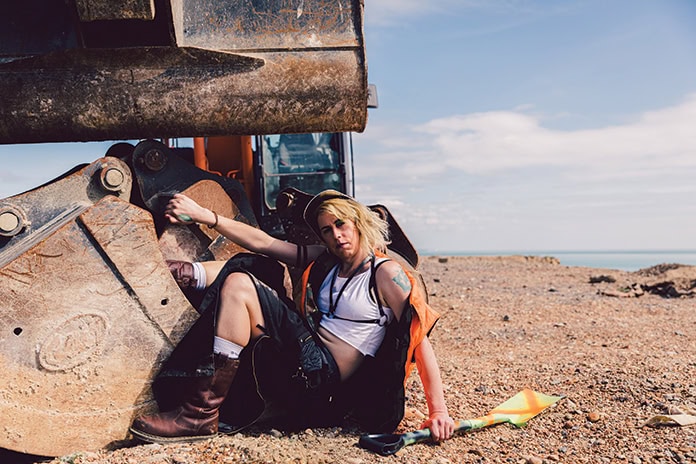 What would you do if you were Prime Minister?
I would question what I'd done the night before to wake up in this situation! Then I guess I would immediately put in place massive reforms in the way our country is governed and structured. There are some fundamental changes that need to occur within our political system before it's fit for purpose and I would focus on making the system more representative and equitable.
You're going to be literally deconstructing Ovalhouse – have you ever spent time on construction sites?
Yes! One of my earliest jobs was working as an assistant carpenter at a theatre. I mostly built sets for touring shows but was also responsible for the building maintenance and have laid brick walls, spent a good deal of time up scaffolding and welding!
What do you make of the current trend of deconstructed meals? A clever idea or a trendy fad?
Is that a current trend? Some years ago I had a dessert in a restaurant that was a deconstructed Bounty Bar (chocolate and coconut and some kind of syrup thing)… and that was delicious! As someone who has food allergies I appreciate the rise of options and liquid foods like Huel? Basically if it's gluten free I'm all for it!
What's the best show/performance you'd ever seen?
I've just come back from the Edinburgh Fringe festival and I actually saw many great shows there, particularly from queer and trans artists. My highlight was OUT by Rachael Young. It was totally stunning and had me in all the emotions. Historically, the most influential performance on my work was by a company from Moscow called AKhe…I always think of that when I'm making a show.
London held its first ever Trans Pride last week. What does Trans Pride mean to you?
I've been the host for Brighton Trans Pride for the past four years – which is always a tremendous privilege. Trans people as a demographic aren't known for taking up space – and there's something remarkable about witnessing thousands of people coming together. One amazing thing about Trans Pride specifically is that young people and their families are a large part of our community and I love that our pride event is truly generational, with participants aged 5-85. It's also exciting to see more and more places around the world have some version of a Trans Pride.
Finally…tell us all about We Dig.
Ovalhouse Theatre has been in this building for fifty years and has been a home in London for different marginalized groups providing space for whoever needed it at the time – it has an inspiring history. They are relocating to Brixton and this is the final season. We received a commission to make a work that will literally destroy the building. For some time I've been working with stories of trans history and questioning how we share knowledge – the things that we are uncovering and the things we need to bury for future generations. When I was working in Brazil a person said to me 'we must bury our knowledge until the apocalypse passes' and I feel that this is where we are – a point In history where we must uncover our history and also bury knowledge for the future, So for "we dig" I have invited transfemmes from Indonesia, Canada and Brazil to come together, share stories, and Dig. I'm excited to see what we uncover and for us to lovingly honour this remarkable building before it is demolished.
We Dig is Ovalhouse, 52-54 Kennington Oval, SE11 5SW. Friday 4th – Saturday 19th October. For more info and tickets, head to ovalhouse.com.
READ MORE:
Travis Alabanza – The performance artist turning expectations of trans performers upside down