We meet the MOVIE star as she prepares for her turn at Halfway to Heaven
---
Not only does she perform at LGBTQ+ venues across the length and breadth of the country and beyond, beloved drag artist Son Of a Tutu is also a committed equality activist, expert judge of genitalia, and will soon be seen in celluloid in the movie version of Everybody's Talking About Jamie.
---
Hey Tutu! How's 2020 treating you so far?
January is the month of detoxification, tax return-ification, and relaxation. So yes it's been blooming marvellous [laughs].
What do you intend to do less of this year?
I know it sounds like a cliché but my answer is: drinking. As a habitual binge-drinker, I've got to the point where it severely affects my mental wellbeing, and so I've had to give it up completely. Oh yeah and moaning about Brexit: insanity has won (for now); Uranus, help us all.
And more of?
Reading: I haven't picked up a book in years as I found so many other distractions. I've come to realise that I miss the smell of parchment (no electronic books for me, thank you; I'm trying to cut back on screen time), the musicality of prose and, the thrill of discovery. Recommendations are welcome to slide into my insta DMs: @sonofatutu.
More than anything else, what would you like to change in the drag world this year?
The elevation of AFAB (Assigned Female At Birth) and trans drag acts, onto the same level as their cisgendered male counterparts. It's no secret I started a petition to get the casting of RuPaul's Drag Race UK to be more gender diverse: watch this space as this campaign gets kicked up another level over the next couple of weeks. Apart from that, I'd merge Mary Mac and Myra DuBois into one drag act; not because it would make the greatest drag legend of all time but, because it would create more work for me if one of their slots was freed up [laughs].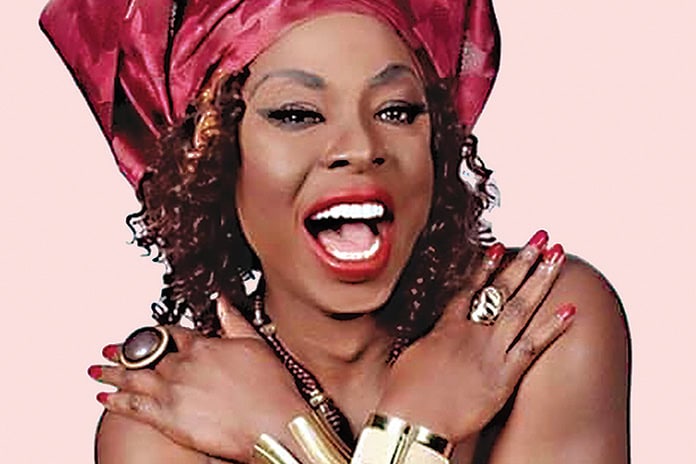 You're going to be performing at central London drag den Halfway to Heaven as part of their new Thursday night cabaret. What do you like about Halfway?
Halfway is not a venue I work at regularly and so whenever I have the honour and pleasure of working there, it feels like a special treat. I hope Thursdays work out because it will be a nice way to start the evening before finishing it off at G-A-Y Porn Idol at Heaven across the road.
Do you have any favourite memories from performing at Halfway over the years?
My long-working relationship with the No Hate Crime charity 17-24-30 and it's founder Mark Healey – which started after I performed at an anti-hate crime event at Halfway, and for which I remain eternally grateful.
When's the movie out that you've been filming? Any goss? What's Richard E. Grant like? DISH!
Everybody's Talking About Jamie is scheduled for release October 23rd which is conveniently in time for Oscar contention. My corset deserves nominations in all the best supporting categories. Mr E. Grant was a doll – ooooooh the Hollywood stories had Myra DuBois, Anna Phylactic and I glued to him like a lace front to a bald scalp.
What's next on your agenda? Drag Race? More movies? World domination?
To continue to get away with it. Much Tutu Love xxx
---
Son Of a Tutu will be performing at Halfway to Heaven, 7 Duncannon St, Charing Cross, London WC2N 4JF on Thursday 30th January.
---
Stay in touch with QX Magazine on Twitter
Check us out on Instagram
Download QX Magazine App Updated: At iOS & Android FREE. Improved graphics. Convenient digital magazine experience. App and website integration for when you're on the go!
---