Cabaret correspondent Jason Reid talks to Manchester's boundary-pushing drag delinquent.
---
Rambunctious Manchester drag artist and Beyoncé devotee Val Qaeda is heading down south for one night only to perform at the world's biggest South Asian LGBTQ+ club night, Club Kali.
We couldn't let this opportunity pass us by, so this week Jason Reid got to more about the plain-speaking queen who has one of the finest names in the biz…
---
Who is Val Qaeda?
Val Qaeda is a Manchester born and bred drag queen known for her funny numbers, controversial Facebook statuses and soft-spoken, friendly approach to race inequality.
I have to ask about your name because it's amazing. How do people react?
It blows their mind (pun intended). It's just a way of reclaiming the jokes I've been the butt of for most of my life. I've been called a terrorist countless times – sometimes it's in jest, but sometimes it's not; so why not make the joke first and take back that power?
Sum up your performance style in three words.
Definitely not halal.
What's your aesthetic?
Very East meets West – so much of the LGBTQ+ South Asian community feels separate from their own culture and heritage. I love that with my drag I get to reference the culture I grew up around, and LGBTQ+ people with similar backgrounds get to celebrate a part of themselves that we often lose along the way whilst coming out and navigating rejection from our community.
Personal highlight of your career so far?
My personal highlight has to be Manchester's first ever Black Pride Vogue Ball. It was such an honour to be a part of it and work with so many of my POC sisters and brothers.
What are you aiming to convey with your art?
I want my drag to represent the underrepresented. And to show that despite our obstacles, we can be celebrated too. We are funny, we are fierce, and we are fabulous.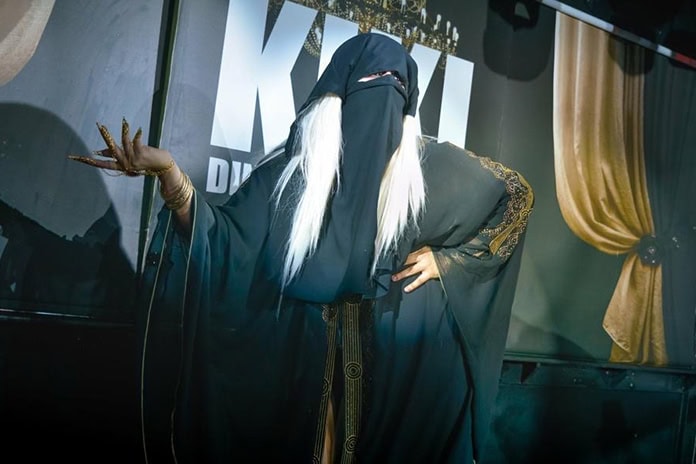 Top three drag inspirations?
Myra Dubois for her wit, Sandra for her humour, and Blaq Ivory for how she's paved the way for me and nurtured the careers of so many drag queens on the Manchester scene in the last decade.
Describe the Manchester drag scene using just a song title.
White Noise.
What are you listening to?
The Quran on audible.com – get a free 30 day trial with my code QAEDA30.
If you could de-invent one thing what would it be?
The ads on Grindr.
What makes you happy?
Pictures of anonymous penises. And you can send them to me: @valqaeda on Instagram, Twitter, Facebook, Google Plus and all other major platforms.
If you could only read one book, watch one movie and listen to one album for the rest of your life, what would you choose?
Book: Beyoncé: Running The World
Movie: Dreamgirls – starring Beyoncé.
Album: Destiny's Child's Survivor Album – vocals by Beyoncé (and friends).
One piece of advice for new queens starting out?
Be nice to everyone you meet (unless you think it could get you a good storyline for Drag Race in a few years).
Tell us something about yourself that not many people know.
When I started drag my name was nearly Pooja Pants – fitting, given that I have IBS.
You're going to be performing at Club Kali. What can we expect from you and the night?
I'm going to be in my element, being my truest brown self burkha, and all in front of my community. Aamir and Amir from the You Don't Love Me Podcast will be hosting a South Asian LGBTQ+ celebration, with performances, topical conversations and much more. You'll see queer South Asian visibility in your face ready to make it's mark this decade. We are here and we aren't going anywhere!
For those who've never been to Kali, how would you describe it in a sentence?
Club Kali is a space for the LGBTQ+ South Asian community (and allies) to express themselves and more importantly, be themselves and slay the dance-floor to their favourite Bollywood to Hollywood tunes.
---
Val Qaeda will be performing at Club Kali: Bolly Jolly Cabaret, 18 Kentish Town Road, Camden, London NW1 9NX on Saturday 1st February.