After being hit by the reality show tidal-wave that was Drag Race UK, we catch up with one of the show's best-loved queens.
---
They are arguably one of the most influential drag artists in the world right now. This week Jason Reid talks to RuPaul's Drag Race UK star Divina De Campo about a life-changing year, the marriage of drag and politics, being non-binary and more…
---
Congratulations on your Drag Race success! Is life now a constant cycle of gigs, red carpets and press?
Pretty much. I'm super-grateful for everything, and everyone's been nothing but supportive. And knowing what the fandom can be like; the positive reaction was probably the most surprising thing, for me.
Were you surprised you didn't win?
Honestly? No. I don't think I fit the model that RuPaul likes. He likes people who are cut-throat and will smash your kneecaps in, in order to win – that's not me. I want everybody to do well. And I just want to be better…than they are. [laughs] I want it to be fair, and I will help people. I helped everybody in that room. I will do things for them because I want people to be the best they can be. So I'm not someone who would go after everyone else to win. And, you know, it just means they want more from me [laughs].
Your fans, and many others, were surprised…
Just a bit! None of us knew anything about who was going to win; they took us to Twitter to watch it, live. Which is like the worst kind of mental torture you can put someone through: we're going to put you into this horrible situation and film you to find out whether you win or lose [laughs].
So you didn't know anything before then?
No. We filmed two different endings. Though it became clear in the edits and storyline, and it felt like they flipped my storyline in the final episode. Also, anyone who says within the first five minutes; I know I can win this, isn't going to win.
---
---
Download the latest QX Magazine App Update: At iOS & Android FREE. Improved graphics. Convenient digital magazine experience. App and website integration for when you're on the go!
---
---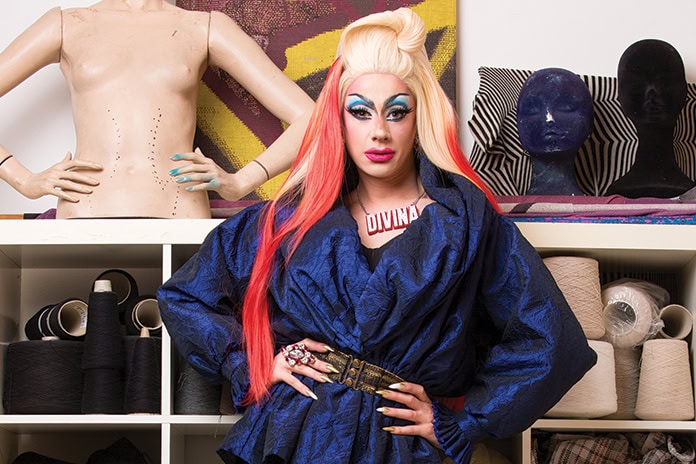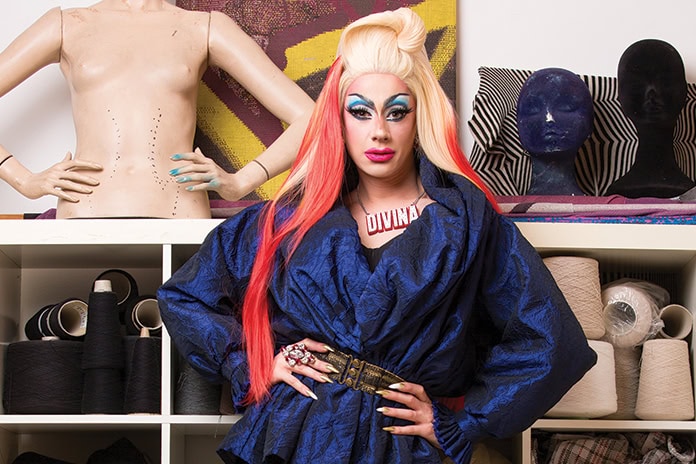 Has it all actually sunk in yet? And did you know, and were you told that your life would flip on its head instantaneously?
I don't think the BBC thought that it would be the success it has been – which says a lot about where some of the people who work for the BBC are. They didn't understand that this is a global phenomenon. However, like any responsible TV show, they gave us the basic advice: you will get a certain amount of online hate, don't respond to it, and try not to read the reviews. You know what it's like, some people who write reviews haven't got a clue what they're talking about. The response to Drag Race UK was bigger than anything ever for the BBC, online – bigger than Bake Off. I knew it was going to be a big change for me and it was going to open up new doors, which before people wouldn't even consider me for. And it's annoying and stupid that you have to go through that in order for people to take you seriously. There are so many incredible artists in the UK that get overlooked because they're doing drag, which makes no sense whatsoever.
With this worldwide fame comes a huge platform and responsibility. How conscious are you of that?
The difference between a show and being online is that a show is an act, and you have to create a space where it is safe and everybody knows that the act is not real. Bianca Del Rio is the epitome of getting this right. Whereas when you're online you have to be much more thoughtful and intelligent about what you're writing. If you don't understand how a platform works, you probably shouldn't be using it. If you're stupid enough to write awful things online, people are going to tell you you're stupid. It's that simple.
Is drag inherently political?
One hundred percent. If you aren't politically engaged as a drag queen, you're not a drag queen. There, I've said it. That is the bottom line. If you are just an entertainer, you're not a drag queen. End of. Because the whole point of drag is that it is a political statement. We are pushing against what society is telling us we are supposed to be. There is nothing you are supposed to be, apart from alive and existing. If you aren't politically engaged, you're only doing half your job. And that doesn't mean you have to be saying: vote this, fight for them, every time you're onstage; it means that in your art and as an individual you have to be keyed in to that stuff because you are there to comment on it. Drag has always been intertwined with the politics of the time. If you haven't educated yourself about your own art form then you're doing your craft and your audience a disservice. It's up to you to educate yourself. Before you get on that stage understand what it is you are actually doing.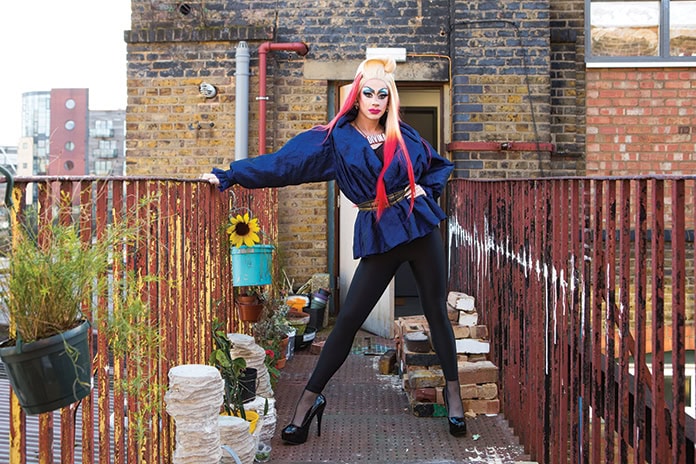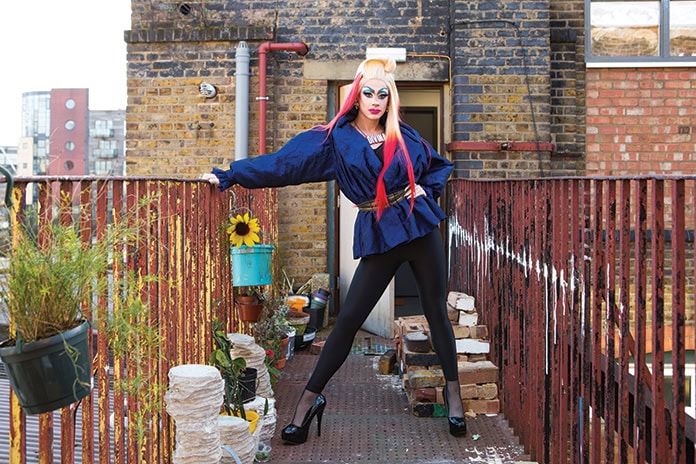 Just before Drag Race UK started you announced that you're non-binary. What does it mean to you to live as a non-binary person?
Doing drag means I can make lots of different choices that other people can't. In the past I've had really long hair and worn make-up during the day. Because I can. I get called madam all the time. I was in Greggs the other day – in my everyday wear – and the guy serving must've called me madam at least eight times.
Was your public proclamation to show solidarity or for personal reasons?
Sam Smith had come out as non-binary the same day, and they were already getting a lot of hate for that. The fact that they're non-binary has nothing to do with you, or me, or anybody else. It's their life. Let them fucking live it. So, yeah it was to do with showing support, and for myself, and because the show can be quite exclusionary. When Drag Race says 'these are the best UK queens'; I'm sorry, but that's not wholly accurate, and the show should be opened up to everyone because there are people like Holestar and many others who are consistently brilliant. Drag Race is a monolith, so I can understand where the fear lies for producers: if we introduce this will it dilute the excitement and drama? I can't see how it would. For me, it would add more of that. Because then you have those conversations like: is it easier for a female-bodied person to do drag? I don't think so. Drag is either good or bad. And it's about gender, not sex. Opening up the show would bring a lot of people closer to the understanding about the differences between gender and sex, because it would then be essential for the show to be having those conversations – which in turn would help to educate millions of people across the world about trans and non-binary people. It would make a lot of peoples' lives a lot easier – if we were above to have that conversation on a platform like that.
Is Drag Race UK All Stars happening? Will you do it?
I've got no idea. If they ask, of course I would do it.
Who are your favourite people fighting the good fight right now?
There are so many, but off the top of my head: Paris Lees, Munroe Bergdorf and Owen Jones.
What's next for you?
My EP and single are out right now; I'm working on a project with Scaredy Kat which will be out soon; performing a one-off at the Royal Vauxhall Tavern on Good Friday; touring Australia in spring; then I have my own one-woman tour coming later in the year.
---
Check out this week´s digital magazine for more …
---
Follow Divina De Campo on Twitter and Instagram @DivinaDeCampo. Divina is performing at the Royal Vauxhall Tavern on Friday 10th April. For more info and tickets, head to qxtickets.com.