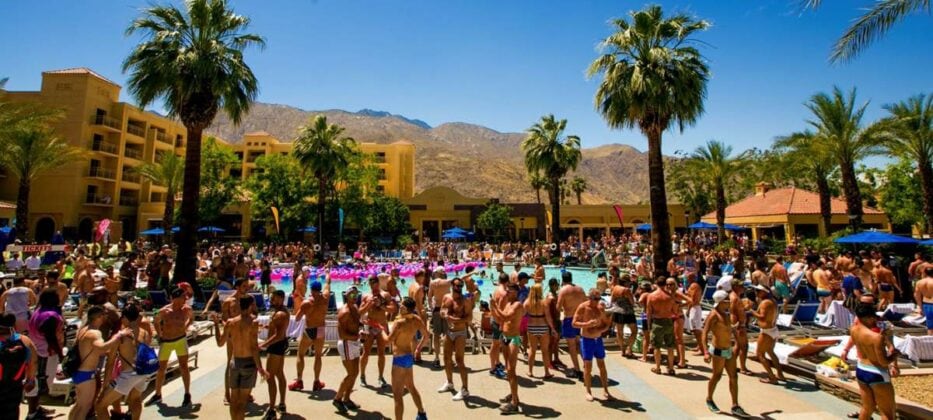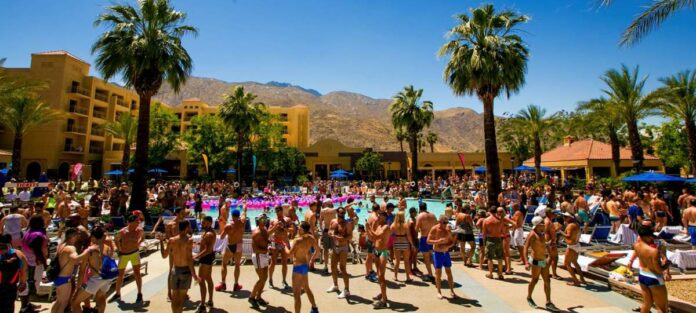 Gay Palm Springs White Party …
Taking place from Friday 29 April – Sunday 1 May 2022 the White Party Palm Springs is not to be missed. After previous postponements, this long awaited event returns in 2022 to the beautiful Hilton Palm Springs Hotel. Bringing in an average of 30,000 attendees every year, White Party Palm Springs is the largest LGBTQ+ dance party in the World. This year Paula Abdul will be hosting the party featuring DJs, live performances, pool parties and more, this event brings guests in for a weekend that cannot be matched. Schedule below:
FRIDAY 29 APRIL
Soaked! Pool Party
12pm – 6pm Hilton Hotel DJ Orel Sabag
Jungle Cruzin
9pm – 4am Palm Springs Convention Centre
Come to the Rainforest For A Jungle Themed Rio Throw Down to Kick Off WPG Weekend with DJ Liza Rodriguez and DJ Dani Brasil as well as live performances by Amannda and Nikki.
SATURDAY 30 APRIL
Soaked! Pool Party
11am – 6pm Hilton Hotel – DJ Isis, DJ Bruno Knauer
Powered by Andrew Christian
Just Added: Andrew Christian Fashion Show
Get your Andrew Christian Swimwear NOW at 50% off using code 50WHP
WP Eternal
9.30pm – 4am Palm Springs Convention Centre
Celebrate 30+years as WPG Moves Forward Into Eternity! Come Dressed as Always in Traditional White for the Night… Or Better Yet… as Your Favourite Inter-Dimensional Superhero/Character. Special performance by Raye with DJing by DJ Rick Braile, DJ Chris Turina and DJ Phil Romano
Guided Yoga with Francisco Ramos
10am Convention Centre East Lawn
Looking to relax and recharge during the non-stop marathon weekend of parties? Join licensed Yogi Master, Francisco Ramos for an energising and rejuvenating session of Warrior Yoga. All levels welcome. Ramos' yoga sequence will help you refuel and start your day off right for the parties ahead. For more information, please visit www.zencasa.net.
Soaked! Pool Party
11am – 4pm Hilton Hotel – DJ Arno Diem
SUNDAY 1 MAY
Big Top Circus T-Dance – 3pm – 10pm
Outdoors across from the Palm Springs Convention Centre
Sunday's World Famous T-Dance Starts in the Afternoon and continues into the night as the sun sets behind the spectacular mountains of Palm Springs. State of the Art Sound, Lighting and Video… and Some Fresh New Surprises are in Store for this Year's Big Top Circus! Special performances by Karina Kay with DJing by DJ Ben Bakson and DJ Dan Slater.
WP Afterlife Closing party – 10pm – 4am Palm Springs Convention Centre
You've come this far… continue on to WPG's Afterlife Sunday Night Closing Party. The Party continues into a new dimension. Special guest to be announced with DJing by DJ Joe Gauthreaux and DJ Mauro Mozart.
For more information please visit: www.whitepartyglobal.com www.visitgreaterpalmsprings.com