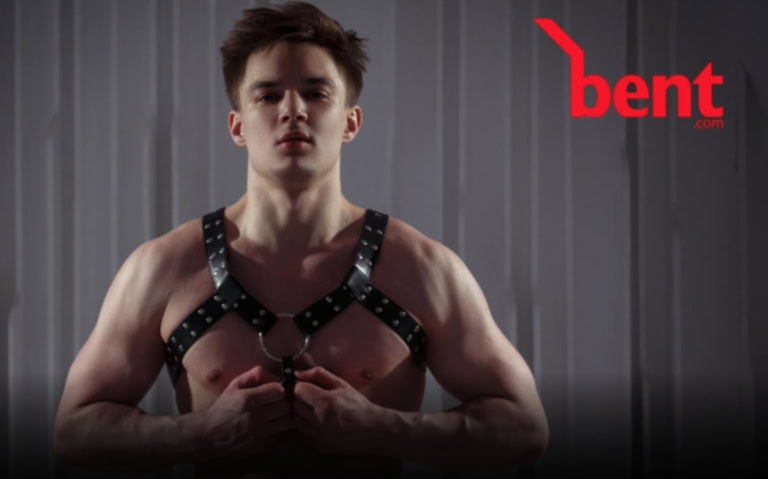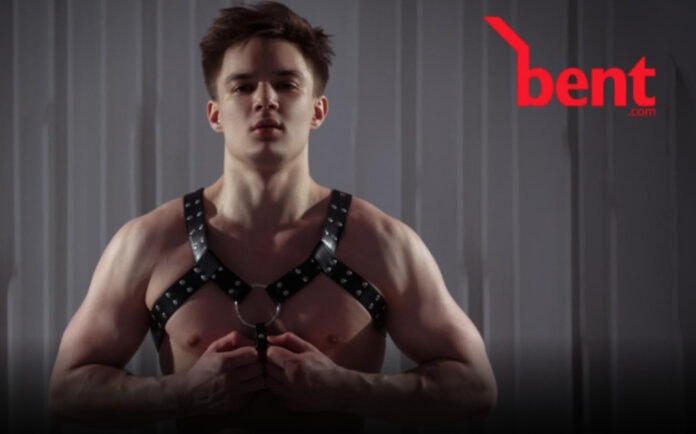 If you've been paying attention to men's fashion trends over the past few years, you might have noticed that gay harnesses are having a moment. No longer relegated to the more "adult" parties and venues, harnesses have become a mainstream fashion item, and can be seen on runways and red carpets alike. In our collection, you'll find everything from easy-to-wear items made of soft fabric to more hardcore leather and steel styles. There's something for everyone.
Why You Should Consider Wearing a Harness
Harnesses can add a whole new level of excitement to your sex life. They can also be used to experiment with different positions and help you achieve deeper penetration during sex. If you are interested in trying something new in the bedroom, a harness might be just what you are looking for. Of course, a harness is no longer just about sex, you will find plenty that are just sexy to wear either on your naked torso or over a shirt, it is simply a crowd pleaser on all levels!
The Basics:
The first thing you need to know about wearing a harness is that there is no one right way to do it. The best way to figure out how to wear one is to experiment and find what works best for you. That being said, there are a few general tips that can help you get started.
First and foremost, make sure you're comfortable. A harness should never be painful or constricting. If it is, then it's too tight and you need to adjust it. Second, keep your proportions in mind. If you're petite, opt for a smaller-scale harness. Conversely, if you're plus-size, look for one that has more coverage. And finally, don't be afraid to have fun with it! Harnesses come in all sorts of styles, so experiment until you find one that fits your personality.
The creme de la crème
If you're looking to add a little kink to your wardrobe, then you'll want to check out our top 4 men's fetish harnesses. Whether you're into leather, steel, or something a little softer, we've got you covered. So get ready to get down with our list of the hottest fetish harnesses on the market.
4. The ADDICTED Spider Harness – If you're looking for one that's affordable and sexy, then the ADDICTED Spider Harness is perfect for you. This is low-cut and comes in a variety of colours and is made from a comfortable stretch fabric. It's also machine-washable, so you can keep it looking new for years to come, and looks perfect with a sexy pair of Addicted underwear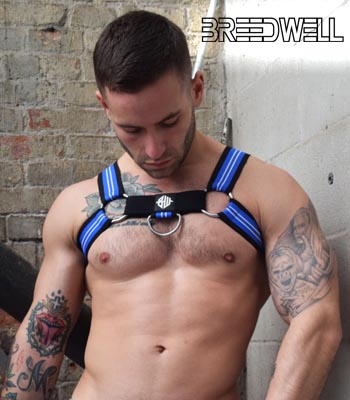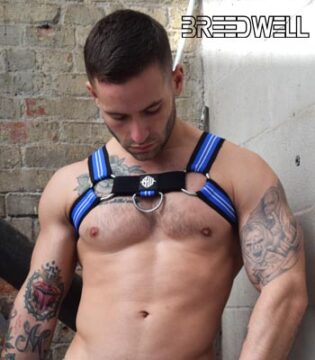 3. The BREEDWELL Brut Harness – The BRUT line of clothing from BREEDWELL is quickly becoming a favorite among customers for its combination of masculine shapes with sexy styling. The BRUT harness is no exception. The jacquard stripe fabric and removable centre strap with D-ring detail give a look that is both tough and sensual. The PVC logo patches on both the front and back straps add an extra touch of attitude.
2. The DARKROOM Strong Steel Cross Harness – The first thing you'll notice about the DARKROOM Strong Steel Cross Harness is its construction. It is made entirely of zinc-plated chains, which are connected by O-ring clips. The front and back have O-ring clips so that you can easily attach or detach the chains. And if you need to make any adjustments, there are four turnbuckles that allow up to two inches of adjustment. The entire harness is then polished with stainless steel plating and features the DARKROOM logo engraved on a stainless-steel plate at the front.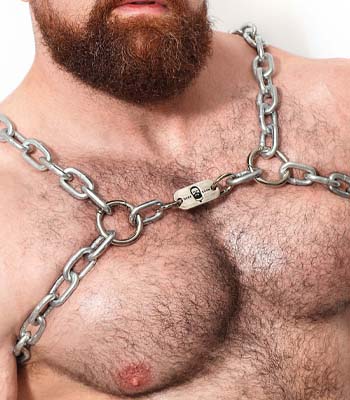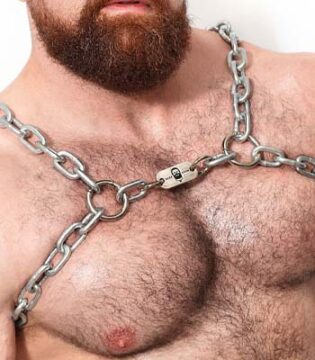 As for wearability, this harness is actually comfortable. I was expecting it to be really heavy and cumbersome, but it's actually quite light. And because of the way it's designed, it doesn't rub or chafe against your skin like some others can. Whether you're wearing it for a night out clubbing or just for fun, this harness is sure to enhance your look.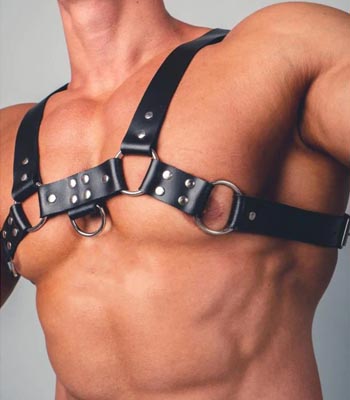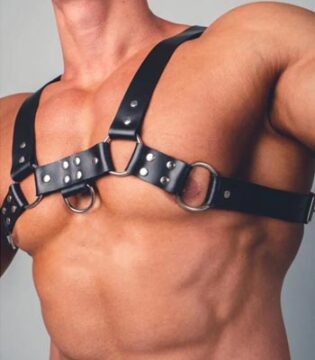 1. OTH Leather Harness – This is the more traditional harness, you could say that this is where it all began. Still the halter harness is one the most popular in our range. There's a lot to like about the H-Front Harness. First and foremost, it's made of high-quality materials that are built to last. The adjustable buckle straps are also a nice touch, as they allow you to customize the fit to your own body. And of course, the D-Ring on the front and back add an extra level of functionality that is sure to come in handy.
There you have it, our top 4 gay men's fetish harnesses. Of course, we have many more options then just these 4. This is just a little appetiser so why not come in and have a look at all our harnesses HERE.
At Bent Shop it is not all about harnesses for gay men of course. You will also find a massive collection of underwear, sex toys, BDSM, fetish gear, gay lube and more gay sex essentials.
With love
Your friends at https://www.bent.com/